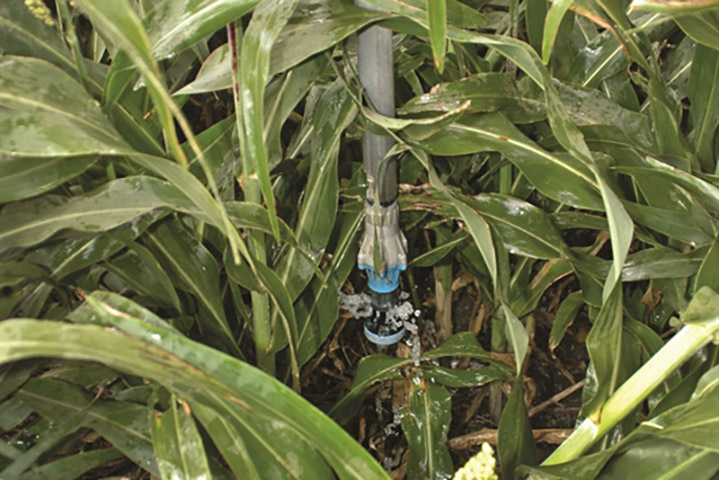 By Dan Crummett
New technology doubles water drops
Drive the blacktop north and east of Sunray, Texas, just south of the Oklahoma Panhandle, and keep your eyes peeled for center pivot irrigation systems that seem to have "fringe" hanging from the spans. The "fringe-like curtain" is doubling drops—from the traditional 60" increments found on most sprinklers across the High Plains to 30".
Tom and Ellis Moore, who farm 12,000 acres of corn, grain sorghum and cotton, have converted nearly all of their center pivots to 30" bubbler nozzles. They made the switch in late 2011, and it paid for itself by July 2012 in reduced water consumption and improved crop yields, Tom says.

Acting on suggestions from farmer friends in Arizona who had a positive experience with narrow-row drop spacing in chili pepper production, Tom says he tried the idea on the overhang and the last span of a pivot that was watering droughty cotton in 2011.

"When we saw significant yield increases on that test area compared with the cotton in the same field watered with spray nozzles, we turned around and spent a quarter of million dollars on our other sprinklers within two months," he explains. "Then, when 2012 turned out nearly as dry as 2011, the technology paid for itself by July."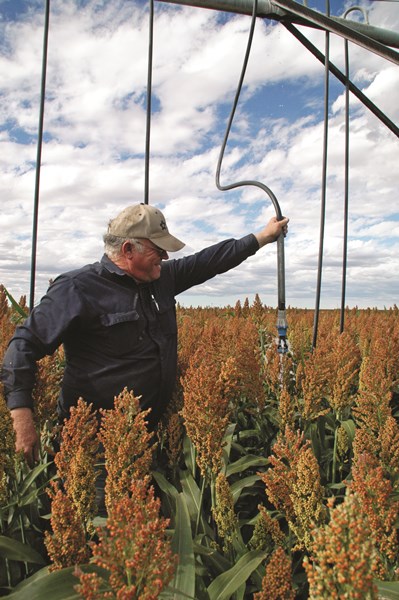 Converting almost all of their pivots to 30" bubbler nozzles paid for itself in less than a year, says Texas farmer Tom Moore.
---
Less evaporation. Most of the benefits realized with 30" bubblers come from the nozzle itself, which doesn't atomize water, leaving it to the mercies of the hot, dry winds of the High Plains, explains Leon New, a long-time Amarillo-based Texas Agri-Life irrigation specialist.

"In addition, with the drops running near ground level, the bubblers don't wet the plant leaves," New says.

"Anytime water hits the leaves of a corn plant, you can count on losing 70% to 90% of that water to evaporation," he adds.

The other plus for doubling the number of drops in modern 20" row fields is that 30" spacing prevents dry spots between drops as the bubblers "weave" their way in and around the growing crop. "With 60" drops, we always had a dry spot somewhere," Tom says. "The 30s cured that."

Slow and steady. Much of the Moore Brothers Farm operation is equipped with Aqua-Spy soil moisture monitors, which have helped the brothers fine-tune their water application with the narrow-spaced bubble nozzles.

In fact, they've found by slowing down their sprinklers, they can fill the 60" root profile pre-season, which begins in February, and maintain adequate moisture for the crop throughout the season by making fewer passes with the sprinkler.

"That is to be expected," New says. "You lose water with every pass, so it stands to reason watering thoroughly in fewer passes will save those losses."
For example, one nine-pivot system Tom has been running this year is alternating three circles at a time on wheat, grain sorghum and corn—all running 540 gal. per minute (a rate that is considered to be approaching marginal for crop production in the north Texas Plains.) "So far, what we're seeing is that with our bubblers, that 540 gal. is as good as 700 gal. per minute through spray nozzles, a 23% benefit," he explains. "Our wheat had weather problems this year, but we have excellent corn and milo."

Moore adds: "We're seeing something simple here that can help us maintain irrigated agriculture in the High Plains. In our case, except for what goes to the IRS, every dollar generated on this irrigated farm stays right here above the aquifer. Those dollars go to the grocer, department stores and a thousand places. If we're going to keep our communities alive over the Ogallala, we have to emphasize the importance of these things."  
How the Nozzle Technology Works
Irrigators in the Oklahoma and Texas Panhandle, including Tom and Ellis Moore, who switched to 30" bubblers, typically are using a standard weighted Senninger LDN (Low Drift Nozzle) with the spray pad inverted, says Dennis Martin of Panhandle Irrigation LLC. "The water hits that flat inverted pad and splashes back up into the irregular shape of the weight and provides a cascade of bubbling water instead of a fine mist," Martin explains. "That prevents the wind from wasting the water you just paid to pump."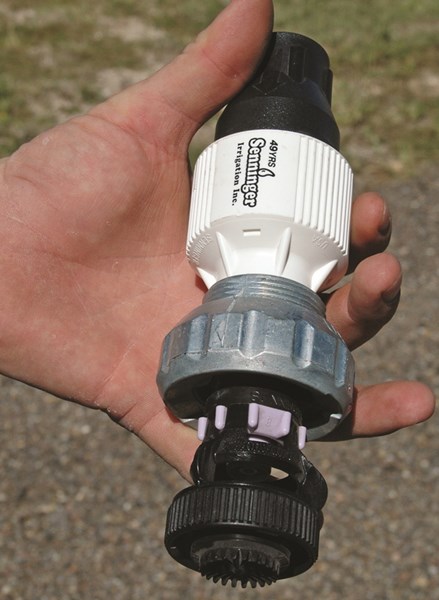 On this nozzle, the spray pad is inverted to splash water back up into the weight and then out on the crop in a fountain-like manner.
---
Martin and his business partner and wife, Lexee, worked closely with the Moores to plan the renovation of the farm's sprinkler systems. The couple ran numerous computer models and projections on Moore's various field conditions and crop selections.

"Nozzles are the least expensive but most important component on a sprinkler system, but they are usually where producers first want to start cutting corners," Martin explains.

"The 30" bubbler system provides tremendous boosts in water use efficiency, particularly where growers are experiencing dropping aquifer levels and dwindling water supplies," he adds. "This can be as big as when we left impact sprinklers and moved to low-pressure systems, as far as water use efficiency."

Martin says the technology offers farmers comparable efficiency rates to subsurface drip systems without the high cost of installing drip tubing and the maintenance that goes along with it.