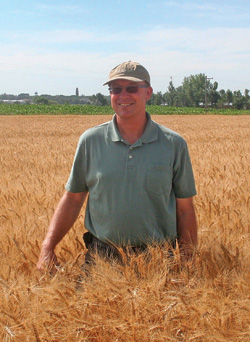 Wheat growers have a new variety of hard red spring wheat named Prosper available for 2012 planting.

The variety was developed through the wheat breeding program at North Dakota State University (NDSU) and was jointly released by the North Dakota Agricultural Experiment Station and Minnesota Agricultural Experiment Station in the spring of 2011. Winter nurseries were used to speed up seed production.

"Growers who have had good success with Faller will find Prosper similar in performance and protein," says Joel Ransom, NDSU Extension agronomist. Adapted to eastern North Dakota and western Minnesota, the variety is of semi-dwarf height and medium to medium-early maturity.

The variety has very high grain yield and good milling and baking quality traits to meet domestic and export market requirements. Its resistance to foliar diseases, leaf and stem rusts in particular, is similar to that of the Howard variety. Prosper also has good resistance to
fusarium head blight, similar to Faller.

Prosper will be sold by variety name only and as a class of certified seed. For more information, visit www.ag.ndsu.edu/crops/guides.html.
Ideal. South Dakota wheat growers have a new hard red winter wheat variety named Ideal this year, after more than 10 years in development by the South Dakota State University (SDSU) Agricultural Experiment Station.

Selected for its yield, disease resistance and standability, Ideal has a lot to offer growers, says Bill Berzonsky, SDSU associate professor of winter wheat breeding.

"In regional trials, Ideal was a top-ranked variety in yield as well as disease resistance," says Berzonsky of the variety's resistance to leaf and stem rust, tan spot and fusarium head blight.

Testing also showed that Ideal expresses good milling and baking characteristics. "Growers may not realize this immediately, but once a variety gets a good reputation from millers and bakers, it's less likely producers will be encouraged to move away from growing that variety."

The variety was named for Ideal, S.D., a small community in central South Dakota where many acres of wheat are produced each year.