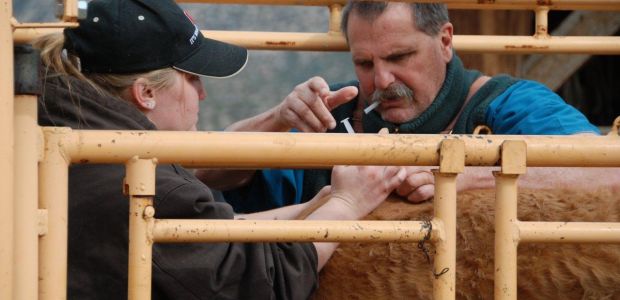 The University of Arizona will soon be the home of the state's first public veterinary medical and surgical program to train doctors of veterinary medicine.
The University of Arizona College of Agriculture and Life Sciences has been actively developing a program to train veterinarians in Arizona and help improve animal and public health. Thanks to a foundational gift of $9 million from the Kemper and Ethel Marley Foundation, the UA will soon be the home of the state's first public veterinary medical and surgical program to train doctors of veterinary medicine.
The new program, slated to begin in fall 2015, will help address the critical veterinarian shortage in rural Arizona communities and tribal nations, benefit bioscience businesses and promote public health.
In 2012 and 2013, the Arizona Board of Regents requested funding from the state Legislature for a veterinary medicine degree program at the UA. A consultative site visit by the American Veterinary Medical Association occurred in January, and a comprehensive AVMA site visit for program accreditation will happen soon. ABOR will consider the degree offering at its September meeting in Flagstaff.
Facing eight, nine or more years of college and student loan debt, some students abandon their lifelong dream of becoming a veterinarian before they even start. Most students have been paying an average of $50,000 annually, in tuition alone, if they can get into one of 28 accredited public and private programs in the U.S.
"The bottom line is it costs too much and it takes too long to become a veterinarian in the United States," said Noble Jackson, associate professor of practice in veterinary science and microbiology in the UA School of Animal and Comparative Biomedical Sciences.
One newly qualified Arizona veterinarian, for example, was recently told that he would never qualify for a home loan because of his debt-to-income ratio.
"These kids come out of school with tremendous debt and have to work for several years to get school debt paid off. So anytime, I think, that we can produce good quality, qualified veterinarians for much less cost, much less time and get them out in the workforce sooner, it's a big win all the way around," said Cottonwood cattle rancher Andrew Groseta. "It's a win for the students involved. It's a win for those of us in the cattle business and it's a win for society."
The UA program will run year-round so students complete their degrees faster, accumulate less debt and enter the workforce sooner. In what is called a distributive model, the final two semesters will be spent working in private veterinary practices, government agencies or other community partnerships to secure hands-on, real-world learning in communities throughout the state.
Other clinical training partners will include federal and state animal health labs and regulators, U.S. Border Patrol and Homeland Security, and animal shelter and rescue agencies. The UA already has letters of interest from many prospective partners.
"For me, real-world experience is something that is oftentimes lacking when students come to us," said Richard Panzero, DVM, of River Road Veterinary Clinic in Tucson and a member of the program's consultative board. "I think the distributive model is probably the way of the future. The UA program will provide students with an additional semester of professional training versus the traditional four-year program – more in the way of hands-on experience and more time to digest the massive amounts of information required of a veterinary student."
Currently, Arizona students interested in becoming veterinarians must compete for veterinary school admissions at out-of-state institutions, many of which favor resident students. For example, 1,600 applicants competed for 138 seats at Colorado State University. Only 55 of those seats are open to applicants outside Colorado, and just a handful are filled by Arizonans.
"Arizona students pay higher costs through nonresident or private tuition, incur more debt and often stay in the practices, or seek employment with the out-of-state veterinary practices and companies where they intern as part of the out-of-state education," said Shane Burgess, vice provost and dean of the College of Agriculture and Life Sciences. "We need the smart and dedicated people we train to stay here. Arizona's hard-earned tax dollars need to promote Arizona's future."
Facilities for students will be built, refurbished or renovated at satellite locations in Douglas, Yuma, Maricopa and in the Verde Valley. In these settings, students will have the opportunity to learn about border health issues, rural medicine, food safety, large-scale animal production and wildlife, as well as the cattle and dairy industries.
As a cost-saving measure, the program will not build a veterinary teaching hospital, which can cost tens of millions of dollars and place a very large continuing financial burden on institutions.
"A teaching hospital also creates a level of competition with private practitioners," Jackson added. "We don't want to compete with practicing veterinarians. We want to engage them and have them help teach our students in a hands-on clinical setting."
The UA team has investigated highly successful international programs that train DVMs in a similar time frame and are accredited by the AVMA.
The UA already provides a wealth of resources that would aid in the creation of a successful program, including the colleges of Medicine, Public Health and Pharmacy, as well as a food safety study group.
"We are really asset-rich in terms of developing a program," Jackson said. "We have numerous veterinarians employed at our Arizona Veterinary Diagnostic Laboratory and at other parts of the University of Arizona. We also have numerous agricultural assets: a working ranch in the northern part of the state and a farm on campus."
The state's cattle ranchers welcome the prospect of UA-trained veterinarians, according to Bas Aja, executive vice president of the Arizona Cattle Feeders' Association. "We are extremely excited about the depth and breadth of effort that's gone into researching, designing and shaping this new program and we think it will be tremendously successful."

Source: University of Arizona