The future of the farmland market continues to be a guessing game. So far, values have been supported by low interested rates and a strong buyer pool for limited land for sale. But numerous financial metrics point to a deterioration of farmers' financial health, according to a semi-annual market update from Farmers National Company. 
"As 2019 unfolds, the land market will remain on edge watching farm finances, weather, and trade issues," says Randy Dickhut, senior vice president of real estate operations for Farmers National. "The outcome of these and other unknowns will guide which direction land values will move over the coming months."
Despite a slower land market, Dickhut reports Farmers National has seen a 29% increase in the number of acres sold by the company compared to last year and 22% over two years ago.
Part of the reason for this uptick, he says, is due to an increasing number of farmland sales by financially stressed producers.
"Some of these sales are sold quietly and not exposed to the marketplace to get top dollar," Dickhut says. "Other sales are coming from producers who are pro-actively liquidating a land asset to improve their balance sheet and cash flow. Farmers National is now handling an increasing number of land sales and receiverships for lenders."
Location and quality continue to be key drivers of land prices.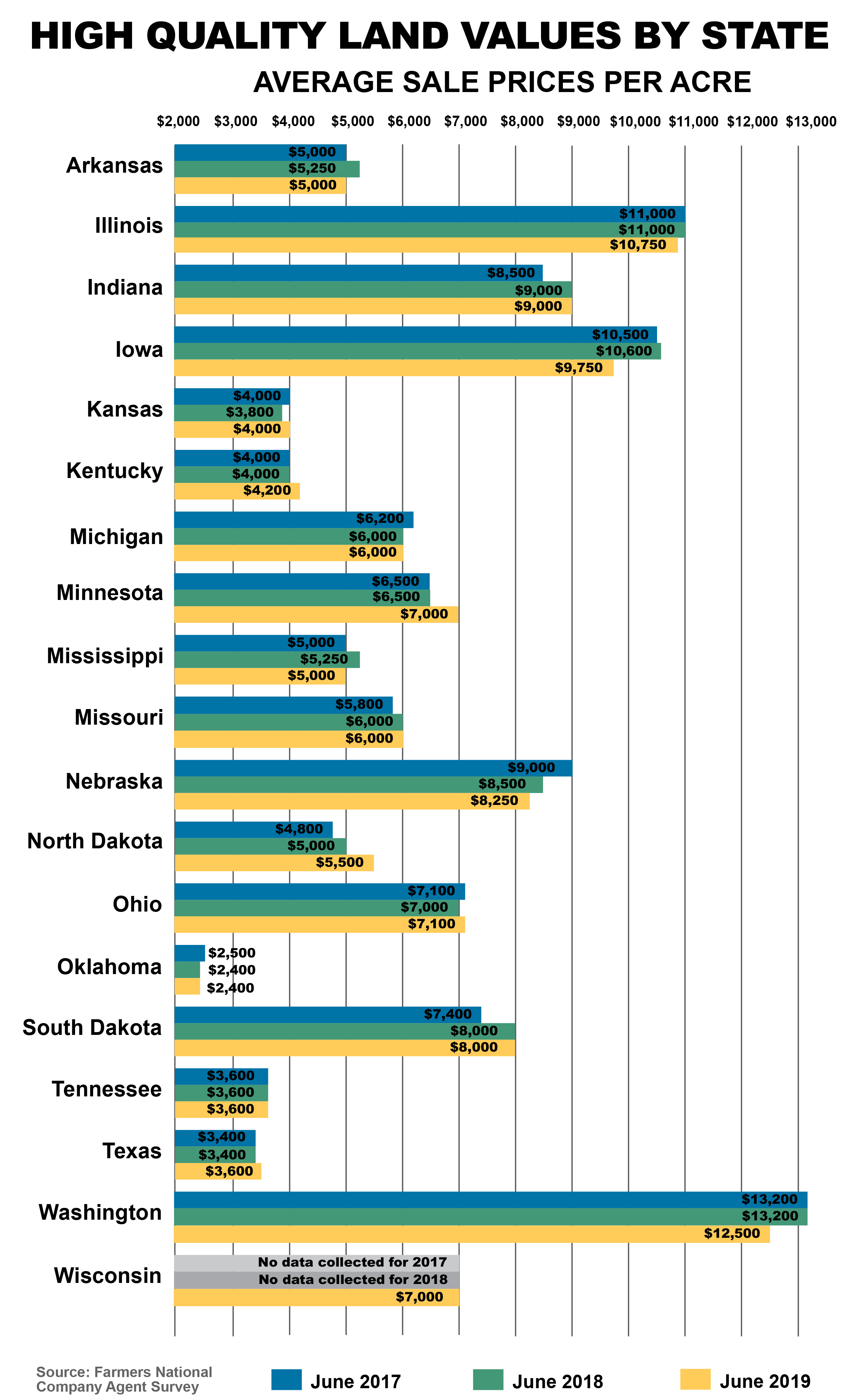 "There have been some strong sales for high quality farmland in Iowa and for recreational land in the right location for the buyer," says Sam Kain, area sales manager in Iowa and Wisconsin for Farmers National. "We are starting to see increasing signs of financial stress among farmers." 
This is particularly true in the Wisconsin dairy industry as farmers either retire or sell assets including land. In Iowa, the stress on farmers varies by area depending upon crop yields the past several years. 
"The farmer buyer is being more cautious and more selective in the farms they will bid on," Kain says. "The 1031 exchange buyers have been active and continue to support current land prices. Investors are also active buyers depending on the type of land they are interested in."
Farmers with financial challenges are also evident in North Dakota, South Dakota and Minnesota, says Brian Mohr, area sales manager for Farmers National.
"We are starting to see increasing signs of financial stress among farmers approaching some of what we saw in the 90s," he says, noting working capital for most producers is declining with the tighter margins putting pressure on loan repayment capacity. 
In Illinois, Indiana, Ohio, Michigan, Missouri and Arkansas, the overall agricultural real estate market has taken a sluggish turn when compared to a year ago, reports Roger Hayworth, area sales manager for Farmers National. 
"The uncertainty created by trade issues and projections of continuing lower farm incomes clouds the horizon for farmers and land buyers," he says.
In Nebraska, Kansas, Oklahoma and Texas, Paul Schadegg, area sales manager for Farmers National, reports a higher number of sales activity in the region compared to last year. 
"High quality land has sold well whereas lower quality land saw a decline in demand and price," he says.
Texas ranchland, Schadegg notes, remains stable to stronger as the pool of buyers is large enough to absorb whatever might come up for sale.
Washington has the highest land values, according to the Farmers National data. High quality land suited for the most valuable crops sells at a much higher price than dryland in the area, says Flo Sayre, broker for Farmers National.
"Land values have remained fairly flat for the past several years with marketing times extended for most ag properties," she says. "Many orchard properties are undergoing changes due to varietal replacement, labor shortages, low prices, and trade barriers. Rents on row crop farms are stable and dependent on water and crops grown."
In Georgia, land sales prices for winter and spring of 2019 are comparable to 2018. 
"Lower quality farmland and recreational land values are stable," says Wayne Groover, real estate broker with Farmers National. "There seems to be more than adequate market supply and only tracts with realistic pricing are selling."
Georgia currently has a tremendous inventory of land for sale, Groover says, but most of it appears to be well overpriced. "However, most sales seem to reflect values established over the last two to three years, i.e. values seem to have stabilized, for now at least." 
Agricultural land values have been surprisingly resilient over the past two years despite the continuation of depressed farm incomes, Dickhut says. Supportive factors combined to hold land prices in most areas, especially for good quality farmland. The biggest concern looking forward is the financial health of farmers and ranchers.