"It's the best organization out there to learn about farm leadership, but until I was nominated—I hadn't even heard of it."
Chris Adams stumbled upon a gem hiding in plain sight in 2017--the Rural Leadership North Dakota program—and the encounter made an indelible impact on his farming operation. Across the U.S., agricultural leadership programs are churning out a crop of the best and brightest, while yielding benefits to farm, community, and the agriculture industry as a whole. Simply, the programs have a direct hand in shaping tomorrow's ag leadership.
Representative of the approximate 44 states with agricultural leadership programs, North Dakota, Texas and Indiana are indicative of training success and efficacy.
North Dakota
In June 2017, Adams jumped aboard the RLND, ready for an action-packed two-year program: "This was personal for me as a farmer. I wanted to better my own leadership skills and I wanted to network to build my farm and help my community. I think a lot of people are in that same boat if they'll stop to think about it."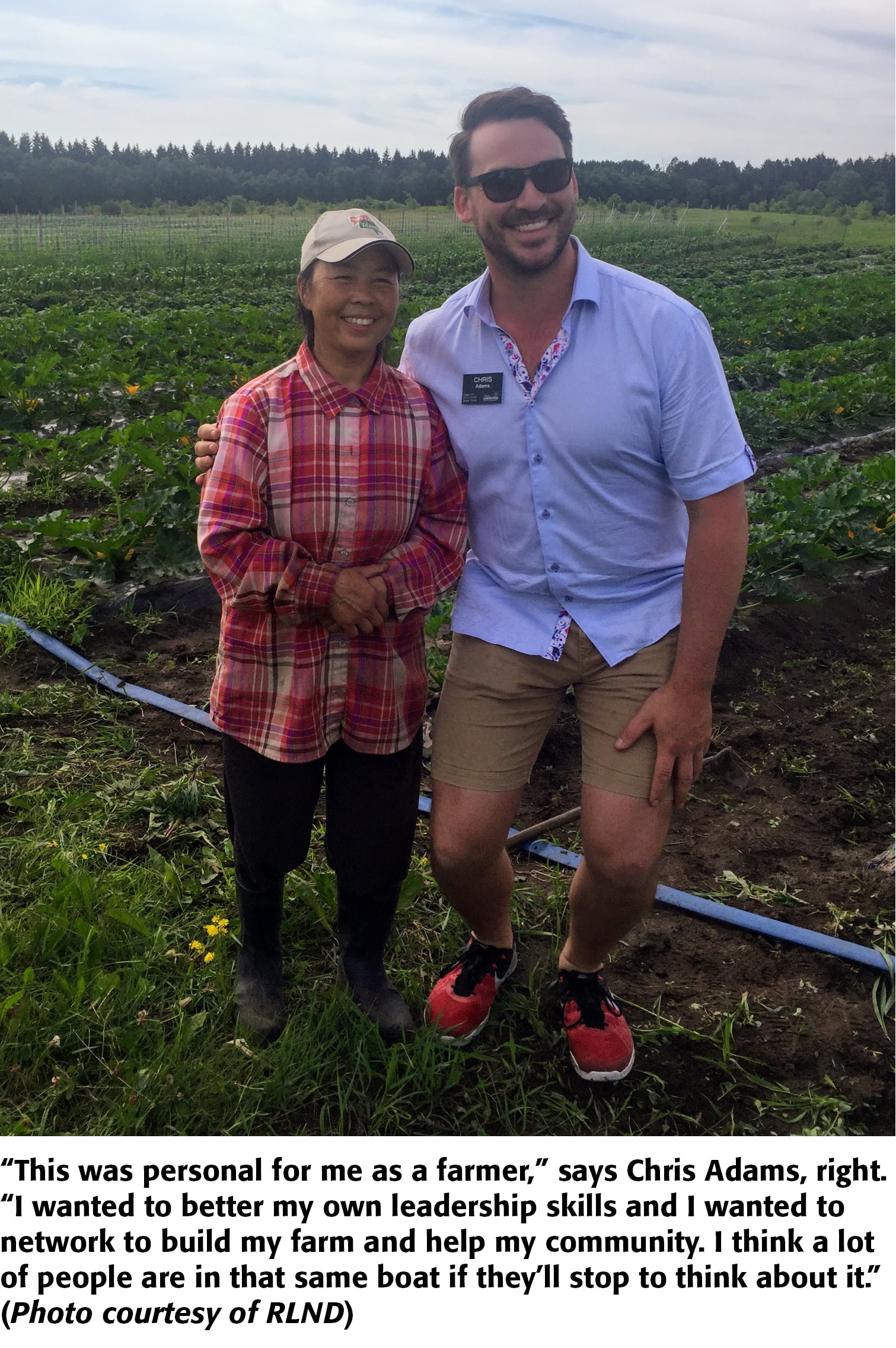 Adams was part of a 25-person group selected from across the Peace Garden State. "Farmers, lenders, small business owners—by some means, everyone in our group is involved in agriculture. I'm learning at the farm, community, state and national level about how things function around everything from civic engagement, community involvement, politics, boardrooms, management qualities of people, to emotional intelligence. A little bit of everything."
Started in 2003, RLND is centered on a broad goal, according to Program Director Marie Hvidsten: "Our mission is to prepare and develop leaders to strengthen North Dakota. We focus on agriculture and rural communities. Half of group is from the ag sector and half is from the community and business sector."
Participants in the two-year, 10-seminar program typically average 30-40 years old, but RLND is open to applicants from the 20s to 60s. (The application process is currently open until June 30.) "You don't understand the depth of the program until you're in these seminars with top experts, and visiting so many places. It's 41 days together in about 18 months, and without a doubt, you will change for the better and you will affect others for the better," Hvidsten says.
"Leaders must have time to build relationships, and we take advantage of time in so many ways traveling by bus, or spending time in a classroom, or in the halls of Washington, D.C., all in an effort to learn how everything affects your business and community," she adds. "There is tremendous learning and networking for anyone who comes through the program. Prepare to be challenged."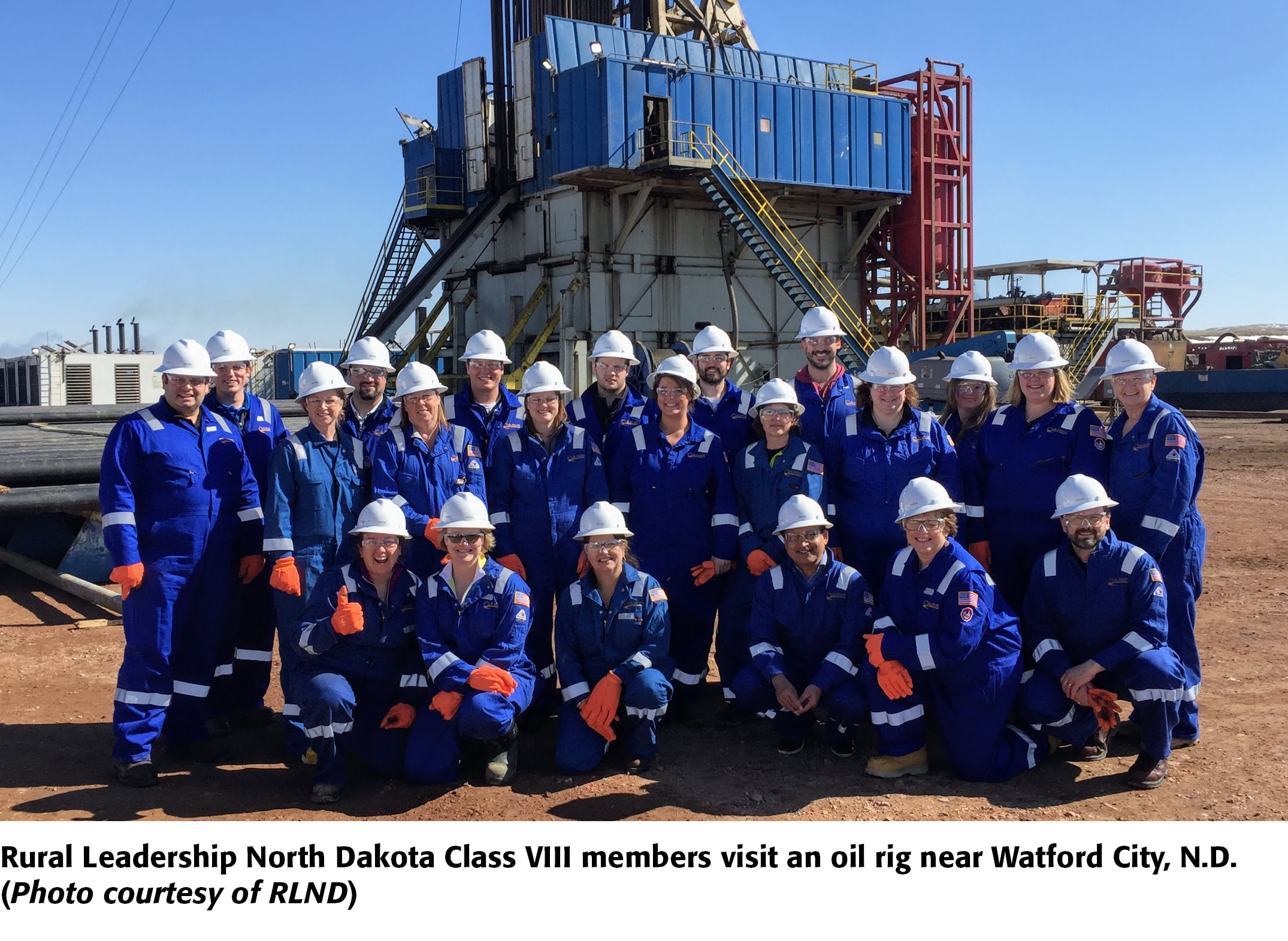 The schedule was not a conflict for Adams during planting or harvest, he says, with no meetings in April, May, August, September or October. Adams, 32, farms 9,000 acres on both sides of the North Dakota-Minnesota fence in the Red River Valley, and consistently looks for ways to improve his operation. He will complete the RLND program in 2019, and describes the two-year process as a "ramped up lesson in agriculture, business and networking."
"Literally, my experience with RLND doesn't have a single negative. I'm taking what I learned about people and business right back to my farm. Going in, I didn't know even one person from my group of 25. Now, I've got friends for life that will help me, and that I can help, and in turn, we can give help together to our communities in North Dakota."
Texas
Backed by a stellar reputation, the Texas Agricultural Lifetime Leadership (TALL) program is an action-oriented, deep dive for at least 24 participants (two-year program spread into three calendar years) from all sectors of Texas ag, involving eight educational seminars; five in Texas; two on the East and West coasts, and one in a foreign country. The study focus is packed with leadership development, communication, economics, policy, trade, urban/rural relations, water, labor, regulations and more.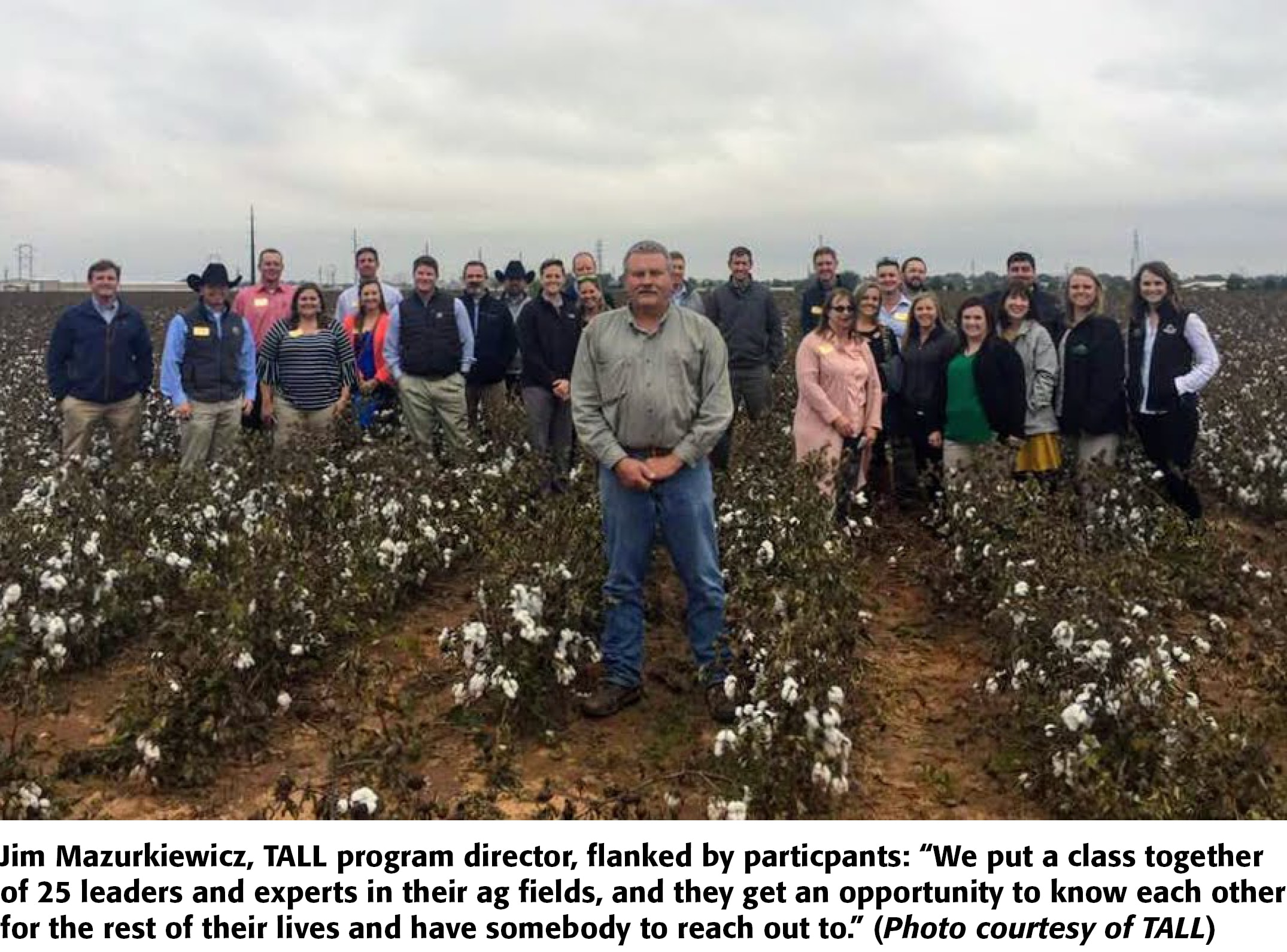 The eight seminars total 45 days of training with 300-plus speakers and on-site visits. TALL requires 470 hours of training per participant, according to Program Director Jim Mazurkiewicz. "It's quite a commitment to do this program, and it returns 40 more hours than a master's degree from an accredited university. TALL graduates consistently go on to serve at state and national levels."
The TALL age range typically falls between 30-52, Mazurkiewicz explains. "We want seasoned people with experience. It's not unusual for people to apply two or three times before being accepted. We put a class together of 25 leaders and experts in their ag fields, and they get an opportunity to know each other for the rest of their lives and have somebody to reach out to. I can say they learn as much from each other as from the seminar speakers."
The true tale-of-the-tape value is found in participant testimony gleaned from present TALL attendees.
John Van de Pol runs a dairy and row crop operation in Amherst, farming 2,000 acres of row crops and milking 3,000 cows. "I'm exposed to so many parts of agriculture that I'm not normally exposed to, including a behind the scenes look at the banking and regulatory sides of agricultural. I'm learning firsthand what I can do to make a real difference and there is no better group of people to be around if you want to push yourself and take your operation to the next level."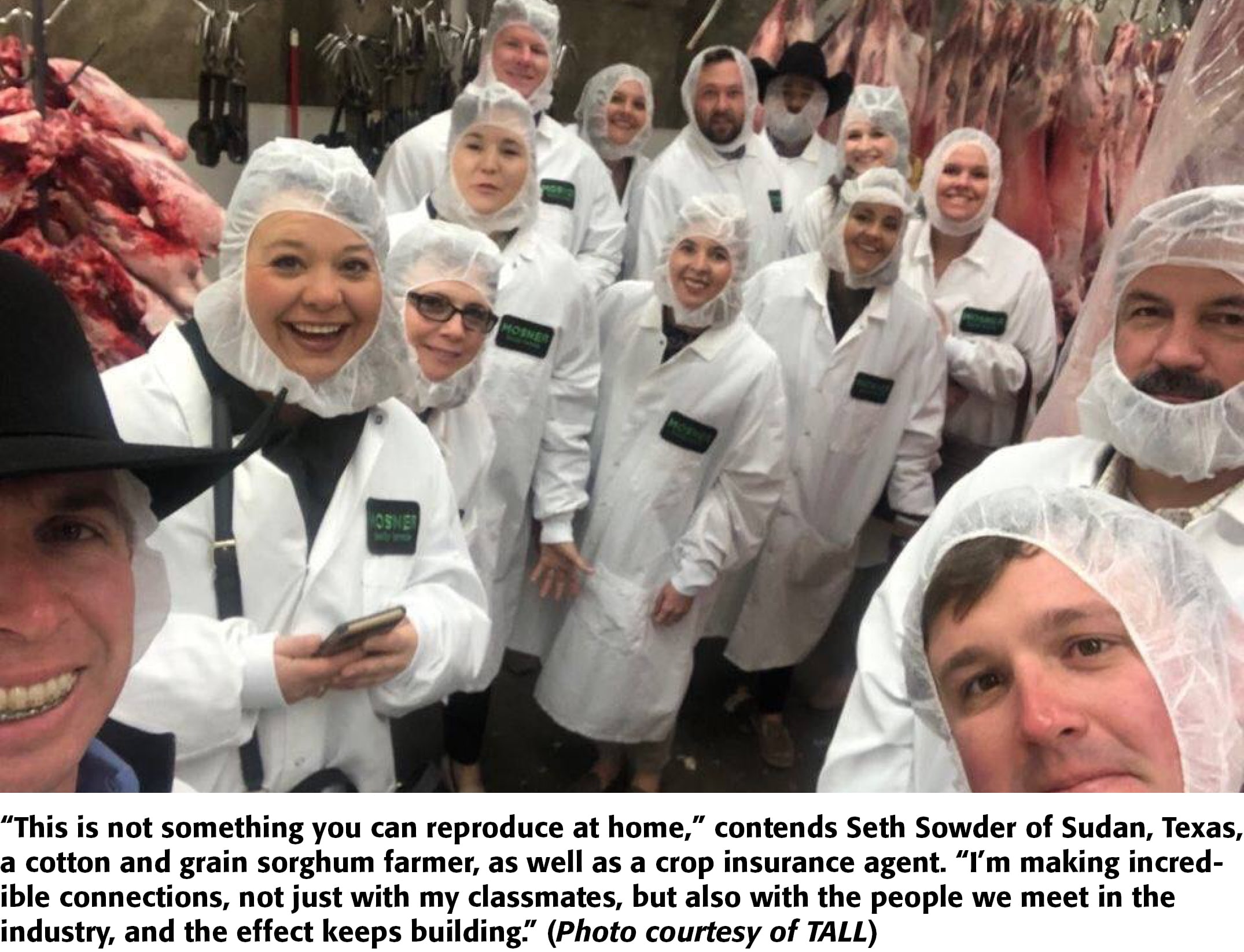 "I'm seeing so many more different facets of my industry, and it really hits home when we're in Austin or D.C., and we see the legislators at work on hot-button issues," says Travis Wilson, a Decatur-based wheat and corn producer with a cow/calf operation. "It's a reality-check and shows me why and how to get involved, and to actively do something."
"The value is two-fold for me," describes Sarah Franklin, branch manager for Texas Farm Credit in Pleasanton. "It's allowed me to gain a broader sense of ag at state and national levels. I want to take this back to my home community and use the knowledge to help others. In addition to ag learning, I'm finding out about myself as a leader, and being able to expand those skills and ultimately use those for my community."
"This is not something you can reproduce at home," contends Seth Sowder of Sudan, a cotton and grain sorghum farmer, as well as a crop insurance agent. "I'm making incredible connections, not just with my classmates, but also with the people we meet in the industry, and the effect keeps building."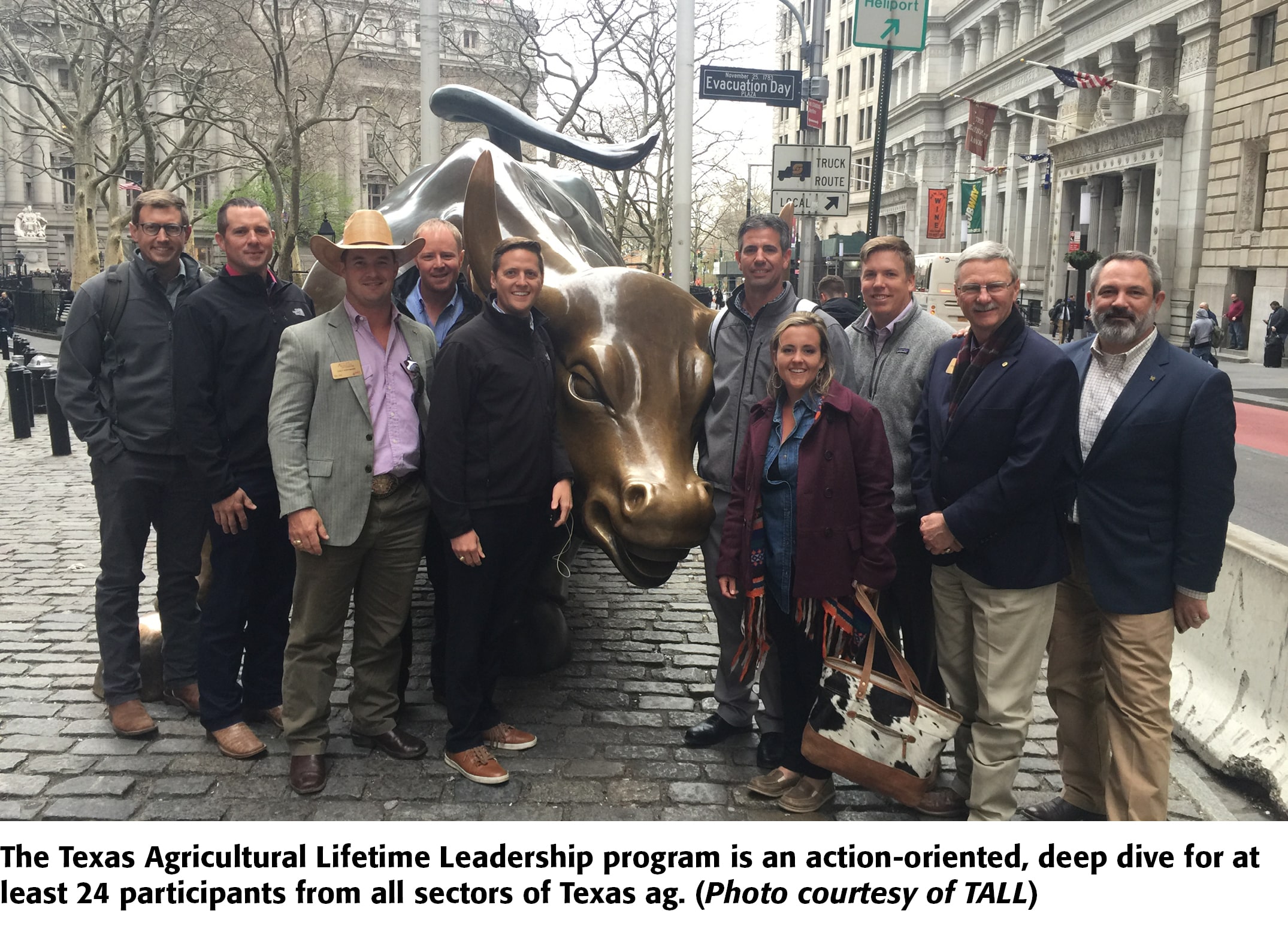 Casey Crabtree lives in Amarillo and works for Cargill Animal Nutrition as business manager for the ruminant enterprise group in the beef feedlot sector. "This program has helped me looked beyond doing my own thing. I can't emphasize enough about the relationships you build with participants, alumni and speakers. It really opens a network to impact our communities at local, state and national levels."
"There's also so much crucial knowledge gained about other industries," Crabtree continues. "Connections are important to get you in the door, but once you're in, it's what you know. We're gaining knowledge that we need."
Michael Lawrence holds the reins on a dairy and farming operation in Earth, with 10,000 cows and 8,000 acres of crops. "This will pull you from your comfort zone in the neatest way. You get exposed to so many new things and get involved the political side and learn how to resolve problems in agriculture. Being around these great people will pay dividends for years."
Indiana
Beth Archer, executive director of the Agricultural Leadership Program (ALP) in the Hoosier State, doesn't mince words when speaking about the graduates of the program: "They are the gatekeepers of the future of Indiana agriculture."
Since 1983, ALP has produced a bountiful return for the Indiana ag industry: 500 graduates in its two-year program. Across 12 seminars, 10 are three days in length, one includes a full week of study in Washington, D.C., and one involves two weeks of international activity. In-state seminars include a focus on local/state government, public policy, economic issues related to ag, personal leadership, team building, decision-making, communication skills and much more, describes Archer.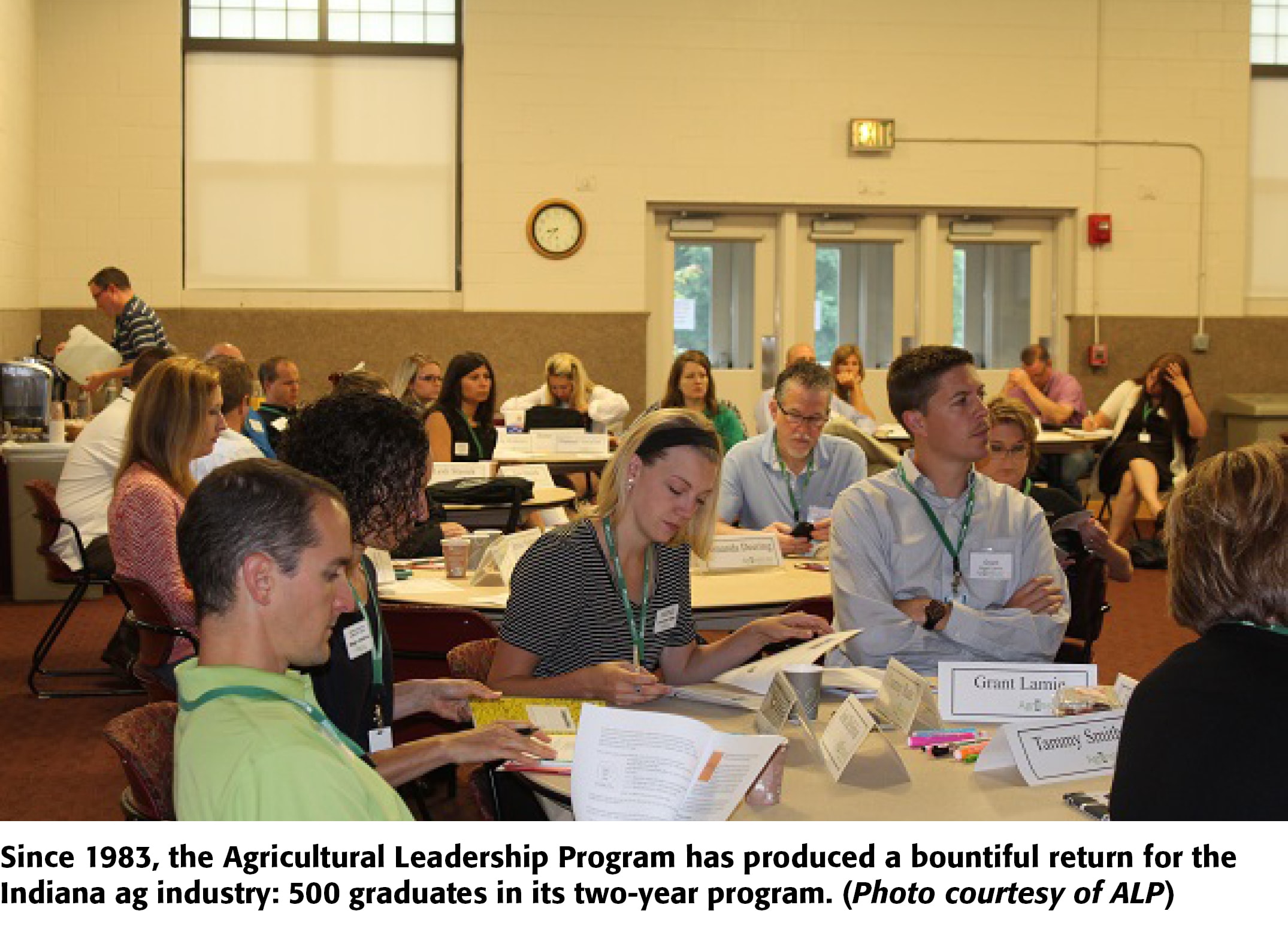 "We attract leaders who want to hone their skills. It represents the entire spectrum of agriculture in our state, from people with high school educations to people with the most advanced degrees. It's amazing how much value they all gain from each other."
The interview process is rigorous and the result is a sharp, highly adept group of candidates, Archer explains, with participants chosen from row cropping, livestock, lending, sales, marketing, agribusiness and Extension. "Always, 100% of the class is involved in agriculture. They come in with their own area of expertise, and leave with a broad understanding of the complexity of the entire ag spectrum. They go on to serve in high profile positions at local, state and national levels."
The networking, Archer emphasizes, is invaluable. ALP graduates consistently rank networking as a top takeaway, she notes: "They connect with their classmates, but also with all the alumni who came before, plus all the experts associated with the program."
Archer's position is strongly echoed by 2016 ALP graduate and Putnam County producer Paul Hodgen, who grows 5,000 acres of corn, soybeans and wheat in Roachdale. (Hodgen's wife, Jennie, is an ALP alumna.)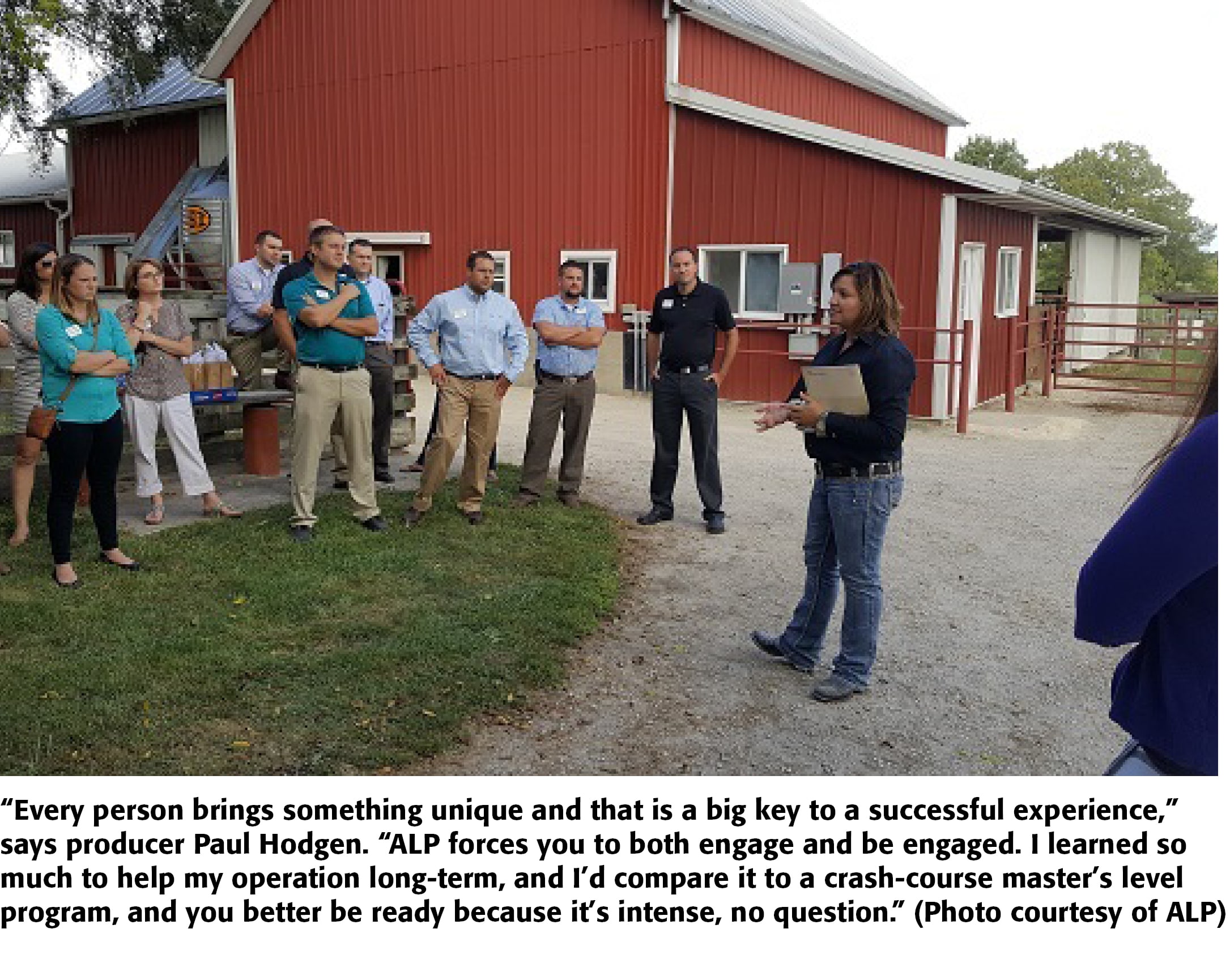 "Every person brings something unique and that is a big key to a successful experience," he says. "ALP forces you to both engage and be engaged. I learned so much to help my operation long-term, and I'd compare it to a crash-course master's level program, and you better be ready because it's intense, no question."
ALP was vital in preparing Hodgen to serve on the board of the Indiana Corn Marketing Council, he explains: "There is a direct link that gave me the confidence to know I could make a difference. We manage checkoff dollars collected from Indiana and spend those globally through U.S. Grains Council and NCGA, and we fund a whole bunch of state and local projects. There is no way I'd have sought out the position without direction from ALP."
"Everyone is surprised by how much they get out of it," Hodgen concludes. "It's about leadership on the farm, but also being a steward for your community. Ag leadership programs shine at providing leaders for local, state and national levels, and give you a strong connection to people who are leaders that already have been through these programs and serve globally. Iron sharpens iron."
For further information on the agricultural leadership programs of North Dakota, Texas or Indiana, see RLND, TALL or ALP.
For more, see:
Breaking Bad: Chasing the Wildest Con Artist in Farming History
Against All Odds: Farmer Survives Epic Ordeal
Wild Pig Wars: Controversy Over Hunting, Trapping in Missouri
Agriculture's Darkest Fraud Hidden Under Dirt and Lies
Blood And Dirt: A Farmer's 30-Year Fight With The Feds
Killing Hogzilla: Hunting a Monster Wild Pig
In the Blood: Hunting Deer Antlers with a Legendary Shed Whisperer
Living the Dream: Honoring A Fallen Farmer
Pigs Don't Fly: Feral Hog Spread Is A Man-Made Mess
Who Killed the Finest Soybean Soil in the World?
Hemp Fraud Hits Farmer With Clone Scam
Seeds of Discord: Crossing the Great Cover Crop Divide
The Living and the Dead: Black Vultures Expand, Farmers Pay Cost