Farmers continue to face declining farm income in the Midwest and Mid-South regions, according to the latest report from the Federal Reserve Bank of St. Louis. Meanwhile after holding steady, farmland values have edged higher.
For the twenty-second consecutive quarter, a majority of bankers reported a decline in farm income compared with the same period a year ago. It was the highest proportion of bankers reporting lower income since the first quarter of 2016. Fewer bankers, but still a majority, expect farm income to remain lower next quarter compared with the same period last year. 
Bankers gave a similar downbeat view on farm household spending and capital spending. An increasing majority reported a decline in those categories compared with levels one year ago. Expectations for the next quarter are stable for household spending and show only a slight improvement for capital spending. 
Farmland values are a bright spot for the region, which includes eastern Missouri, southern Illinois, southern Indiana, western Kentucky, western Tennessee, northern Mississippi and Arkansas. Compared to a year ago, quality farmland values are up 2.6%. However, ranchland or pastureland values fell slightly, by 1.2% compared with a year ago.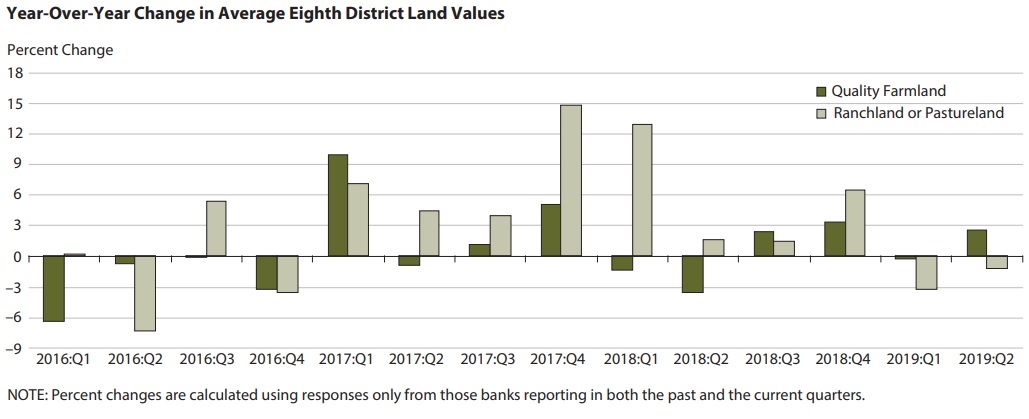 Most bankers expect values for both quality farmland and ranchland and pastureland will improve in the next three months relative to a year ago.
Cash rents for quality farmland in the second quarter fell 2.9% compared with a year ago. In contrast, rents for ranchland or pastureland rose 4.3%. The improvement in rents for ranchland or pastureland reflects a partial recovery from the sharp decline reported in the previous survey.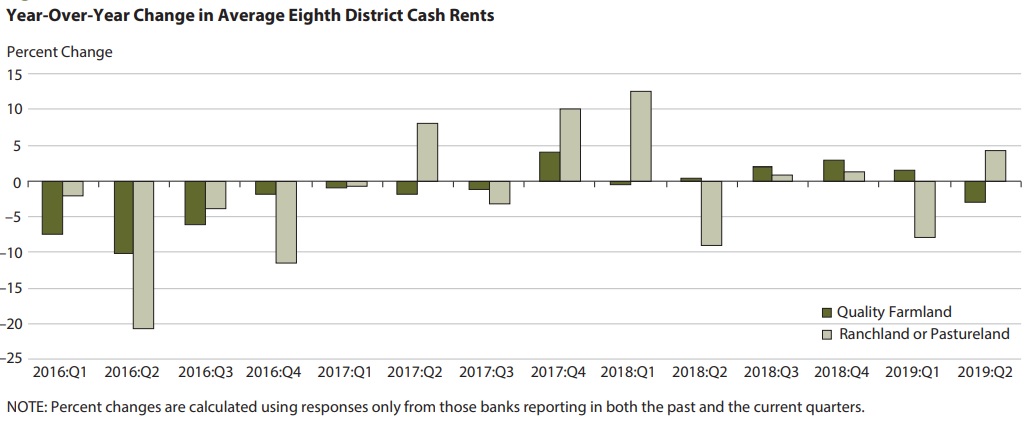 Weather has dramatically affected farmers in the region. In this survey, bankers were asked to indicate the percentage of their agricultural borrowers who were, or likely will be, impacted by flooding or extreme weather during the first half of the year. The results showed a majority of customers were either significantly or modestly impacted by flooding or extreme weather earlier this year. 
Read More
2019 Second Quarter Agricultural Finance Monitor
Lenders Show Guarded Optimism About Farm Income
Midwest and Mid-South: Farmland Values Softer, Cash Rents Up