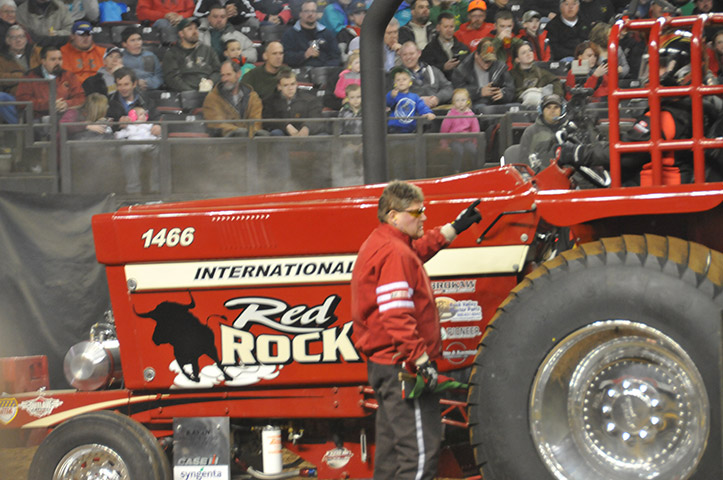 An undeniable highlight of the National Farm Machinery is the annual accompanying Championship Tractor Pull. This year marked the 47th annual contest, which is sponsored by Syngenta and supporting sponsors Horsch and Dixie Chopper. It's America's oldest indoor tractor pull.
The winners shared nearly $250,000 in total prize money. Each year, more than 500 teams apply for only 180 spots. This year's list includes all reigning Grand Champions, as well as a record number of women drivers.
This year's winners include:
Steve Bunnage, Golden Gate, Ill. – 7,500 lb. modified tractor class
Nick Skaar, Cottage Grove, Wis. – 9,300 lb. super farm tractor class
Joey Frasur, Liberty, Ind. – 6,200 lb. super modified truck class
Travis Schlabach, Marengo, Iowa – 8,200 lb. super stock tractor class
Neil Gettinger, Hagerstown, Ind. – 8,000 lb. super stock alcohol tractor class
Nathan Babler, Rock City, Ill. – 10,200 pro stock tractor class
For a full list of winners, visit http://www.champpull.org/results.html.
AgWeb editors attended part of the Thursday night (2/12) event. Here's a sampling of what they saw.
The NFMS went one step further, offering this one-of-a-kind "tractor's eye view" of the tractor pull:
This year's National Farm Machinery Show ran Feb. 11-14 in Louisville, Ky. Visit http://www.agweb.com/national-farm-machinery-show/ for complete event coverage.