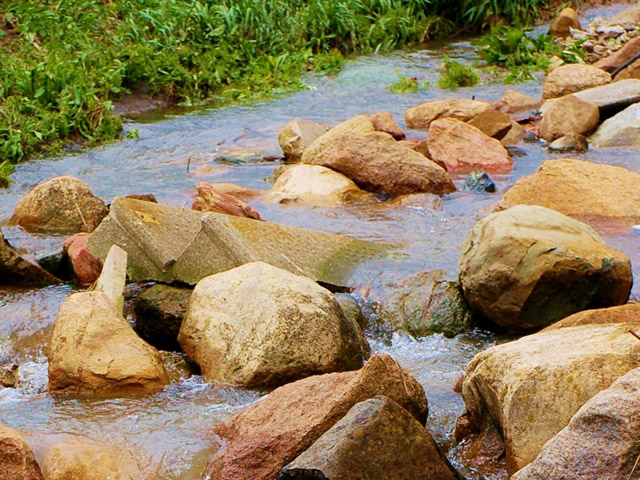 Lawsuit threat highlights water management concerns
Farm management practices that limit nitrogen runoff are nothing new to Wayne Humphreys, a producer in southeast Iowa's Louisa County. So while he isn't directly affected by drinking water safety concerns unfolding north of his operation, he is monitoring the case closely.

Depending on what happens next, farm operations in every state could be affected, he says.

"The Clean Water Act specifically exempts agricultural [stormwater] runoff, so this intent to sue puts that exemption in jeopardy," Humphreys explains. "That is the crux of the entire situation."
Utility Weighs In. Humphreys is referencing a 60-day notice of intent to sue by the Des Moines Water Works (DMWW), Iowa's largest water utility. It has raised questions about key components of the federal Clean Water Act and the Safe Drinking Water Act.

"What we are looking at is an intersection between a very important element of our economy—agriculture—and our ability to consume the water downstream from agriculture," says Bill Stowe, CEO and general manager of DMWW. "Both have to coexist." 

At issue are nitrate concentrations from agricultural runoff in the Raccoon and Des Moines rivers, which supply drinking water to roughly 500,000 central Iowa residents. The Safe Drinking Water Act permits nitrate levels of no more than 10 parts per million (ppm), yet DMWW says the three northern Iowa counties of Sac, Buena Vista and Calhoun have returned dozens of samples well in excess of that level in the past year.

High nitrate levels in drinking water can lead to health problems, such as blue baby syndrome, which limits the blood's ability to carry oxygen in infants.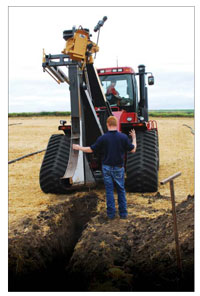 Tile drainage is placing nitrate runoff into Iowa rivers that provide drinking water, a utility says. 
This winter marks the first time in the utility's 150-year history that its denitrification plant has had to run 61 consecutive days, Stowe explains. Treatment costs $4,000 to $7,000 per day, and continual use taxes the 25-year-old system. It would cost between $80 million and $180 million to replace the system, Stowe notes, an unreasonable expense that would be passed to utility customers.
Concerns For Farms. Meanwhile, agriculture and conservation experts argue legal action won't solve the nitrate problem. Multiple approaches are needed to control nutrient runoff as part of Iowa's landmark nutrient reduction strategy, which began 18 months ago, says Sean McMahon, executive director, Iowa Agriculture Water Alliance and former director of The Nature Conservancy's North America Agriculture program. The Iowa Nutrient Reduction Strategy aims to reduce oxygen-depleting hypoxia in the Gulf of Mexico with a 45% cut in on-farm nitrogen and phosphorus application. 

"We need more conservation on the landscape, but we also need a working denitrification system as a safety net because we will still have times when nitrate concentrations are above 10 ppm due to heavy precipitation—even after we've successfully reduced statewide total nitrogen loading by 45%," McMahon explains.

He fears any lawsuit would lead to unnecessary regulations for the state's 92,000 farms and strain its 3,000 drainage districts.

"It's going to take years and even decades to fully implement the Iowa Nutrient Reduction Strategy," McMahon says. "It's ridiculously premature to call the strategy a failure less than two years into its implementation."

Stowe argues that the nutrient strategy essentially repackages decades-old conservation practices and that bigger changes are needed. Specifically, drainage districts should be required to obtain state permits, which would require water exiting tile lines to be treated for nitrates as it exits the pipe, whether through biofilters or other means. 

"This is clearly groundwater to us," Stowe says. On or about March 10, DMWW likely will seek federal relief under the Clean Water Act and also relief under Iowa nuisance provisions, Stowe says.

Farmers are protected from legal action under the Clean Water Act's stormwater exemption, notes Gary Baise, an attorney with OFW Law in Washington, D.C. Yet if this case were to also enter the local court system in Iowa, it could prove much more difficult to win the case before a jury he cautions. Stowe counters it's likely that both cases would be packaged to appear jointly before a federal court.

Baise says the implications of a decision requiring farmers to end water flows from tile lines would be enormous. For example, if water once channeled through the soil profile had to be stored above-ground, it would require substantial infrastructure. A single acre-foot of water, which can accumulate quickly in Iowa, is made up of 326,000 gal. 

"I don't think there's enough profit in agriculture to build storage facilities on most farms," Baise says. 

Stowe says DMWW only intends for drainage districts to pay to treat water flowing downstream. 
This advocacy series from Farm Journal Media provides in-depth information to farmers and ranchers about external influences such as overreaching regulations, policymakers, courts and activists that impact their operations—and potentially endanger the future of their farms. The multimedia editorial campaign aims to educate and motivate producers to interact with legislators, regulators and consumers to help them understand why agriculture needs the resources and runway to maximize productivity, exercise stewardship and secure our food supply. To find resources and links to help make your voice heard, visit www.AgWeb.com/agriculture-challenge/.