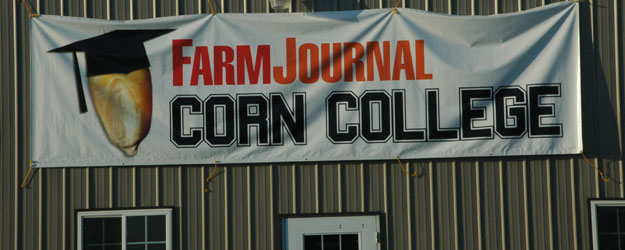 Last year, it was drought. This year, it was rain. No matter the weather, it seems each growing season always presents its own set of unique challenges. And that's where Farm Journal Corn College comes in.
This year's annual event kicks off July 15 in Heyworth, Ill., and focuses on information farmers can use to conquer the challenges of a wet year.
"We're going to focus on techniques that farmers can take home for better weed management, for better disease management, for better nitrogen management," says Margy Eckelcamp, Farm Journal Test Plots director.
Farmers can look forward to presentations on disease management and nitrogren management, as well as in-field diagnostics, led by Farm Journal agronomists Ken Ferrie and Missy Bauer. Fred Whitford of Purdue University will offer a special session on how to properly get stuck machinery out of a muddy field, and the CropTech team will conduct special break-outs on fine-tuning your combine and understanding herbicides.
And, as always, farmers can expect to be hands-on and in the field.
"What I think is going to be the most popular break-out this year is Ken Ferrie and Missy Bauer in the field, talking about nitrogen management," Eckelcamp says. "We have a whole drive-through experience where farmers can see three different crop rotation environments, and then eight different nitrogen applications."
On July 18, farmers can watch a live taping of the "U.S. Farm Report" marketing roundtable, and Ken Ferrie will present a one-day-only session on soil health.
Hear more about what to expect at this year's Corn College:
Be sure to visit AgWeb this week for continuing coverage from our 2013 Corn College events.
....................................
Thank you to the 2013 Corn College sponsors:
AgriGold, BASF, Chevrolet, ESN/Agrium, Great Plains, Honeywell, Koch, Novozymes, Precision Planting, SFP, Top Third Marketing


---