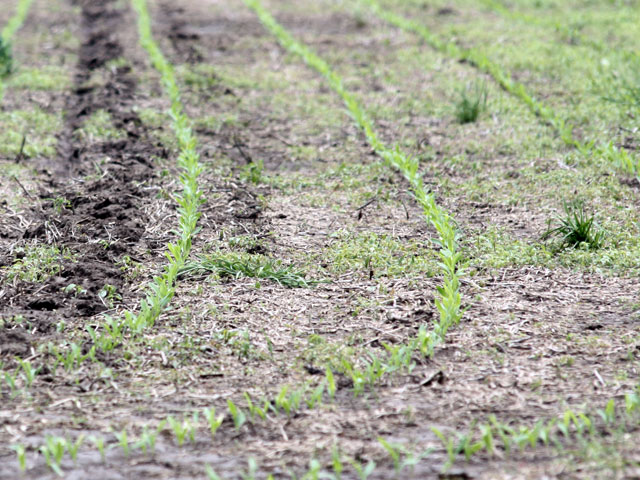 By: Karen Sarita Ingram, Post Register

This will be Gordon Gallup's 30th season of no-till planting on his 3,000-acre Ririe, Idaho farm.
Gallup, who grows wheat, barley and alfalfa, said using no-till methods has helped him save money on fuel, water and fertilizer costs.
"I started it more as a conservation practice, trying to stop (soil) erosion," he said. "(When I used to till) we were going across the soil five to seven times before we put the seed in, and every time you do, you lose moisture."
Using the no-till method, farmers put seed and fertilizer directly into the soil without tilling it first. The topsoil is left undisturbed so that organic matter in the soil remains intact. That organic matter helps keep moisture in the soil, decreasing erosion and the need for irrigation. The organic matter composts naturally, acting as a built-in fertilizer.
But the effectiveness of no-till farming depends on many different factors, such as climate, soil type, crops being grown and how long no-till has been used.
For dryland farms in eastern Idaho that have been using traditional tilling methods, it can take several seasons before no-till begins to show real benefits, which can be discouraging for the farmers.
"It takes longer to build the organic matter (in the soil) here," Gallup said. "I think that happens a lot, people try it one year and say it didn't work."
Although data was not available for eastern Idaho, no-till farming — also called direct seed — appears to be growing in popularity across the U.S. Although the method is not without its critics and concerns, its benefits are attracting more and more farmers each year.
The U.S. Department of Agriculture estimates more than 35 percent of farmers who plant the eight major crops — wheat, barley, corn, oats, rice, cotton, soybeans and sorghum — were using no-till methods in 2009, although only about 10 percent used no-till methods full-time.
No-till farming methods increased for four crops in particular — corn, cotton, soybeans and rice — at a median rate of 1.5 percent per year from 2000 to 2007.
When he's not busy in the fields, Gallup represents the Idaho Wheat Commission's Fourth District, which encompasses Bonneville, Bingham, Butte, Clark, Custer, Fremont, Jefferson, Madison and Teton counties.
Gallup also has overseen the Wheat Commission's Southern Idaho Direct Seed Workshop for the past seven years — an event that has experienced steady growth.
"The first year, we had 40 to 50 people.. We had about 120 people last year," Gallup said. "We're getting a lot of people coming from Utah and Montana to these meetings."
Olga Walsh, University of Idaho cropping systems agronomist and extension specialist, said when a farm switches from tilling to no-till, it can take five to six years years to build soil structure, water holding capacity and organic matter. During that time, farmers might need to use more nitrogen fertilizers to help the crops grow, but after that initial period of adjustment, farmers save money on fertilizers, fuel costs and more.
"The long-term effects are worth it," she said. "In five years, you should be saving (money)."
Perhaps more importantly, farmers also will be conserving the topsoil and using less water for irrigation. Every tillage pass can cost growers about .25 inches of plant available water, Walsh said.
"Right now, we're experiencing water shortages due to low snowpack accumulation during the mild winter," she said. "Not as bad as California, (but) in general, in the western part of the United States, water is a tremendous concern."
Aside from the initial costs of new equipment and waiting for the soil to return to a healthier state, critics of no-till farming also cite herbicides as a concern.
Tilling helps farmers get rid of weeds. Many no-till farms have to use more herbicides to get the same results. That not only is an added expense, but also an environmental concern for many.
No-till may be easier for start-up farms, rather than those with existing infrastructure, in part because it takes less time for the soil to adapt and because there is no need to change equipment.
Ohana No-Till Farm, near Meridian, is in its second season and never used traditional tilling methods.
"It was a very unique set of circumstances that allowed us to start right from the get-go (as a no-till farm)," said David Mitchell, "grow maestro" at Ohana No-Till Farm. "We had a pretty good success rate our first season."
Ohana grows a large variety of crops, primarily vegetables and leafy greens, on three acres of land. But Mitchell said he gets three times the yield of a traditional farm of the same size because Ohana uses every inch of space for crops and cover plants, a method called small plot intensive relay.
This method also eliminates weed issues, allowing Ohana to avoid all chemical herbicides, Mitchell said.
"If there's nowhere for weeds to grow, they won't grow," he said.
Mitchell said he hopes the benefits of no-till will continue to attract more farmers.
"This is probably the most sustainable method . that can be done on a large scale. I would love to see more commercial farmers embrace the no-till method," he said.