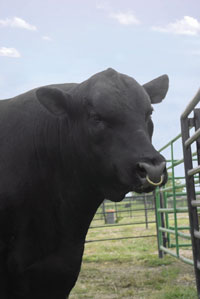 What is your ultimate goal as a cattle producer? Once you've identified your goals, find a bull with the genetic and physical traits that will deliver quality progeny.
Will you be shopping for a new bull this fall? As fall production sale catalogues start to pile up, Doug Parrett, Extension specialist in beef and performance testing at the University of Illinois, advises cattlemen to put down the sale catalogue and pick up your herd records first.

"The number one thing is to define where your herd is at and what your goal as a cattle producer is. For example, in Illinois, I work with several cattlemen with off-farm jobs. They want easier-calving animals—that is a priority for them," Parrett says. Other producers will want to focus on other traits.

Dan Moser, professor of beef cattle genetics at Kansas State University, agrees. "Many producers ask for a target number they should look for, but it depends on each producer's end goal. Do they want a uniform group of calves to sell, or will they be keeping heifers to restock the herd?"
Moser recommends cattle produ-cers look back at the bulls already on the farm and identify production challenges they want to avoid. If you have a registered bull already, check his updated EPD information. As more of his relatives—such as his sire's daughters—are evaluated, it's likely his EPDs have changed. Then determine if there are production problems such as calving, temperament or soundness that need to be avoided.

"Buying a bull is a personnel choice—like hiring a new employee. You have an opportunity to work with a new partner in your cattle business. If you know the reason the last bull was 'fired,' you can choose the best way to move forward," Moser says.

Web Links to national breed associations:
Ben Eggers, herd manager for Sydenstricker Genetics based in Mexico, Mo., says when producers are evaluating bulls and EPDs it's important for them to know which numbers will benefit them.
 
"Because of our involvement with the Show-Me-Select program, I often get asked the optimal birth weight question. My question for the producer is always: are they breeding heifers or cows?" Eggers says.

"If they are breeding cows, I would prefer a little higher birth weight so the calf can withstand Missouri's cold, wet springs."

The future of your cattle herd relies heavily on the bull you purchase, Parrett says. "A weaned calf is not the finished product. We have to think through the whole system," he says. "With EPDs, we have the most information available as possible, but that doesn't make it easier to make a decision."

Behind the numbers. While Parrett admits that the increased information producers have on a bull can be confusing, it is also the best opportunity to add economical value. He reminds producers that EPDs can tell only the information that they represent.

"For example, for Angus breeders, the beef value EPD ($B) puts economic value on feedlot and carcass traits of an animal. It's not the only value to look at—it only tells half of the production cycle. Breeders need to look at other values for traits that will be important while that animal is on your farm as well."

Producers have to understand how EPD data is interpreted. Each breed has its own average EPD base, Moser says. Within a breed, EPDs are good tools to compare animals, but EPDs cannot be used to compare animals from different breeds. (See sidebar for Angus bull comparison.)

Don't discount animals with high EPD values if they are not dramatically more or less than the next bull in the pen, Moser adds. EPDs are determined by taking into account environmental factors.

"Visual inspections need to focus on feet and leg soundness, breeding soundness and structural correctness," Moser says.

Eggers, who sees about 300 bulls purchased at Sydenstricker Genetics each year, says producers on average base about half their decision on EPDs and the rest on visual appraisal. "Visual inspection is still very important for producers—soundness and docility problems can be a deal breaker."

For producers needing multiple sires in a herd, Moser says, it makes sense to select bulls with similar calving ease, growth rates and carcass traits, as these will be crucial factors in creating a uniform calf crop.

Producers planning to keep heifers will want to study maternal traits of bulls. Moser says to look at milk values—not for the maximum number, as high-milking cows cost more to maintain, but for an appropriate number to ensure cow costs remain in check.

Calving ease maternal (CEM) is often overlooked by cattlemen planning to keep heifers. CEM reflects the cow's ability to have the calf, while calving ease direct (CED) is relative to the size and shape of a calf. This can be important to producers with low management resources.

"Depending on your cowherd and what you as a producer are doing, one bull is going to be more valuable than another," Eggers says. "Choose wisely." BT

Find value in the numbers

Buying a new bull can be a hard decision—the choices are endless and the numbers can be overwhelming. EPDs allow producers to compare animals within a breed, but it can be difficult to sort out which numbers you need to read.

In the following example of Angus bull EPDs, there are two bulls that both present a sound, structurally correct sire. However, the EPD information will interest two different producers.
Calving ease direct (CED) value is expressed as a percentage of unassisted births, with a higher value reflecting more unassisted births in first-calf heifers. Birth weight (BW) is expressed in pounds and predicts the sire's ability to transmit birth weight to his progeny. Bull A calves, when bred to first-calf heifers, will be slightly easier calving than Bull B calves, but BW is marginally different between the two animals.

The second number (Acc) represents the percent of accuracy for the EPD. An accuracy close to 1.0 indicates higher reliability based on the number of progeny and ancestral records that are included in the analysis.

Like BW, weaning weight (WW) and yearling weight (YW) are expressed in pounds and predict the sire's impact on progeny growth at that level. Yearling height (YH) is expressed in inches, and scrotal circumference (SC) is expressed in centimeters.

While bull selection often centers on carcass production, choosing the right bull will have the greatest impact on your herd genetics for many years. Producers looking to retain heifers should be mindful of a sire's maternal traits. Calving ease maternal (CEM) reflects the percentage of unassisted births, with a higher value indicating a sire's daughter calving easier in first-calf births. Maternal milk (MILK) predicts milk production and mothering ability in a sire's daughters. In this example, Bull A is marginally better in CEM, but conservative in MILK. This is the better sire for retaining heifers.

Which one to choose. "If you are breeding heifers, use a higher CED bull," advises Ben Eggers, manager at Sydenstricker Genetics in Mexico, Mo. "If you are breeding cows only, go with a bull that will increase calf growth."

Is Bull A the best choice? Not if you are selling feeder calves. Look at Bull B's WW. In this respect, Bull B's calves, though born at nearly the same BW, surpasses Bull A calves at weaning.

A bull's fed-calf value is shown in carcass weight (CW). Expressed in pounds, it compares hot carcass weight to other sire progeny. Marbling (MARB) is shown as a fraction of the difference in USDA marbling score. Ribeye area (RE), in square inches, predicts difference in ribeye area, and fat thickness (FAT), in inches, predicts external fat thickness at the 12th rib.

Eggers says to evaluate your herd before selecting a bull. "If you are breeding continental cows, looking to provide good finished cattle, pay special attention to marbling. In an Angus herd, with the same goal, keep a closer eye on ribeye area."

$Values are indexes for a group of traits in dollars per head. Weaned calf value ($W) includes revenue and costs in BW, weaning direct growth, MILK and mature cow size. Feedlot value ($F) reflects postweaning merit and grid value ($G) offers carcass grid performance. Quality grade ($QG) places more emphasis on quality grades, including marbling. Yield grade ($YG), however, is based on red meat yield—ribeye, fat thickness and weight. Beef value ($B) combines postweaning and carcass value.

In our example, Bull B, higher in $W and $G, is a solid choice to use on exotic-based cows to increase carcass quality of offspring. Bull A will satisfy the heifer- and cow-breeding producer looking to improve the red meat production of a British-based cow herd through added carcass weight and ribeye area.

"Each producer has a priority in the information he sees. Identify yours, not your neighbor's, to find the bull that will add the most value to your operation," Eggers says.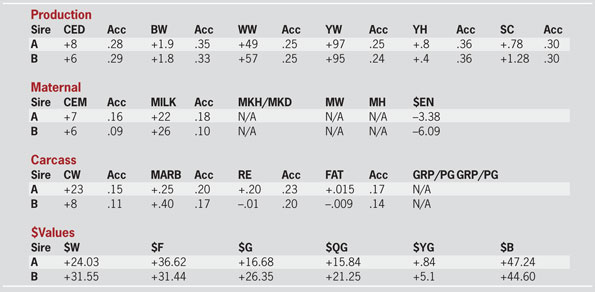 5 steps to success

Producers can simplify the bull selection process by following five key steps, says Doug Parrett, University of Illinois.

1. Identify the needs and resources of your herd and your production and marketing goals.

2. Identify breeds that will provide the genetics
necessary to meet your goals.

3. Within those breeds, identify bulls with EPDs that
will offer change in your identified traits.

4. Select only the bulls that are found to be superior in soundness and functionability.

5. Always be ready and willing to pay for a
superior product.