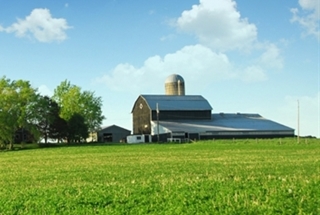 The sharp decrease in the number of small farms and ranches last year is part of a growing trend toward fewer but larger farms in the state, leaders in North Dakota's agricultural industry said.
The U.S. Agriculture Department's National Agricultural Statistics Service annual figures, released last week, show the 30,300 operations statewide at the end of 2014 was 500 fewer than 2013. The agency said the number of farms and ranches with less than $100,000 in agricultural sales declined 1,100 farms from the year earlier, while operations with more than $100,000 were up 600 farms from 2013.
Darin Jantzi, the state statistician for USDA's National Agricultural Statistics Service in Fargo, said the decline in small farm numbers isn't uncommon.
"The smaller farms are getting to be fewer and fewer and the bigger farms are getting bigger because they're able to absorb the fluctuations of the volatility of the markets," he said. "The land is still there. It's just the bigger farms are getting bigger and the smaller ones are getting out."
Marcy Svenningsen, the Farmers Union County President for Barnes County, said she, too, isn't surprised by latest USDA numbers.
Svenningsen noted that the second year in a row with low commodity prices — particularly corn — could have encouraged some older ranchers to retire.
"I think it's economics, primarily," she said. "High lands prices and low commodity prices. Anybody that's even thinking about getting out — the combination of the two would definitely be a driver."
Jantzi said the growing energy industry in the western portion of the state has also played a role. He said families that are ready to leave the business and have mineral rights have been able to get out.
Even though the number of farms is going down, the number of acres in farming is generally holding steady, he said. While it's good that there's not a loss in the amount of land being farmed, said Svenningsen, adding that she's been seeing small farms decline for years.
"Is it a good thing for North Dakota? No. Any time you lose people in your community and you have less farms, that's never a good thing," she said. "But, I hate to say it's inevitable, but in some ways it is."