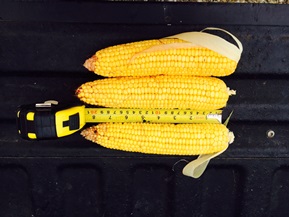 The Pro Farmer Midwest Crop Tour is under wraps. AgDay's National Reporter Betsy Jibben was in Eastern Iowa for the last day.

Scouts say crops were just building until the Mississippi River. Now in Northeast Iowa, that consistency has stopped and the crops really just vary.

"When we get into the field, some have good yield calculations and some are just poor. Some are extreme low end and high end," said Pro Farmer Editor and Eastern Leg Director, Brian Grete.
The crop in Northeast Iowa is one farmers normally wouldn't want to grow.

"These are pretty good soils and they would expect more. We just didn't get right weather conditions at the right times this year," said Grete.

The area was wet early on, then very dry. Since late July, crops have been thirsty in the Hawkeye state.

"We've seen some yellow in the fields which is nitrogen loss. That comes into play. That's the go-juice for the corn obviously and they lost some of it," said Grete.

Corn isn't the only crop struggling to mature. Beans are battling problems too.

There are plant population problems on some. We had some skips so that's an emergence issue there," said Grete.

That might make it challenging for the state to achieve a high yield.

"When it comes to statewide yields, it's hard to say. It's up and down. We will have to see how it all comes out when put estimates together and calculate them all out. This area I think will be pulling down on some of the average," said Grete.

Some pockets of Iowa are certainly better than others. Grete says he anticipates crops north of Highway 20 to have more issues than the southern portion.

Grete says he hasn't seen a huge problem with insects and disease with either crop in Iowa.