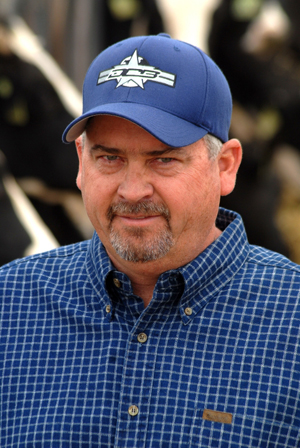 Larry Kamper
Dexter and Roswell, N.M.


For us producers, finding the right feed at the right price is getting to be unbelievable. Here in New Mexico, our commodity costs doubled from 2006 to 2008. And our milk prices are slipping. We're netting $16/cwt. to $17/cwt., when we need to receive $17 to $18 to break even.
In my estimation, there are three important factors this year for nutrition and forages:
1) quality alfalfa
2) price of feed
3) availability of feed
 
Quality of alfalfa is going to be very important because it could be one of our better-priced commodities. Since grain and commodities have skyrocketed, quality alfalfa could allow us to feed more alfalfa and less grain. We are also seeing shortages of certain commodities; some commodities are not even available, and that can cause higher prices.
I buy 90% of my grain from one company, DBS Commodities. The salesman there and I think alike. We look for prices that work for me and my two operations, not the bottom or the most expensive. I usually contract commodities 12 months at a time, partly because we pre-pay for them for tax purposes. But this year, it's not so easy. It's not a buyer's market.
To keep our rations balanced and cost-effective, we use nutritionist Dan Loper at Loper Systems. A balanced ration is very important and can still be attained, but it will be harder and more costly now. In New Mexico, we don't have as much feed variety as producers do in California, where they can pick from choices like almond hulls, citrus pulp, bakery waste and much more.
We can basically choose from cottonseed, alfalfa, corn and soy pellets. This year, we're feeding corn germ meal to stretch our corn contracts.
 
For many producers, the record prices of last year were used to pay down debt from 2006. One thing that's making me nervous is a fear that bankers may not want to do business with dairies anymore. 2006 was bad, but that could be mild compared to what's coming. Unless things improve, many could lose it all. We may see some people calling their banker to say, "Come and get my dairy. I'm done."
Kamper's May prices:
(Two dairy average)
Milk price (3.52 bf, 2.92 prt)
Cull cows 
$ 56/head
Springing heifers
$2,000/head
Alfalfa hay (2008 top hay)

$192/ton

Whole cottonseed

Contracted price: $170/ton
Spot price: $320/ton

Corn
Contracted price: $170/ton
Spot price: $262/ton
---