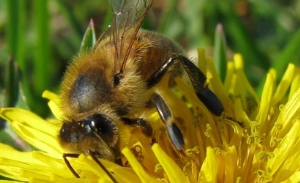 The number of bee colonies in the nation's leading honey-producing state is on the rise, as is landowner acceptance of the boxlike colonies.
State and industry officials in North Dakota credit more beekeepers, a more concerted attempt to register colonies and a unique effort to help beekeepers and landowners live in harmony.
Agriculture Commissioner Doug Goehring said 221 beekeepers have registered 510,000 colonies this year, compared to 205 beekeepers registering 482,500 colonies last year. More than 12,200 hive locations have been registered, compared to 11,000 last year.
Goehring said there has been a spike in registration compliance because of education and outreach done by his department's apiary staff. There also are more colonies because drought elsewhere has steered more beekeepers to North Dakota, said Will Nissen, a longtime Minot beekeeper and president of the North Dakota Beekeepers Association.
While other states, such as Montana and South Dakota, have strict limits on space between colonies, "North Dakota is kind of a 'bring-'em-on in' state," he said.
Goehring also said complaints about bee colonies are on the decline. One reason might be the state's Pollinator Plan.
North Dakota last year became the first state to heed the call of the National Association of State Departments of Agriculture to develop a plan to help beekeepers and landowners resolve differences while protecting honeybees, in the hope of reversing the effects of colony collapse disorder. A federal report blames a combination of factors including a parasitic mite, multiple viruses, bacteria, poor nutrition, genetics, habitat loss and pesticides for the loss of as much as one-third of the nation's bees each winter since 2006.
"The pollinator plan was developed in response to a growing need for a balanced public policy that mitigates risk to honey bees, while minimizing the impact of that mitigation on production agriculture to prevent unintended consequences," Goehring said.
North Dakota's eight-page plan was based on information gathered at meetings of beekeepers, growers, pesticide applicators, crop consultants and others.
"A lot of this is simple — getting to know what a beekeeper needs, and what a farmer needs," Nissen said, adding that efforts to improve relations and improve the industry are "heading in the right direction."
North Dakota has led the nation in honey production for the past decade, and last year produced more than 33 million pounds of honey, 22 percent of the national total.