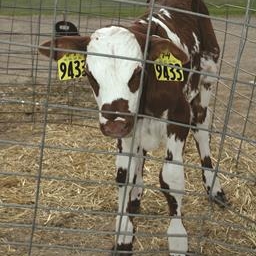 All amino acids, but particularly methionine, appear to be key to a successful pregnancy.
---

Extended comments are highlighted in blue.
---
The focus of nutrition on reproduction has been in early lactation where energy requirements for lactation are greater than consumed energy.
Cows not cycling, not showing heats or anestrus in early lactation are classical signs of energy deficiency in early lactation. Deficiencies of minerals and vitamins and excess protein in the ration also are linked to reproductive problems, but energy is considered the first limiting nutrient in getting cows pregnant.
Once cows are cycling and breeding occurs, the focus of nutrition is on maximizing milk production with much less concern for reproduction. However, recent research in both dairy and beef cattle suggest nutrition may have a significant role in maintaining pregnancy immediately following conception.
Minnesota, South Dakota State and Wyoming researchers found a major change in nutrition immediately following breeding impacted pregnancy success in beef cows and heifers. A major decline in energy intake or change in feeds (stored to pasture) immediately following breeding were found to increase early embryonic loss.
Researchers suspect the reduced pregnancy success was due to the insufficiency of certain nutrients, hormones and metabolic factors in the uterus to support embryo development before implantation in the uterine wall.
In cattle, the fetus does not immediately become attached to the uterus endometrium, but spends several days in the lumen of the uterus. Here, uterine secretions nourish and provide enzymes, hormones and other metabolic factors for development.
Nutrients found in the uterine secretion to support fetus development include glucose, fructose, some triglycerides and amino acids. Glucose is the major source of energy for the developing fetus and similar to pre-breeding, energy is probably the first limiting nutrient for fetus growth and development.
Almost all blood glucose in ruminants is derived from the liver synthesis of propionic acid to glucose. Little to no pure glucose escapes rumen fermentation and almost all starch is fermented in the rumen. Certain amino acids give rise to glucose as well as glycerol, but optimizing amounts and digestion of starch are the best way to increase glucose supply to the dairy cow.
Methionine, lysine and histidine are considered the first three limiting amino acids for milk production and milk components. They also increase in uterine secretion as the embryo elongates and prepares for implantation.
Milo Wiltbank and others from Wisconsin report increases of 14.4% for lysine, 12.4% for methionine and 11.5% for histidine in the pregnant uterus near time of implantation compared to a non-pregnant uterus.
Significant increases in arginine (7.6%) and phenylalanine (7.3%) were also found in the pregnant versus non-pregnant uterus. While these five amino acids show the largest increases in the uterus during early embryonic development, almost all the other amino acids increased also.
Methionine is of particular interest in the early fetus stage because of its role in lipid metabolism and gene expression. Wisconsin researchers fed a methionine supplemented diet that delivered 2,500 grams of metabolizable protein (MP) with 6.9% of MP as lysine and 2.3% of MP as methionine to early lactation cows. Methionine supplemented cows had slightly less pregnancy loss following breeding than cows fed the same diet with no supplemental methionine (1.9% of MP).
Evidence is accumulating about the importance of nutrition in reproduction from conception to calf birth. All amino acids, but particularly methionine, appear to be key to a successful pregnancy.
Supplementing rations with methionine for a lysine to methionine ratio (% of MP) of 2.8 to 1 may benefit both milk production and reproduction.