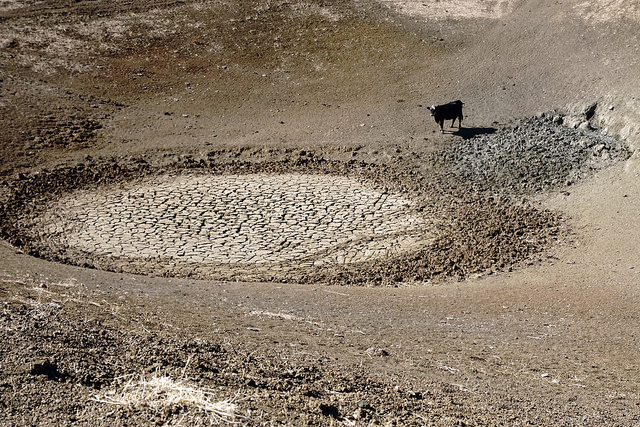 President Barack Obama promised another $110 million in aid for farmers and communities in western U.S. states now grappling with a record drought.
The White House pledged the money on Friday ahead of a video teleconference with Obama and governors from seven drought-plagued states. The U.S. has already spent $190 million combating the drought. The U.S. Department of Agriculture expects to provide $1.2 billion this year to ranchers who face grazing losses, the White House said in an e-mailed statement.
"Drought threatens multiple sectors of the economy and leads to increased risks to communities on many fronts," the White House said, noting that saying 35 percent of the west is experiencing "severe to exceptional" drought.
The drought has cut into water supplies for about 55 million people across the West. Mountain snowpack in California that supplies water during the summer is "a trace above zero," the White House said. Governors in California, Oregon and Washington have declared states of emergency as a result.
Federal money will create jobs, provide food assistance and improve water efficiency, conservation and wildfire control, the White House said. Agriculture Secretary Tom Vilsack, Environmental Protection Agency administrator Gina McCarthy and Federal Emergency Management Agency administrator Craig Fugate were to join Obama on the teleconference.
Governors scheduled to participate include California's Jerry Brown, Colorado's John Hickenlooper, Montana's Steve Bullock, Oregon's Kate Brown, Wyoming's Matt Mead, Arizona's Doug Ducey and Utah's Lieutenant Governor Spencer Cox.
About 35 percent of the western U.S. is facing a severe drought, according to the U.S. Drought Monitor, produced by a partnership between the University of Nebraska-Lincoln, the USDA, and the National Oceanic and Atmospheric Administration. California has been the worst hit, with almost half the state in an exceptional drought, the most extreme designation.
This year's snowpack in California was the lowest on record in a series kept since 1950, precipitation in 2013 was the lowest since 1896 and temperatures hit a record high in 2014, Michael Anderson, a climatologist for the California Department of Water Resources, said in an e-mailed statement.