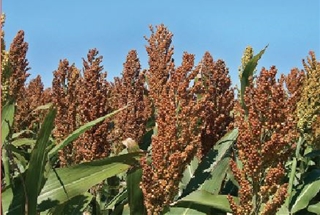 Production is forecast at 404 million bushels, down 6 percent from last month but up 4 percent from last year. Acreage updates were made in several States following a thorough review of all available data. Planted area, at 7.21 million acres, is down 3 percent from the previous estimate and down 11 percent from last year. Area harvested for grain is forecast at 6.17 million acres, down 4 percent from September 1 and down 5 percent from 2013. Based on October 1 conditions, yield is forecast at 65.4 bushels per acre, down 1.8 bushels from last month but up 5.8 bushels from last year.
To read the full report with charts, click here.
As of September 28, fifty-nine percent of the sorghum crop was mature, 7 percentage points ahead of last year and 5 percentage points ahead of the five-year average. Harvest progress had reached 32 percent at this time, 4 percentage points behind last year and slightly behind the 5-year average. Fifty-seven percent of the crop was rated in good to excellent condition, compared with 54 percent last year at this time.