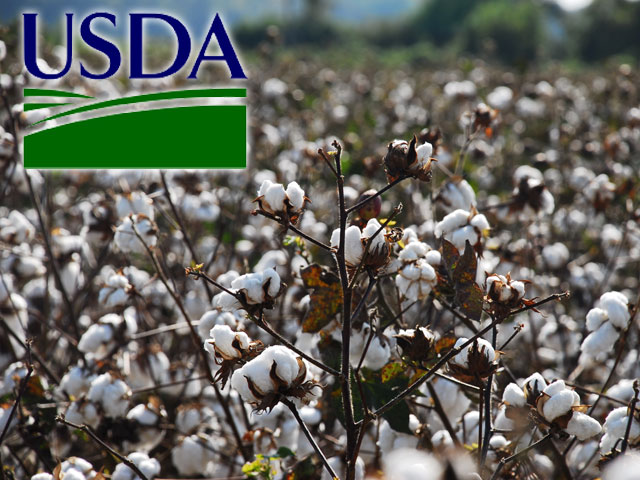 COTTON:  The 2014/15 U.S. cotton supply and demand estimates show lower production, ending stocks, and prices.  Production is reduced 283,000 bales to nearly 16.3 million.  The disappearance forecasts are unchanged.  The export forecast remains at 10.0 million bales, despite lower expected foreign imports, as demand for U.S. cotton is likely to be sustained.  The range for the marketing-year average price received by producers is lowered to 55 to 65 cents per pound; the midpoint of 60 cents per pound is reduced 4 cents on sharply lower recent prices, which followed announcements by the government of China indicating a more restrictive import policy.
Global 2014/15 stocks are raised about 800,000 bales this month to 107 million, owing to higher beginning stocks, as increases for production and consumption are about offsetting.  Production is raised 1.4 million bales, including increases for China, India, and Pakistan, which are partly offset by reductions for Brazil, the United States, Australia, and Zimbabwe.  Forecast consumption by China is raised 1.5 million bales as mills there are expected to reduce yarn imports in favor of spinning domestic cotton.  Consumption also is raised for Indonesia, due to changes in the historical estimates series, and Vietnam, but is reduced for India.  World trade is reduced about 800,000 bales on lower imports by China.  Forecast stocks for India are raised sharply from last month due to a combination of higher production and lower offtake.  With China's stocks now projected to fall by 550,000 bales from last season, stocks outside of China are expected to rise 17 percent year-on-year to about 45 million bales.  
World stocks for 2013/14 are raised 1.0 million bales, due mainly to higher production estimates for China and Brazil.  The China production estimate is raised 750,000 bales consistent with increased estimates of cotton which entered the national reserve.