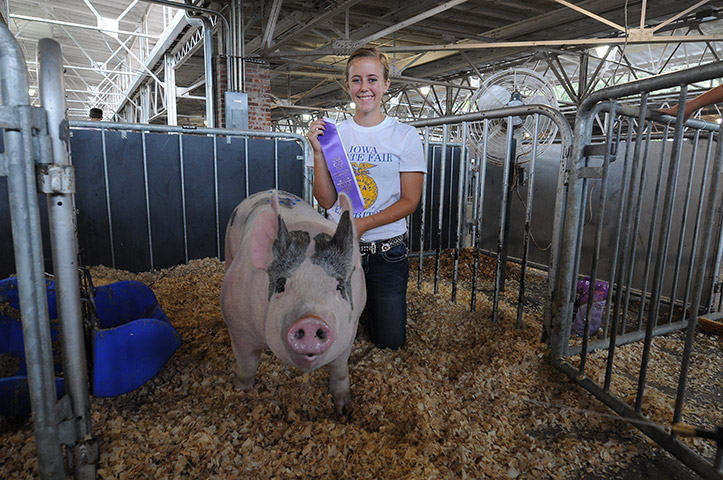 Iowa State Fair officials are defending the timing of the annual event from critics who say it may be time to set an earlier fair schedule to avoid conflicting with increasing numbers of school districts moving up the start of their academic year.
School districts will begin making decisions this month about their 2015 calendars. Some educators say starting school earlier improves student performance on exams. Many districts already receive a waiver allowing them to start earlier than the Sept. 1 date specified in Iowa law and several begin classes while the state fair is underway, the Des Moines Register reported on Sunday.
Attendance at the 2014 State Fair topped the 1 million mark as it has for 12 of the past 13 years. But it dipped to its lowest level since 2010. Fair officials blamed the attendance dip partially on more students being in school during the fair.
An early August or July fair also could conflict with county fairs, Iowa State Fair CEO Gary Slater said.
"It certainly would upset the apple cart for a while," he said.
Many county fairs take place in the weeks leading up to the State Fair. Having a vibrant county fair system serves as a lifeblood for the state fair, Slater said.
Iowa Future Farmers of America President Abrah Meyer said if fair dates are changed, members may have to decide whether to attend a county fair or the State Fair.
"I think it would put the exhibitors in a tough spot," said Meyer, whose organization includes more than 14,300 members.
FFA exhibitors show on the first weekend of the fair, while 4-H members show the second weekend, she said.
Meyer, the 2012 Iowa State Fair Queen, said older siblings hustling to make early school start dates can lose out on a valuable experience when "they miss the opportunity to help prepare their younger siblings."
In the early 1990s, Iowa State Fair officials moved the dates up one week to respond to the adoption of earlier start dates in many districts. Historically, the fair had ended on the Sunday one week before Labor Day.
Under the shift, the earliest a fair can be is Aug. 7-17, and the latest is Aug. 13-23.
The 2015 fair is set for Aug. 13-23.