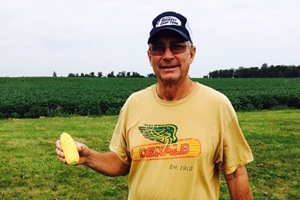 But plants could use some rain, heat, and time to finish the growing season right.
Scouts in Ohio's corn and soybean fields saw it all on the first day of the 2014 Pro Farmer Midwest Crop Tour.
In Seneca County, farmer and scout Richard Guse pointed out the promise in a corn sample that registered a hearty average 18 kernels per row. "Look at the depth in these kernels," said Guse, who farms corn and soybeans in Waseca, Minn. "That's pretty impressive."
So was the estimated yield for that field: 211.18 bu. per acre.
Agronomist Mark Bernard saw even higher yields—254 bu. per acre—on a stop where the ear count hit 117 and the average row reached 18 kernels around. "When you start pulling that type off corn out of a field, you know there's going to be a lot of bushels there," he said Monday.
Others did not find such a bumper crop on their route's stops. Illinois farmer Pat Solon came across a troubled stand where the ears' grain length measured just 4.3 inches. Plagued by emergence problems (skips, doubles, and gaps in the corn rows), that field produced the lowest estimated corn yield of his route with 104 bu. per acre. "The populations just seemed very low," said Solon.
Such divergence was common among scouting groups. Even Brian Grete, editor of Pro Farmer and director of the tour's Eastern leg, encountered two corn fields that were located only 12 miles apart in geography, but more than 100 bushels per acre in yield. "That tells you some of the variance out there," said Grete, whose group calculated yields for those two fields to be 141 bu. per acre and 287 bu. per acre.
Overall, though, it adds up to a strong crop. With 104 samples (none irrigated) collected, Pro Farmer estimates the state to yield an average of 182.11 per acre, which is a 6.1 percent increase compared to 2013.
If the weather cooperates, that could improve. Maturity varied from early melt stages to dough, and many scouts noted the need for a little more rain and a little more heat to finish this corn up. "This crop is going to need some time," Frete said.
So will Ohio's soybean crop. According to Pro Farmer estimates, the average pod count for a 3'x3' plot of soybeans is estimated at 1,342.42, which is nearly 5 percent more than last year. (The pod count measures the crop's potential, which could grow or shrink, depending on weather conditions and other factors before harvest.)
"The beans were short," observed Pat Duell, a retired Indiana farmer. "I was pleasantly surprised to see that the beans over here were as good as they were."
What would make them better? Rain.
"Rain is the most important thing for beans right now," Solon said. "The pods we have in the count right now won't be there [to harvest] if we don't get some rain." Ideally, that would be 1.5 inches over a 24-hour-period, he says. "We don't need a downpour."