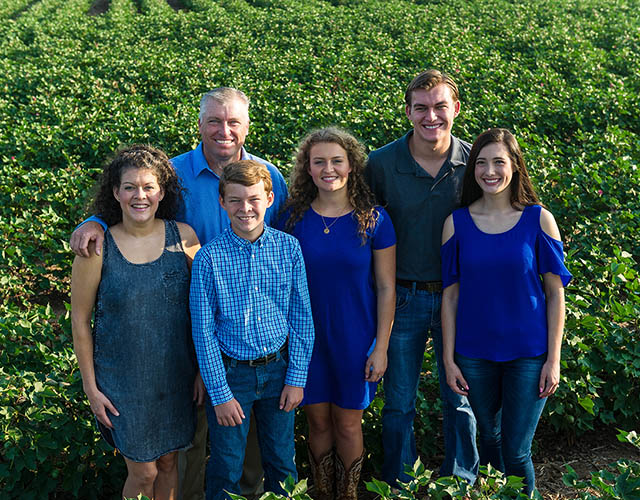 Oklahoma farmer Kenton Javorsky isn't afraid to stray from tradition to be profitable
In the 1800s, the Javorsky family immigrated from Russia to western Oklahoma. They brought with them a deep understanding of how to grow wheat and an entrepreneurial spirit. They established a foundation of resiliency, surviving the Dust Bowl and building a thriving manufacturing business as well.
Today, Kenton Javorsky still farms the same fields as his great grandfather. While drought has been a shared experience, the younger Javorsky put his plow to rest in 2009 and for the first time in 2018, will harvest more cotton than wheat.
"This is the shortest, smallest wheat harvest I've had in my entire life," Javorsky says. "It's normally three weeks. But this year it was three days. We didn't even get grain carts out. We just dumped directly into the truck."
That's because considerable market pressure has pushed wheat prices lower over the past few years, making it hard to eke out a profitable margin with the crop.
"I could not pencil out a profit with wheat [last fall]," he explains. "Since I couldn't pencil out a profit, I just didn't plant it."
Javorsky is laser focused on profitability. He's learned the need to balance financial success and efficiency with health and family. As a result, he's farming fewer acres today than he was eight years ago but is making more money. A large part of his success is his diligence in putting a pencil to his crop mix instead of sticking to tradition.
Planting For Profits. When Javorsky couldn't figure out how to make wheat work, a crop that has long claimed the bulk of his acres, he turned to cotton. Cotton isn't new to his farm, but it's always played a minimal role. He was one of several farmers in his area to make this switch. In fact, Oklahoma's cotton acres were up 16% in 2018, according to USDA.
Several improvements in the cotton industry have made it easier for farmers across the country to grow cotton. There are Roundup and dicamba tolerant varieties that cut back on manual cultivation. Harvesting equipment has also made great strides in the past few decades.
"People now have pickers and strippers that make bales, so the picking has sped up tremendously," Javorsky explains. "My parents picked cotton by hand. We're really only one generation removed from picking cotton by hand."
The recent surge in cotton acres has shot the prices of machinery through the roof and left rural gins bursting at the seams. In fact, used John Deere CS690 cotton/stripper balers are in such demand that you can't just buy one, says Randy Sparks, corporate sales manager, Hurst Farm Supply in western Texas.
"If we get a trade in, we have customers in line waiting for one," Sparks explains. "We'll take those names and put them in a hat. We'll draw them out and call the customer to purchase the machine."
Both new and used CS690 cotton strippers have exploded in popularity with demand outpacing supply.
"We probably traded for 30 this year," Sparks says. "They never made it to the lot before they got sold."
Javorsky didn't opt to purchase the CS690, which is both a stripper and baler. Instead he bought a used John Deere cotton stripper and a module builder. During cotton harvest, Javorsky runs the picker and his youngest son, Phil, builds modules after school.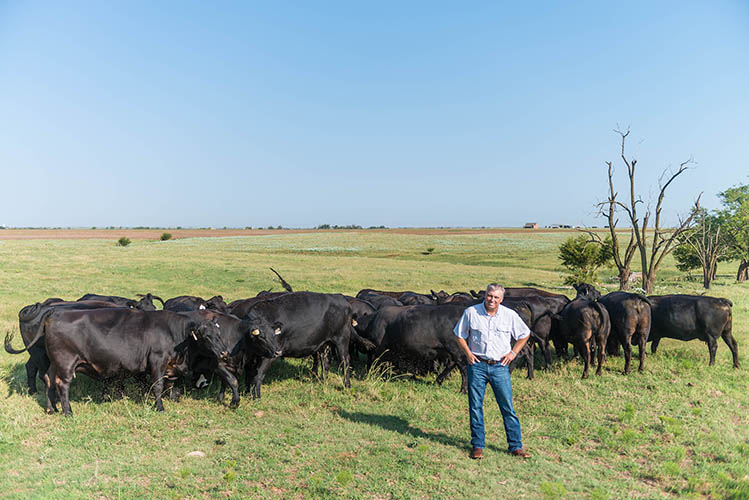 Scaling Back. Until his father passed away in 2007, the Javorsky family owned an implement manufacturing business in addition to their farm. They had a staff of 14 and over time, Javorsky learned managing people was not his strong suit. It was that realization that caused him to scale back his acres shortly after his father passed.
"I want to be the one on the combine, on the sprayer and on the cotton stripper, so I don't have any employees anymore," he says. "We're just going to do what we can as a family and if we can't do it, then we're going to let it go. I can't say we make any less money."
In making profitability his goal, Javorsky let go of roughly 2,500 marginal acres and instead focused on producing high-yielding crops on the 2,900 acres he kept.
Javorsky plants his cotton in skip rows, meaning on each side of two rows there's an empty row. Those vacant rows allow the plants to take advantage of the soil moisture on either side of them.
"On an average year we should get between 22" and 28" of rain, which is perfect," he says. "You think with a half inch a week you could grow anything. But the problem is we may not have a rain for a couple of months. So, it's imperative we hang onto any rain we get."
Another moisture-saving practice Javorsky uses is no-till. He stopped cultivating his fields in 2009, ironic because their family owned a tillage manufacturing business.
"Dad made tillage equipment that allowed me to buy ground that I now no-till," he says, with a smirk.
When Javorsky's father died and he absorbed the family acres, he turned his attention toward efficiency. As a result, he now owns less equipment than most people. Just a field tractor, utility tractor, grain cart, combine, cotton stripper, module builder and self-propelled sprayer comprise his fleet.
"If I'm making a payment on a piece of equipment, and I'm paying interest, it has to make money because it's depreciating every year," he explains. "Being on the Western Oklahoma Farm Credit board, one thing I've learned is that depreciation is a silent killer."
Top Priorities. The farm has created an environment for Javorsky, his wife, April, and three kids, to spend endless hours working together. Whether it be planting or harvest, it's a family affair. Time together is something the Javorskys learned to cherish the hard way.
When he graduated high school, Javorsky went to college to study mechanical engineering. While there, he was diagnosed with Crohn's disease and went through treatments at the Mayo Clinic. Javorsky who is roughly 6' tall, weighed only 120 lb., and they thought he might die. Fortunately after months of treatment, Javorsky recovered. But the lessons learned from the experience would impact his decision-making for decades.
"It really put things in perspective for me—being that sick," says Javorsky, who since has gained back around 100 lb.
Still, when his kids were young he let work take over his life, and once again paid the price.
"Farmers pride themselves on having to work. My body got so run down I had to go to the hospital for a blood transfusion when the kids were little," he says. "Yes, work is important, but if you're not healthy, it does your family no good."
In 2010 and the beginning of the area's historic drought, the Javorskys built a house 20 miles away from the farm. During the building phase, they lived in town. It turned out to be a major mental blessing.
"He would be discouraged from the drought and go to our little yard with a sprinkler system and feel better at the sight of the green lawn," April says. "He'd mow twice a day."
Only 6" of rain fell in 2011.
"Ten inches of rain is considered the desert," Javorsky says. "Ponds dried up that old timers said didn't dry up in the Dust Bowl."
Since those years, Javorsky has learned to better balance his work and family. One tactic is having friends not engaged in farming.
"I am blessed and fortunate to have friends involved in other businesses outside of agriculture," he says. "I'm around a lot of really sharp people that do well in their fields."
As Javorsky looks to the future, he remains focused on his bottom line. He will continue to push his pencil and find the right crop mix for his operation. If wheat prices turn profitable, you can bet he will plant more of the crop for 2019.
"I like growing wheat," Javorsky says. "When you pull into a field of wheat that's ripe and ready to harvest, it sings to your soul. I came to know Christ in a wheat combine. I still love it, but the economics just weren't there this year."  
Market Influences on Global Wheat Production
Wheat markets rallied in August, driven by production related fears and a significant drought in Australia.
"We're in the midst of a global crop scare event," says Joe Vaclavik, market analyst and president of Standard Grain. "Now comes the question of whether or not we can find some demand for U.S. wheat."
Although the U.S. produces only about 8% of world wheat, it remains one of the world's biggest wheat exporters. However, the U.S. has ceded its dominant global export role to production powerhouses like the European Union, Canada and Russia.
The ability for wheat markets to hang onto recent price gains hinges on export markets, Vaclavik says. But he's not overly optimistic that will occur.
For the 2017/18 growing season, U.S. wheat acres dipped to a 100-year low. Despite wheat being Oklahoma's traditional crop, farmers there and in other major wheat producing-states turned to other crops.
Top 10 U.S. Export Markets for Wheat*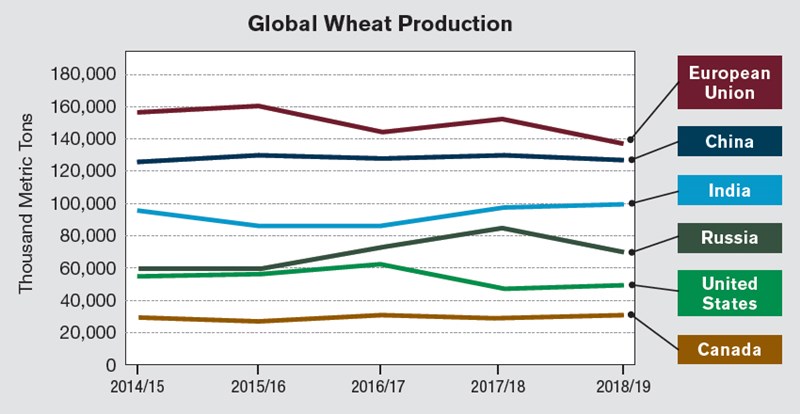 1. Japan
  2. Mexico
  3. Philippines
  4. South Korea
  5. Taiwan
  6. Indonesia
  7. Iraq
  8. Nigeria
  9. Thailand
10. Guatemala
*by volume
Watch a video about Javorsky's farming practices at bit.ly/Javorsky