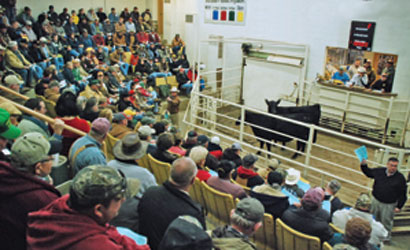 Lindsey Grant watched every head of cattle roll through the gate as the auctioneer barked out rapid-fire bids at the McAlester Stockyards in Oklahoma.
Lots of different breeds stomped through the gate: low and high-yielding packer cows and bulls on one day. A few days later, it was Brangus and Super Baldy, Hereford Heifers, Tigerstripe and Angus Plus, the McAlester News-Capital reported.
Through all the different brands of beef, Grant said there's one thing at the stockyards he and his fellow owners try to keep consistent.
"Customer service," Grant said. "If you don't have customer service, you don't have anything. We try to be as friendly as we can be and let folks know if you need to talk about something, we are here for you. You don't have to go through a phone system to figure out who you need to get ahold of. We will do everything possible to try to get your cattle sold in a timely manner."
The business operation on Standard Road is one that many in southeast Oklahoma might take for granted given the region's location in the epicenter of the cattle industry. Just a little bit of time spent at the stockyards on a sale day though, demonstrates there's commerce unfolding here as expansive as an Oklahoma skyline in deals large and small.
"It's a boon for this area and always has been," said Kenneth Sherrill, a former stockyards owner who goes by the title "old man" at the cattle compound.
Sherrill bought the stockyards in 1974 and sold it in 1998 within the family to Laura Sherrill and Julie and Lindsey Grant. The stockyards were built in 1941 near the railroad tracks and in 1957 moved to its current location. The operation makes money by charging a flat fee on sales.
"There's a lot to it," said Julie Grant. "They can call for three years (out) and we can still tell them what they sold."
State and local economic leaders recognize the significance of the business where, on a Tuesday this month, some 2,400 cattle were bought and sold. The McAlester Chamber of Commerce, the Oklahoma Beef Council, and the state Cattlemen's Association recently recognized the McAlester Stockyards for its contribution to the local and state economies.
"It's a little better sale at McAlester as a rule," said Benny Wylie, of Wister, as he sat in his pickup with livestock in a trailer hooked to the back. "The cash sale has always seemed a little better."
David George is a retired school teacher who farms cattle and horses at his operation north of Crowder. He was at the stockyards to sell cattle as well and said he finds the McAlester location extremely convenient.
"Cattle are good right now," George said of prices. "Really high. Everybody thinks you are getting rich, but all of the costs are really high. Right now you better have your breeding stock and everything already in hand. If you were to go out right now and try to get into the cattle business, I would be afraid right now because it costs so much and it would be a little risky."
Kenneth Sherrill said one of the secrets of success for the stockyards is its ideal location for a region filled with ranchers.
"We've got customers who come from Arkansas and North Texas, towards Tulsa...all the communities in this whole area come in here every week, and it would surprise you to know how many of those checks are cashed in McAlester," Kenneth Sherrill said. "Eat out; fill up with gas; stay the night.
"This country is suited to cattle," Kenneth Sherrill said. "This is cattle country. Always has been and always will be."