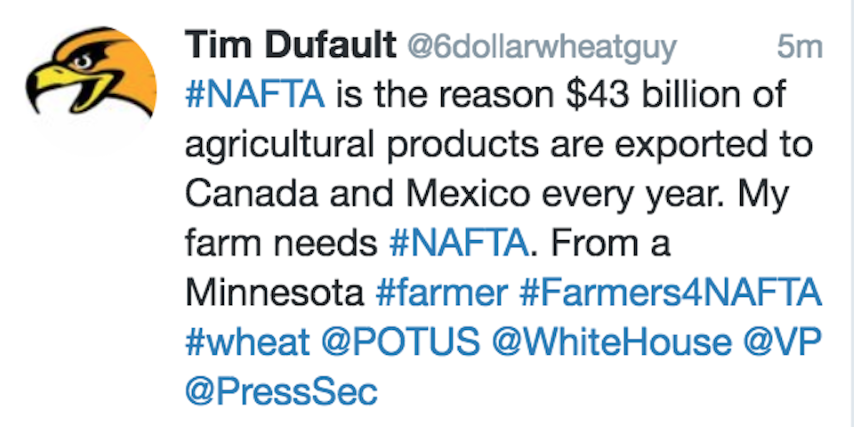 President Donald J. Trump was largely supported by American farmers during the election, even as he made a campaign promise to exit the North American Free Trade Agreement. But now many of those farmers are worried President Trump will follow through on that promise. And they are taking to Twitter to plead with him not to.
Using the hashtag #Farmers4NAFTA, individual farmers and agricultural groups are tweeting about the benefits of NAFTA.
Field work is over for the fall,but this #Idaho #Farmers4NAFTA is taking a minute to urge the Administration to stay in NAFTA. Thanks @Idahograin

— Joseph Anderson (@beemerjoe) December 6, 2017
Take a moment to make your voice heard today - let @POTUS @realDonaldTrump know how NAFTA has impacted your operation by calling @WhiteHouse at 202-456-1111 between 12 and 1 p.m. or mentioning the President on social media. #FARMERS4NAFTA pic.twitter.com/Drc0kYdAaz

— Texas Wheat (@TexasWheat) December 6, 2017
Since 1993, fruit and vegetable exports from the U.S. to Mexico and Canada have more than tripled. #NAFTA works! @whitehouse #Farmers4NAFTA

— GROWMARK (@GROWMARK) December 6, 2017
Beware of the Bacon Tax!! #NAFTA withdrawal would mean a 10% tax hike on pork exports to Mexico. #Farmers4NAFTA #Bacon @NPPC #TeamPork pic.twitter.com/qYI9Q7Xcm5

— FFT (@FarmersForTrade) December 6, 2017
. @realDonaldTrump I'm a wheat farmer from Montana who relies on #NAFTA, let's find a win-win in #NAFTA 2.0 to maintain key export markets. #farmers4NAFTA @USTradeRep @CommerceGov pic.twitter.com/shIIosl204

— Michelle Jones (@bigskyfarmher) December 6, 2017
Canada received $20.3 billion worth of American agricultural products in 2016, making it the top destination for such goods, according to the U.S. Department of Agriculture. Mexico received $17.7 billion, coming in third place behind China. 
The White House did not immediately respond to a request for comment. 
The tweets add to the voices in Congress calling on the administration to remain in Nafta. Senator Pat Roberts, a Kansas Republican, published an Op-Ed in The Hill on Wednesday highlighting the benefits of the agreement. Republican Senators Deb Fischer of Nebraska and Joni Ernst of Iowa also made a case for the agreement on Tuesday over lunch with the president and the U.S. Trade Representative Robert Lighthizer, according to the Omaha World-Herald. 
Many agricultural groups have been urging the administration to renegotiate—not exit—the trade agreement, including the American Farm Bureau Federation, the National Cattlemen's Beef Association, and the U.S. Food and Agriculture Dialogue for Trade, which represents a group of over 130 food and agriculture trade associations and companies.
The impacts of a NAFTA withdrawal would reverberate beyond farmers' incomes. Consumers would likely see higher grocery prices as well, according to a November Congressional Research Service report reviewed by Bloomberg.