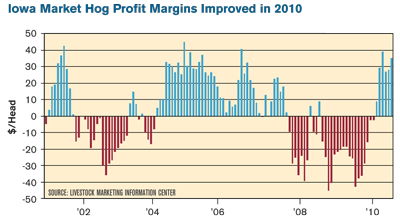 > Following more than a year of red ink, hog producers were back in the black this year. Hog prices need to stay strong to offset the return to costly feed.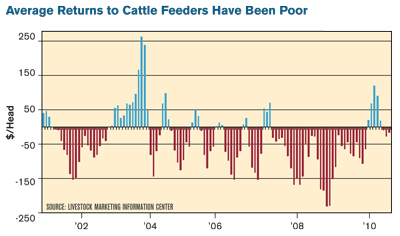 > There have been few months with positive returns to cattle feeding. Corn's price rebound suggests fewer cattle on feed and shorter feeding periods.
Ronald Schultz weighed the pros and cons of getting out of the hog industry last year, but stuck it out. Schultz, with son-in-law Robert Seitzman, markets about 4,500 hogs a year. He admits he is on a "year-to-year" basis when it comes to staying in the business of pork production.
After record-low hog prices last year, the hog industry enjoyed a strong rebound in 2010 on lower hog numbers. In response, USDA's September Hogs and Pigs report indicated farrowings would be down 1% from last year in the third quarter but increase slightly during December 2010 to February 2011.
The sharply higher price of corn prompted by the Oct. 8 Crop Produc-tion report could squash expansion plans. "If corn is above $5 per bushel, you need $143 to $147 per head to break even," says Mark Greenwood of AgStar Financial Services. That's especially true for producers who buy all their feed.
Chris Hurt of Purdue University says the hog price outlook remains optimistic through next summer, with prospects for live prices near $53 this fall and winter, a return to $57 in the second quarter of 2011 and $54 in the third quarter. "These prices imply that hog producers could pay a bit more than $5 a bushel for corn and still cover all costs," he says.
Control Feed. Volatile corn prices have hog producers seeking more farmland to ensure a stable feed source for the long term. "Producers who do not grow all their corn are considering whether to purchase or rent more land," Greenwood says. "I've heard this more and more from producers with strong balance sheets who could expand on the swine side, but instead are looking at increasing crop production."
Jerry Fast, senior ag lender at Bank Midwest in Fairmont, Minn., concurs. Prices for prime farmland in his south central Minnesota area have jumped to around $5,500, while not far away in parts of Iowa, some prime land is selling for up to and beyond $9,000 an acre.
Regardless, Fast says, "established hog producers are the most aggressive in some areas in buying land. They know exactly what their cost of production is and, by feeding their own corn, they can lock in hog profits further out. If they are not highly leveraged, the producers who raised their own corn certainly survived the last downturn in much better shape."
"If you're a farmer making decent money right now, you've got to invest it in something," says Schultz, who feeds as much as three-fourths of his crop to his hogs. "There's nothing better than nondepreciable farmland. Even with our prices over $5,000 an acre, if a fellow finagles it right, you can pay for that land."
Beef Is Bullish. Given a smaller fall calf crop, lower overall herd inventories and a 17% increase in beef exports through July over a year earlier, cattle prices continue to show strength.

USDA's September report states that strong global demand will remain "robust," particularly in Asia, where the weak U.S. dollar makes American beef more attractive than Australian beef, its chief competitor in Asia.

Meanwhile, pastures have seen ideal growing conditions this year, which means feeder cattle have remained on pasture longer than normal and are arriving at feedlots at heavier weights.

Bill Galt of White Sulphur Springs, Mont., runs his cow–calf and yearling herd on 100,000 acres of foothill pasture and agrees the season has been excellent. "I believe things are really going to hold up well in spite of the higher grain market," he says. "The only two possible downsides are feed prices and the general economy," which he worries could soften domestic demand—especially if higher grain prices result in higher meat prices.

Galt typically looks for a 300-lb. gain on grass with his herd before wintering the animals and selling 900-lb. steers. He's already forward contracted next spring's yearlings to feeders in Nebraska.

Both beef and pork producers have a lot riding on the markets headed into 2011. As Schultz says about his future in livestock production, "We will wait and see."
---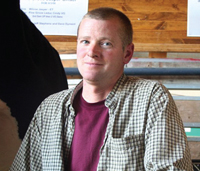 > Tough economic times forced John Prokop to streamline his New York State dairy operation and form a dairy profit advisory team.
Snapshot of Dairy Survival
Most of the dairy producers at World Dairy Expo this fall were just trying to survive. All remain concerned about their ability to return to profitability.

"Milk prices are better than 2009, but they're not as high as we wanted," said Charles Voelker of Prairieville, Mo., who was showing Brown Swiss cows. He's continued to cut costs, worked hard to put up higher-quality forages and improve cow performance.

With corn futures again above $5 per bushel, Voelker says, "the industry may have to go with some sort of supply management program, even though I hate it. With five kids, I might not be able to expand with a supply management program in place. We've got to survive first."

Things are better this year for Mark Hornbostel of Campbell Hill, Ill. He's getting about $18 per cwt. for his milk and has cut back on feed costs, largely by mixing his own feed. He and his father would like to expand their small Brown Swiss operation, but that isn't going to be easy. "We've run into so much red tape with soil and water quality regulations," Hornbostel says. "To keep going, we're either going to have to expand or quit."

Mark and Emily Michel of Waterloo, Wis., say that even with this year's price improvement, they're still trying to hold their heads above water. A fourth-generation family operation, they farm 200 acres and milk 55 cows. Their latest milk check brought them $16 per cwt., and this year's corn crop is much better than last year's. "But it's more costly to fix and maintain equipment," Michel says. An 80-hp tractor costs $80,000 and a brand-new combine is $300,000. They see no way to afford that.

New Profit Team. At his Middleburgh, N.Y., dairy, John Prokop says things are a little better financially with prices at the high end of $17 per cwt. "I can pay my bills now, although it's difficult to pay back the line of credit I used last year."

Prokop has set up a dairy profit team: his Farm Credit lender, veterinarian, nutritionist and concentrated animal feeding operation (CAFO) planner. Every six weeks or so, they walk the dairy, looking for ways to improve the operation. It's made a big difference. "For example, we didn't have a calf person before; it was more of a team effort," Prokop says. "Now we have one person in charge and it's really paid off, with calf mortality at 1% or less."

Like the others, Prokop has learned to run his dairy more efficiently than ever. Things can't get much leaner. Let's hope their efforts pay off.
— Catherine Merlo