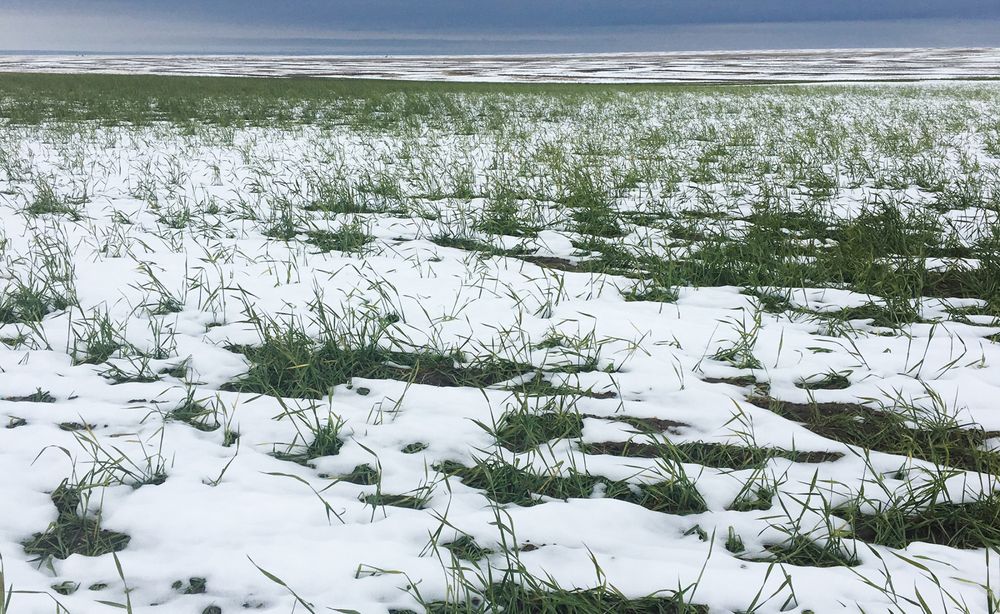 Out in the wheat fields of Kansas, the damage wreaked by a spring blizzard earlier this week is easy to see. But determining the precise loss of production is still frustratingly unclear, even as grain traders, bakers, and millers complete their annual inspection of the state's winter wheat crop.
Participants in the Wheat Quality Council's annual tour have spent this week traveling around Kansas by car, making hundreds of stops to take field samples. The data show yields are poised to fall from last year's record harvest, but the scouts, as they're known, have had difficulty assessing crops on farms in the west of the state that were hammered by heavy snow and high winds last weekend. Some plants were flattened or left standing in excess moisture and mud.
In those fields, "it was about impossible to estimate yield," Justin Gilpin, CEO of Kansas Wheat in Manhattan, said in an interview on Wednesday. Still, in areas further east, crops looked better than average, he said.
Winter wheat is planted in the fall, lies dormant over the winter and matures in the spring, before the June and July harvest.
On Thursday, the council's event, which had about 70 participants, ended in the town of Manhattan. The final yield estimate issued for Kansas, the top grower in the U.S., was 46.1 bushels per acre, based on findings from 469 stops. That compares with the 2016 tour estimate of 48.6.
The state harvested a bumper crop last year amid ideal spring weather, with final yields at a record 57 bushels per acre, according to the U.S. Department of Agriculture. The large U.S. supply added to a global surplus of the grain. The USDA will issue its first forecasts for the 2017-2018 season next week.
Price Action
Futures for hard red winter wheat surged on Monday and Tuesday on concerns over storm damage, prices then declined on Wednesday and Thursday as early tour results showed yields above historical averages. The July contract settled at $4.445 Thursday on the Chicago Board of Trade, heading for a second straight weekly advance.
Conditions until harvest will sway the crop's potential in Kansas. Many fields have standing water after recent heavy rain and snow, which threatens grain quality. Some crops also remain challenged by nitrogen deficiency or disease pressure, including wheat streak mosaic and barley yellow dwarf viruses. Growers may have cut back on fertilizer or crop chemical expenses this season, amid low grain prices.
In neighboring Oklahoma, yields are estimated at 33.7 bushels per acre, below the 39 bushels measured by USDA last year, according to forecasts presented during the tour. Abandonment rates in the state will be "much higher than normal," Mark Hodges, executive director of Plains Grains Inc. in Stillwater, Oklahoma, said in a presentation in Wichita. Nebraska yields were projected at 40 bushels an acre, and Colorado yields at 31.6 bushels, also trailing 2016.
Back in Kansas, farmer Vance Ehmke had been expecting an above-average crop before the weekend storm hit his roughly 3,000 acres of hard red winter wheat in Lane County. On Monday morning, he measured about 12 inches (30 centimeters) of slushy snow surrounding the plants, with temperatures of about 30 degrees Fahrenheit (-1 Celsius) under the canopy. While the snow's already melted, the crop had been kept cold for two days.
"Nobody knows what that means," Ehmke said in an interview Tuesday in Colby, Kansas. "In a week or two, we'll know. We think we have a major reduction in our wheat potential."