As of Nov. 8, the U.S. Drought Monitor shows that 11% of the contiguous United States is under severe, extreme or exceptional drought. The areas where drought is most prominent is happening in three distinct "hot spots," according to Rebecca Lindsey, managing editor at Climate.gov.
One of those areas is the Southeastern U.S., which has made news headlines recently as more than 80,000 acres of land has been scorched by wildfires. Also affected is Southern California, which is still mired in drought after nearly five years. New England also has a substantial pocket of drought, Lindsey notes.
Do near-term weather forecasts bode well for any of these areas? Lindsey says November will only bring relief to one of them.
"Of the country's hardest-hit areas, only inland areas of New England are likely to improve throughout the month," she says. "In the Southeast and Southern California, drought-stricken areas are likely to persist or worsen, and possibly expand."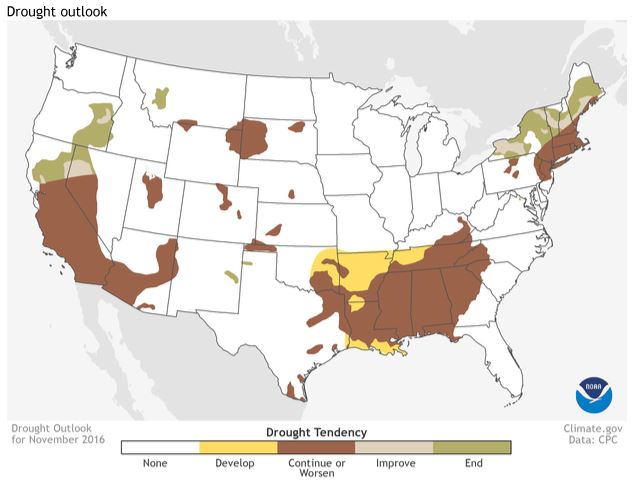 The just-released Nov. 15 U.S. Drought Monitor shows little change from the Nov. 8 maps. Visit droughtmonitor.unl.edu for details.