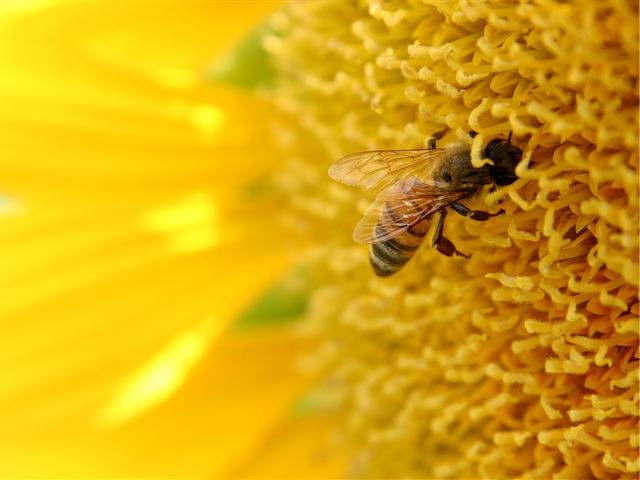 Ontario plans to reduce the use of an insecticide that has been linked to bee deaths, making it the first jurisdiction in North America to do so.
Ontario, Canada's largest producer of corn and soybeans, said today that by 2017 it intends to cut by 80 percent the acreage sown with crop seeds treated with neonicotinoids. If approved, the new rules will be in place by July 1, in time for the 2016 planting season, the government said today in an e- mailed statement.
"I don't know of any other similar action in North America," Bryan Bossin, a spokesman at the Ontario Ministry of Agriculture, Food and Rural Affairs, said by phone from Toronto.
The U.S. Environmental Protection Agency is reviewing how pollinators are affected by neonicotinoids and the European Union temporarily banned the chemicals. The actions come after studies showed a link to Colony Collapse Disorder, a syndrome marked by bees failing to find their way back to their hives and dying.
Canadian pesticide regulators have found a link between bee deaths in Ontario and planting corn and soybean seed treated with the insecticide, the province said. Beekeepers reported 58 percent of their bees were lost last winter in Ontario and many "suspected that chronic pesticide damage contributed to the winter loss," according to a government survey.
'Extremely Disappointed'
Syngenta AG, which manufactures thiamethoxam, a neonicotinoid, is "extremely disappointed" by the proposed decision, spokesman Chris Davison said today in an e-mail. Insecticide-treated seed reduces the quantity of pesticide used and provides targeted protection of crops, he said.
"A decision to implement arbitrary reductions on the amount of neonicotinoids treated seed planted in Ontario would not be supported by science," Davison said in the statement.
Bayer AG, which also manufacturers neonicotinoid products, said there's no science that backs up the Ontario decision.
The plan may do more harm than good, Paul Thiel, a spokesman at unit Bayer CropScience, which manufacturers a neonicotinoid for corn seed, said by phone.
Monsanto Co., which applies neonicotinoids to crop seeds it sells, couldn't be immediately reached for comment.
The proposed rules may reduce corn and soybean yields by as much as 20 percent, Barry Senft, chief executive officer of Guelph-based Grain Farmers of Ontario, said today in a telephone interview.
'Knee-Jerk'
"I think they made a knee-jerk reaction," Senft said. "It sounds like they bowed to the pressure of special interest groups."
Ontario Agriculture Minister Jeff Leal said his ministry will work with farmers and beekeepers "to implement a plan sensitive to their needs."
"We know, and farmers recognize, there are risks associated with the use of neonicotinoid pesticides," Leal said in a separate e-mailed statement. "We also know that, in certain circumstances, they are an important tool for farmers and help to increase production and maintain a reliable food supply for our province."
Ontario produced 7.4 million metric tons of corn and 3.6 million tons of soybeans in 2014, Statistics Canada said in an October report.