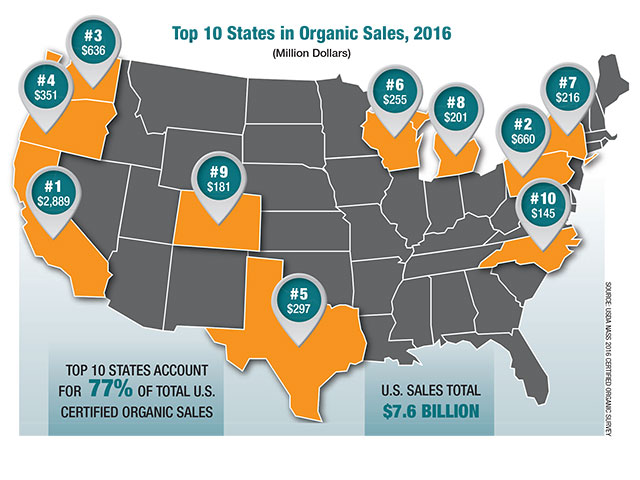 It comes as no surprise the organic sector continues to grow at a faster pace than other production systems. And while vegetables, fruits and livestock account for the lion's share of organic production, organic field crops have gained in acreage and value, according to a new USDA report.
Unlike some production descriptions such as "natural," which can be vague, USDA certifies organic agricultural products, based on a strict set of production standards.
In 2016, farms and ranches in the U.S. produced and sold $7.6 billion in certified organic commodities, up an impressive 23% from 2015. The number of certified organic farms in the U.S. increased 11% to 14,217 while certified acres increased 15% to 5 million.
Livestock marketed as organic must exclusively consume organic feeds certified through the program, helping drive growth in organic corn, soybean and hay production. Production of organic field crops intended primarily for human consumption, such as wheat and edible beans, also has grown significantly.
According to the USDA report, about 7,400 farms planted 1.68 million acres to organic field crops and hay in 2016. The value of organic field-crop sales totaled more than $762 million. That compares with 1.46 million acres in 2015 with a value of $660 million.
Among certified organic field crops, corn for grain or seed leads the way with 3,275 farms and 213,934 acres valued at $163.9 million. Just under 4,000 farms produced 490,187 acres of organic hay, valued at about $130 million. Organic soybean farms total 1,748 and account for 124,591 acres, with a value of $78.5 million.
Farmers also harvested 336,550 acres of certified organic wheat on 1,139 farms in 2016, with a value of $107 million. When it comes to cotton, 36 farms, all in Texas except for one, harvested 14,599 acres valued at 8.2 million.