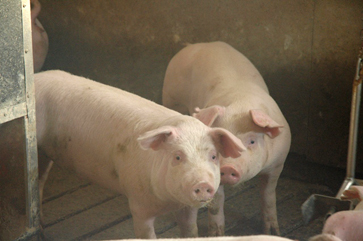 While the grains attempt to put in a fall low, there is excitement in other parts of agriculture. Specifically, the meats. It took five years for high grain prices to impact the meats, but we finally have record high hog and cattle prices due to fewer supplies.  

The record high hog market we saw this past summer was a solid supply-driven bull market because of the 
unexpected impact of 2013's PEDv outbreak in piglets. We have now come off the summer highs, markets have started to recover and talk of herd expansion is a real concern with lower feed costs. 

At the same time, the market has posted record fat cattle and feeder cattle prices this year. We have a lot of walking "gold" in the barns, pastures and feedlots.

I expect many hog, cattle and chicken producers are looking over their shoulders, wondering when the bearish shoe will drop. It's almost a forgone conclusion that pork and chicken producers are reacting to low corn prices and high meat prices with plans to expand their herd/bird numbers and building capacity. 
A strong feeder cash price suggests more producers are looking at walking some of their grain off the farm. The only issue is herd stock expansion will not be as fast for cattle as it will for hogs and chickens. Everyone is worried about the last half of 2015 and beyond. Could meat producers end up like grain producers, going from high prices in 2012 to the current lows?

While I'm concerned about supply growth, we all know markets have two sides: supply and demand. This leads to the one question all producers have to answer in regard to risk management: Do you believe the demand for the meat sector will outpace the expected expansion supply?

Domestic demand is solid—and I don't think that will change. U.S. consumers still like their steak when they eat out; they still like to grill, and, while we might complain a little, the domestic consumer has been able to absorb rising prices for the most part. 
The big question is the export market. I'm guessing this is what has really kept the meat complex alive. By moving excess supply or lower value byproducts into the export market, we are able to keep the overall value of meat products high. Solid export demand is the U.S. producer's ace in the hole. 

The U.S. dollar is starting to firm in relationship to foreign currencies—and that causes a bit of concern for me. This means our meat products are going to be more expensive for overseas customers. More importantly, the world economy is getting weaker, not stronger. As a result, export buyers might consider meat products a luxury and cut back on their shopping list. 

As 2015 nears, farmers need to get ready for increased supply and slower demand. For anyone not in a forward contract relationship, it is a must to start placing floors under the market by using put options for products they plan to sell. Buy corn for your spring and summer needs, but do not get aggressive with multiple-year feed buying until fall 2016.

In summary, take advantage of any strong price recovery in hogs and cattle in the near future to protect the last half of 2015 and into 2016 for the eventual expansion that always follows higher hog and cattle values.
Any opinions expressed herein are subject to change without notice. There is a significant risk of loss in trading futures and options, and trading might not be suitable for all investors. Those acting on this information are responsible for their actions. Contact Bob Utterback at (877) 898-4324 or utterback@utterbackmarketing.com with questions/comments. See full disclosure at www.FarmJournal.com.