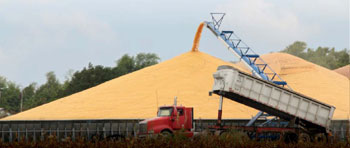 For the most part, corn and soybean harvest is done for another year. On-farm bins are full. Tillage tools have been working overtime, and many fields are in good shape for next year. I assume the flat price and basis of most of the stored crop is unpriced, and most farmers won't start thinking about marketing until after the first of the year. 

The stage is now set for a game of chicken. Who will flinch first—the producer or the end user? At this time, the South American supply appears to be on schedule.

How long will producers hold inventory before cash flow needs force sales? How fast will lower prices increase end users' demand? How these two fundamentals develop in the coming months will indicate how prices can recover.

A significant amount of cash sales is expected between late December and the end of the first quarter 2016. I suggest any corn, soybean or wheat sales that must be made occur by early December. I expect the next favorable time period for sales will be from May to July. If lead month corn can't get cash sales above $4 or soybeans above $9.50, only minimum levels of inventory will be sold. As a result, there's limited risk below $3.60 in lead month corn and $8.50 in lead month soybeans. 

It appears soybean demand is slightly stronger than corn, but not enough to ignite the market. End users know there's plenty of inventory, so there's no need to be in a hurry to buy. 
Old crop corn: Start pricing remaining old crop inventory on any modest bounce in December corn between $3.90 and $4.05. Have all inventory priced before the December supply demand report (Dec. 9, 2015). Feed buyers should focus on buying spring and early summer needs between late January and early February, but shouldn't move beyond midsummer needs.
2016 corn: Price 100% of an average corn crop using the December 2016 contract between $4.15 and $4.45. Some might have already implemented a call buying strategy, so they will sell the first 50% in cash and the last 50% via in-the-money puts. Make plans now to take advantage of a June or July weather scare if it occurs in order to sell expected 2017 production. Stop by your banker to make financial arrangements for a hedge account as well; do not wait until a weather scare market next summer.
Old crop soybeans: Supplies are as tight as they're going to get right now. Once the South American crop develops, along with increased U.S. soybean acres, carryover could go from 190 million to more than 450 million bushels. Sell any remaining old crop soybeans off the combine or at least by early December. If you prefer speculative ownership, first buy corn. If any money is left, use a limited soybean buying strategy. Bottom line: If anyone is buying soybeans, they're betting on some type of unknown weather event to ignite the supply bulls.
2016 soybeans: Don't plant more soybeans than what's needed for rotation. I prefer selling $4.20 corn rather than holding out for $9.80 or higher November 2016 soybeans. If forced to plant soybeans, try to buy out-of-the-money November calls at $10 or more and then focus on a seasonal selling strategy—sell half by early December, the next quarter by early May and the rest by early July. With carryover doubling, if we see more acres and a 46 bu. yield next year, it could get ugly next fall.

I know these types of outlooks aren't easy to read, but a correction would get rid of excess global production and stimulate more demand. Now that's an exciting reason to own farmland for the next 
10 to 20 years. 
Any opinions expressed herein are subject to change without notice. There is a significant risk of loss in trading futures and options, and trading might not be suitable for all investors. Those acting on this information are responsible for their actions.