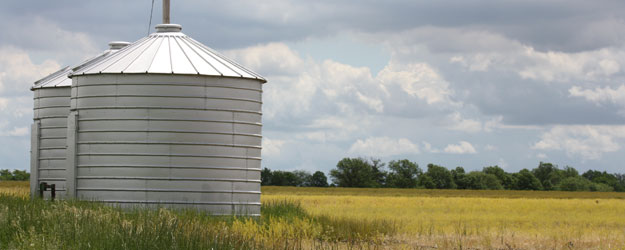 We are finding out how good the new hybrids can be when Mother Nature cooperates. USDA reduced planted acres about as much as it could reasonably justify in the October supply and demand report. It also pushed up an already strong demand expectation due to cheap prices. The bull has been given about all he can realistically expect for now. 
This year's big crop has now put the supply side of the equation in the bear's lap for both corn and soybeans. I expect the crop will continue to grow until the final production numbers are released in January. If yields are more than 178 bu. for corn and 48.5 bu. for soybeans, it will push domestic stocks to burdensome levels. We might see a mild price recovery as the bin doors shut in late November or early December, but eventually, the crop has to come to town. The end users are going to win this game of chicken. 

I believe a very (historically) low percentage of this crop was sold before the combines went to the fields. It is always difficult to come up with exact percentages, but I suspect less than 40% of the corn and soybean crops have been forward sold. This means a lot of pricing decisions must be made under less than desirable price conditions. In fact, farmers are putting inventory in the bin. They are storing not because of big carry or wide basis like an elevator operator but because the flat price is below cost of production, and they are willing to assume all the price risk until the crop is sold.
Subsequently, most South American producers who also have a large amount of grain are speculative long the market. The problem is, while a forest fire starts slow, if there is a lot of fuel (big supply) it quickly builds to a level where it has to burn itself out. The fuel for the 2014 crop is more supply than demand. How long will it take to burn itself out?

There is a lot of press about seasonal rallies in corn and soybeans like it has a 100% chance of occurring. I hate to be the bearer of bad news, but basing a storage decision on the seasonal pattern has some real bullish bias built into the assumption. Since 2001, we've seen a historic surge in both domestic and foreign demand, historic yield reduction events and a period of exceptional monetary stimulation by the Federal Reserve to offset the negative impact of the financial crisis of 2008. We had a perfect bullish storm.
The commodities have enjoyed a great party, but now the bill is due, and it's a whopper! In light of a big supply, the market must take specific steps in order for the bull to resurface: Reduce planted acres next year and see demand react to lower prices at a faster pace than what occurred from 2001 to 2014, with increased usage in what some suggest is a struggling world economy. 

What can be done? I see two camps: (1) Those who aggressively sold 2014 have the luxury of starting their 2015 marketing plan by buying call protection this fall, so they can aggressively sell expected inventory next spring. (2) Those with unpriced grain stored on-farm have several difficult decisions to make.

Sell soybeans for cash flow because they have more value, limited carry incentive and the greatest odds of downside risk if South American production is confirmed and U.S. farmers follow through with decisions to plant soybeans rather than corn.

Store corn, but be realistic in basis assumption. Most U.S. farmers will not lock up carry because of the absolute low flat price. Formalize your risk—sell the cash and then buy lead-month corn once harvest is 60% to 70% complete and lead-month prices are below $3.20 to $2.95. Buy deep-in-the-money calls and simply roll down if the market moves lower.
Any opinions expressed herein are subject to change without notice. There is a significant risk of loss in trading futures and options, and trading might not be suitable for all investors. Those acting on this information are responsible for their actions. Contact Bob Utterback at (877) 898-4324 or utterback@utterbackmarketing.com with questions/comments. See full disclosure at www.FarmJournal.com.