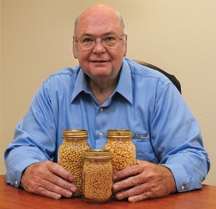 It's time to get the planters out and get ready to roll. As the demands of the production season pull you away from your desk, I encourage you to be just as aggressive with marketing.

As I visited with producers at meetings this winter, I learned more about what's keeping them up at night:

1. Everyone in farm country is extremely concerned about a repeat of 2012's weather pattern. They point to low subsurface moisture, dryness in the Western Corn Belt and the belief that lack of timely rains will cause major price advances this summer.

2. Because of 2012's poor corn yields, many producers have maintained ownership of their corn and soybeans … more corn than soybeans.

3. As a direct result of this past year's drought and penalty for making early sales, I'm assuming little of the anticipated 2013 corn and soybean production has been priced. I would not be surprised if national corn and soybean sales are below 20%.

4. Many producers seem prepared to produce, store and hold until the spring of 2014 rather than price below their target price.

5. Demand bulls are already suggesting a price break below $5 in December corn and $10 in November soybeans will ignite demand this fall. They, however, are conceding corn exports have little chance of recovering until we have a new crop.

6. I got a very strong sense that corn acres have slipped from expectations, while soybean and cotton acres seem to be growing.
Acreage game. With these observations in mind, I've reduced my expectations of corn planted acres to just above 96 million but below 97.5 million. I've increased my soybean acreage expectations to 79 million to 80 million acres.

While some say lower acres are bullish to corn, I must point out that higher average yields are expected.

While we started with corn stocks at 602 million bushels, the slow pace in domestic usage and exports will likely push ending stocks to grow more than 100 million in corn and 25 million plus in soybeans.
"Weather" it rains. All of this will be trivial if it doesn't rain between May and July. I believe 2013 will be a transition year from dry to wet. I don't expect a crop failure, but I'm not betting on a bumper crop either.

If yields are at, or better than, 154 bu. per acre for corn and 42.75 bu. per acre for soybeans, it will create burdensome carryover this fall. The consequences are strong basis levels, as well as an inverted carrying charge environment. Memories will fade by the fall of 2014 if we experience average production years in 2013 and 2014.

This leads me to my main market plan—anyone wishing to sell their crop on an April or May price bounce should have calls in place above the market just in case a weather event occurs. Plan to use limited cash flow resources to get started—sell the 2014 crop by using a deep-in-the-money put strategy. Use the September 2013 corn contact and November 2013 contract in soybeans and lock up carry incentives as they develop this summer and fall.
There's still time. For the most part, USDA is on target in regard to the trend pattern for the next two marketing seasons: a large increase in stocks and a subsequent decline in prices. Farmers still have time to lock up solid prices above cost of production. Over time, they will be able to improve entry prices by capturing carry in the spreads. I know farmers want the prices they enjoyed the past two seasons, but these sharply higher prices were caused by an unexpected reduction in supply, not a sudden increase in demand.
This material has been prepared by a sales or trading employee or agent of Utterback Marketing
Services, Inc., and is, or is in the nature of a solicitation. This material is not a research report prepared by Utterback Marketing Services, Inc. By accepting this communication, you agree that you are an experienced user of the futures markets, capable of making independent trading decisions, and agree that you are not, and will not, rely solely on this communication in making trading decisions. Distribution in some jurisdictions might be prohibited or restricted by law. Persons in possession of this communication indirectly should inform themselves about and observe any such prohibition or restrictions. To the extent that you have received this communication indirectly and solicitations are prohibited in your jurisdiction without registration, the market commentary in this communication should not be considered a solicitation. The risk of loss in trading futures and/or options is substantial and each investor and/or trader must consider whether this is a suitable investment. Past performance, whether actual or indicated by simulated historical tests of strategies, is not indicative of future results. Trading advice is based on information taken from trades and statistical services and other sources that Utterback Marketing Services, Inc., believes are reliable. We do not guarantee that such information is accurate or complete and it should not be relied upon as such. Trading advice reflects our good faith judgment at a specific time and is subject to change without notice. There is no guarantee that the advice we give will result in profitable trades.