Spring is on the way. The annual USDA outlook conference is just around the corner and the first projections for 2012 planted acreage will be released at the end of March.

At this point, I predict 256.75 million acres will be devoted to the six primary row crops. That's about 3 million more acres than in 2009 and 2011. Early discussions with seed salesmen and producers suggest corn and soybean seed sales are up. I would not be surprised to see more sorghum acreage in the West after it took a beating from corn this past year. Cotton acreage is a big unknown in my book.

A National Agricultural Statistics Service analyst I talked to recently pegged total planted acres at 325 million for all 21 primary crops. If you add in the 1.3 million conservation acres that are due to be put back into production this year, there is a possibility for 326.5 million acres to be planted. In 2011/12, 315 million acres were devoted to the 21 crops.

The higher cost of cash rents, fertilizer and machinery will force producers to side with the money. This gives corn acres an edge as long as the new crop bids are close to $6 and soybean bids are close to $12.

As always, the spring weather will have the final say on the number of planted acres we have, which means there is potential for volatility in the spreads, basis and carry incentive.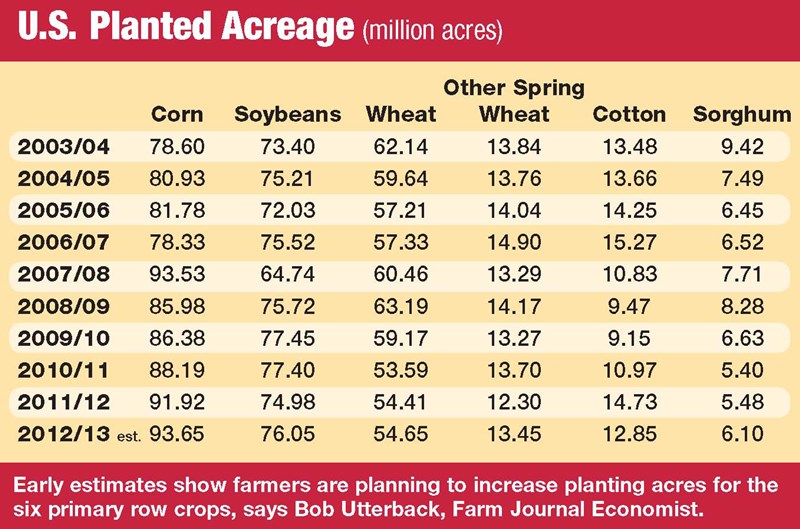 ---
Sales index:
10 = Excellent sales opportunity

1 = Excellent buying opportunity
---
Corn: 7
The overall fundamentals suggest price strength into spring. Based on tight old stocks, expect the new crop to be pulled up closer to $6, which seems to be what most producers are shooting for.

In regard to old crop, if you have hedge-to-arrive cash sales on the books and have not locked up the basis, don't push it too far. Remember, a lot of producers are sitting on a fair amount of old-crop corn. If the new crop gets in the ground with few issues, we could see extremely tight basis start to fade away after July. If you have inventory to sell, shoot for a retest of $6.60 basis the July contract. To get higher levels, you'll have to wait until June and July, which implies either being 100% right or 100% wrong, with little wiggle room. The July spike highs should be used to finish selling expected 2012 production and possibly 2013 if a weather event occurs, not to clean up 2011 inventory.

If there are any supply surprises this year, it will be that corn acres and yield exceed expectations. If this happens, it can lead to a late summer to early fall correction in corn prices. It would also imply that producers should sell September corn between $6.10 and $6.50 for 100% of expected 2012 production and then roll the futures contracts forward.

Feed buyers need to develop their game plan now to take advantage of a fall low. While I believe that the market will make a multiple-year low between 2012 and 2013, be mentally prepared for a spring rally due to weather and inflationary concerns. If feed buyers can buy lead month corn at or below the cost of production, it's a better investment than keeping cash in the bank at basically zero interest rate or buying overpriced land.
 
Beans: 8
The soybean market recovered nicely in January due to concern about damage to the South American crop. Now that we have lead month futures back around $12, it will take both renewed concern about the South American crop and a better than expected surge in Chinese buying to go much higher. The odds of both of those events occurring as we move into spring is less than 1 in 3. History shows there is a seasonal pattern for July soybeans to rally in May. This is enough encouragement for me to suggest that if you have at least 80% on your 2011 inventory priced, you should wait until early summer to clean out the bins.

My primary concern is with the 2012 crop. While soybean acreage might not return to 2007's level of 77.45 million, it should be close. Trend-line yields will push carryover above 400 million bushels. This level of inventory could drive soybeans below the cost of production for many Midwest producers. As a result, I've already started recommending the sale of some expected 2012 soybeans at around $12. Set price targets and be 100% priced between $12 and $13 basis the November 2012 contract. I also suggest having some inventory sold before the March supply-demand and acreage reports.

End users and feed buyers should develop a plan to take advantage of a solid price sell-off in the fall. Remember, low prices will stimulate usage and eventually reduce production. If this can be combined with inflation concerns and a little bad weather, we will have the ingredients for an explosive cocktail. Develop a solid feed buying or re-ownership strategy for September to October.
 
Cattle: 9
The April cattle contract continues to be discounted to deferred December cattle due to the expectation for tight numbers to remain for most of 2012. The U.S. economy is starting to stabilize and demand will continue to improve as consumers become more comfortable in their spending habits.

As you know, I tend to focus on what can go wrong. My concern is that, with deferred cattle at historically record-high prices, producers are actually less interested than ever in long-term hedging. If there is anything that scares me more, it is when producers get confident that a trend will go on forever.

I'm not really worried about 2012 marketing, but I strongly suggest producers consider taking out 2013 insurance given a change in our domestic administration and just in case the European problem resurfaces with a vengeance.

To put a conservative defensive floor in the market and still allow room to participate in a rally in the cash, buy a December 2012 $125 put and sell a December $140 call for around $2.50. If you want to be more aggressive, activate this position only if we see December cattle break
below $131; if prices continue to move higher, simply move up the order as the market rallies.
 
Hogs: 9
In many ways, my concern with hogs is based on the same logic as my concern with cattle. Hog producers are making a solid profit right now, not to mention additional income from an increase in demand for hog manure. The hog complex will start to expand faster than the cattle complex, so my concern for 2013 is even more pressing for hogs. Just think about it: We are close to the magic $100 per cwt. point for summer hogs and next year's price is only dis-counted to $92. If grain stocks build this fall as I suggest, the economic incentive will simply be too strong for hog producers to resist.