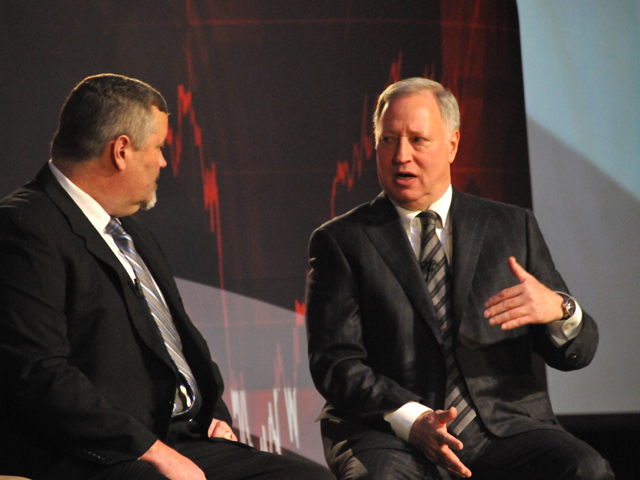 As the weather shifts from winter to spring, the market also transitions. Even as you plan to plant your 2015 crops, you need to fine-tune and execute your marketing plan for your stored grain.  

"The psychology of the situation is that American farmers tend to store a lot of grain," says Mark Gold, president of Top Third Ag Marketing." They look for price appreciation as we get into the spring months. If they get it, they are happy."
But, if prices don't creep up to acceptable levels, Gold says, farmers wind up with a problem, particularly if 2015 showcases an equally large crop.
To be proactive, Gold says, farmers need to use the proper marketing tools. "You have to look to spend some money," he says. "There is no cheap or easy way to market."
His advice is to buy puts.
"The fact of the matter is that in those two out of 10 years that the market explodes or goes higher, yes, we are going to lose the money on the put and sell our grain at record prices." Gold says. "We can certainly live with that. But, in those seven or eight years out of 10 that the market goes down, puts pay off."
Gold says grain and livestock producers should consider using puts at part of their marketing plan.

To read more news and find additional information on the Top Producer Seminar or Tomorrow's Top Producer events, visit www.TopProducerSeminar.com.
....................................
Thank you to the 2015 Top Producer Seminar sponsors:
Premier Sponsors: Advance Trading, Apache Sprayers, BASF, Bayer CropScience, Cargill, Case IH, Dow AgroSciences, DuPont Pioneer, ESN, Farmers Business Network, Firestone, John Deere, New Holland, Top Third Ag Marketing, Verdesian
Co-Sponsors: CliftonLarsonAllen, Conservis, The Gulke Group, K-Coe Isom, Soybean Premiums, Wyffels Hybrids
Supporting Sponsors: FarmLink