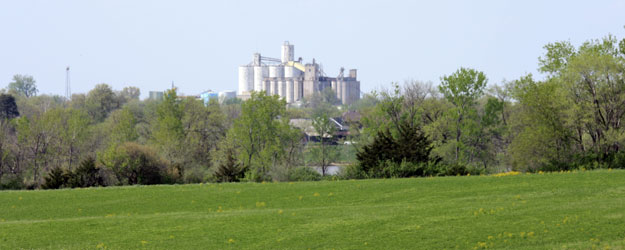 Malaysia, the world's largest palm oil producer after Indonesia, scrapped an export tax on the crude variety for two months to boost shipments and reverse a decline in prices to a five-year low.

Shipments of crude palm oil in September and October will not attract a levy, the Ministry of Plantation Industries and Commodities said in a statement yesterday. The government earlier set the tax at 4.5 percent for September. The tariff exemption will increase exports by 600,000 metric tons and help contain stockpiles at 1.6 million tons by year-end, it said.
Palm, used in food, detergents and biofuels, tumbled into a bear market in July on swelling global supplies of edible oils, including a record U.S. soybean crop. Prices risk falling further to approach the cost of production, according to Dorab Mistry, director at Godrej International Ltd. The government will assess whether the exemption should be extended as requested by the industry, said Douglas Uggah Embas, Plantation Industries and Commodities Minister.
---
Propane Outlook Fall 2014
---
Futures on the Bursa Malaysia Derivatives in Kuala Lumpur plunged to 1,914 ringgit on Sept. 2, the lowest level since March 2009, and closed at 2,025 ringgit today. In the absence of measures to arrest the slide, prices would have further declined until the end of the year, the ministry said.
'Best Instrument'
"The tax incentive is the best instrument to promote the export of CPO and reduce CPO stocks in the country," the ministry said, referring to crude palm oil by its initials. Without the tax exemption stockpiles would have jumped to as high as 2.2 million tons by the year-end, it said.
Malaysia cut taxes on exports in January 2013 to trim record stockpiles, replacing a tariff of about 23 percent with a sliding scale from 4.5 percent to 8.5 percent. The tax rates rose as prices climbed from the 2,250 ringgit a ton base price. Indonesia reduced its export tax to 9 percent for September, the lowest since November.
"Beyond October, we'll see what's the impact of this policy," Uggah told reporters in Kuala Lumpur yesterday after the announcement. "The industry requested us to move even up to December. We'll meet from time to time, we'll assess the situation."
To boost domestic demand, the ministry is drafting a paper on the implementation of a so-called B7 biodiesel mandate nationwide from December that may be presented to the cabinet as early as this month, Uggah said. If the B7 mandate is implemented nationwide, 700,000 tons of palm methyl ester will be used, he said. The government earlier targeted the B7 roll- out in the first quarter of 2015.
'Capping Prices'
Palm oil prices will have to stay sufficiently low for biodiesel to be economically viable at current crude oil prices, analysts at Hong Leong Investment Bank Bhd., wrote in a report today. While the government measures are positive for demand and prices in the near term, prices may not rise significantly, they said. Record soybean and corn crops in the U.S. will curb a rebound in soybean oil prices, capping the near-term upside potential of palm oil, according to the report.
Reserves in Malaysia jumped 16 percent to 1.95 million tons in August, the most since September 2012, according to the median of six estimates from planters, analysts and traders compiled by Bloomberg. They increased 1.5 percent in July. Output advanced 13 percent to 1.88 million tons in August, the highest since October, the survey showed.
Production in Malaysia may reach a record 19.7 million tons to 19.9 million tons this year, while Indonesia's output may total an all-time high of 30.5 million tons or more this year, according to Godrej's Mistry. The two Southeast Asian producers together account for 86 percent of world supplies.