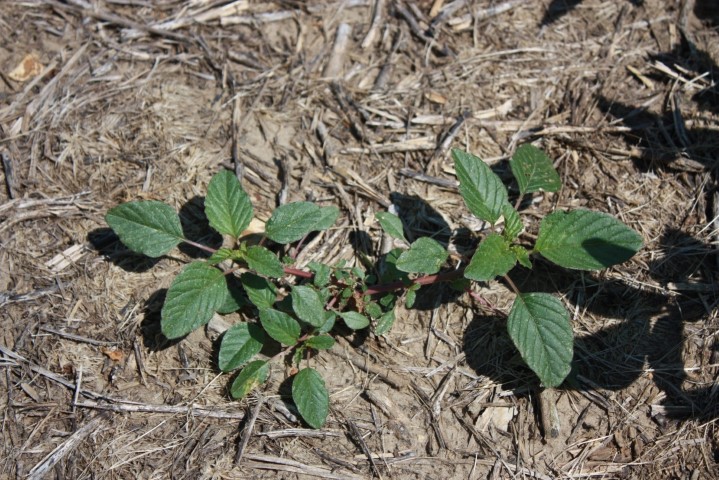 If you think waterhemp is bad, you don't want to meet its close cousin Palmer amaranth. For the past decade, glyphosate-resistant populations of this pigweed-on-steroids have plagued southern cotton and soybean crops, many to the point of total loss. Now, Palmer amaranth is on the move and headed north.

To date, Palmer amaranth has been identified in nine Midwest states: Illinois, Indiana, Iowa, Kansas, Michigan, Missouri, Nebraska, Ohio and Wisconsin.
Iowa State University Extension weed scientist Bob Hartzler confirmed the first cases of Palmer amaranth in that state this past August on a farm just north of Council Bluffs.
"It was obvious it'd been there a couple of years, based on the infestation level," Hartzler says.
Since then, he has confirmed Palmer amaranth in five Iowa counties and expects to find more. For one reason, it spreads rapidly because of its prolific seed production. Single plants can yield more than 500,000 seeds. Because of their small size, the seeds are easily transported from field to field, carried along by wind and wildlife. The seeds also readily hitch rides on farm machinery, especially combines.
"Farms that bring equipment in from areas of the country with Palmer amaranth are at high risk of invasion," Hartzler reports. "Due to the small seed size, it's almost impossible to completely eliminate the seed using standard, thorough cleaning procedures.
"Farms where by-products of cotton production (gin trash, cotton seed) are fed to animals, such as dairy cattle, are also at risk," he adds.
Palmer amaranth, much like waterhemp, is also difficult to control because it readily germinates throughout the growing season, according to Aaron Hager, University of Illinois Extension weed scientist.
"It is the fastest growing, most competitive and aggressive of the various pigweed species," he reports. "Growth rates approaching 3" per day and yield losses of 78% (soybean) and 91% (corn) attributed to Palmer amaranth interference have been reported."
Further complicating the issue of Palmer amaranth is the herbicide-resistance factor. Some populations have conferred resistance to multiple herbicide modes of action including ALS inhibitors, triazines, HPPD inhibitors, dinitroanilines and glyphosate.
Monumental task. The first and often critical key to managing Palmer amaranth, or any weed for that matter, is to scout and identify all species present, says Bill Johnson, Purdue University Extension weed scientist. That is a challenge with Palmer amaranth, he adds, because it closely resembles waterhemp. The ease of misidentification is one reason Johnson, along with most other Midwest state Extension weed scientists, is telling farmers to contact him this coming spring or summer if they suspect they have a Palmer amaranth problem and want help making the determination.
"Where we have light infestations I believe we will be able to get on top of it," notes Johnson, who says Palmer amaranth is confirmed in 20 of the 92 Indiana counties. "In two of our counties where 15% to 30% of our fields are infested getting control is going to be a monumental task."
Hartzler also encourages Iowa farmers to contact him if they suspect Palmer amaranth is in their fields. His advice: don't be passive about this weed. "If you let it go two or three years, your seed bank will be so well-established it will be hard to get rid of and will have to be part of your weed-management plan for the next 50 years. Right now, we still have time to prevent it from getting established."
Use Your Best Defense
Kevin Bradley is no stranger to Palmer amaranth. The University of Missouri Extension weed scientist has helped farmers in the far southeast corner of the state, often called the Bootheel, battle the weed for a decade. "It's our No. 1 weed in that area," he says. He tells farmers they must address Palmer amaranth aggressively and comprehensively, much like they would waterhemp: "With Palmer we have to be even more aware of timely applications as it can grow so much quicker." Here are his recommendations for keeping Palmer amaranth at bay:

Use full rates and/or combinations of preemergence residual herbicides on fields as close to planting as possible.
Overlap your residual herbicides. While this strategy isn't a good fit for all weed species, it matches the biology of Palmer amaranth and waterhemp well.
Consider using the LibertyLink soybean system with Liberty (glufosinate) herbicide. "This is still a mechanism of action that works well, but only following a residual herbicide program and with timely applications," he says.