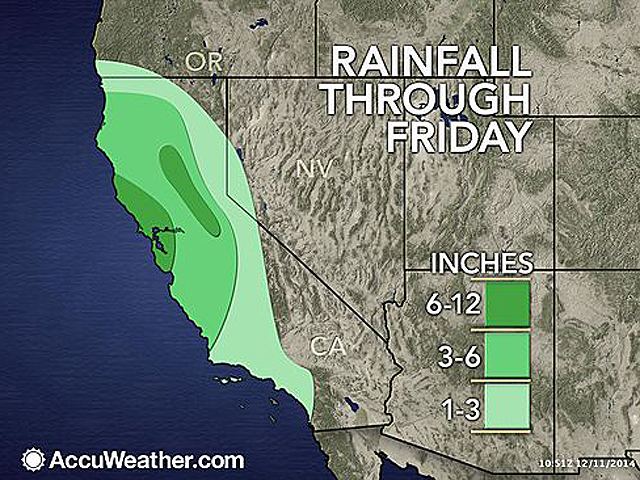 It's raining in California, and that's a big deal. According to the latest U.S. Drought Monitor, nearly 80% of the state is currently engulfed in D3 or D4 drought (the two most severe categories).
The current storm system could bring as much as 12 inches of rain to parts of California, according to AccuWeather forecasters, who are calling it the biggest rain producer possibly to hit the state in the past decade. Rainfall from this single storm could equal average rainfall for the entire month of December in some locations.
"There is plenty of moisture for this storm to tap," says AccuWeather.com Western Weather Expert Ken Clark. "And this is why it will be such a soaking rain."
The much-needed rainfall could nonetheless cause problems such as flash flooding in poor drainage areas and the risk of mudslides, especially in recent burn areas. Powerful wind gusts of 40 to 70 mph could also down trees and power lines, and create travel disruptions.
Additional rainfall will be needed throughout the winter to wipe out the long-term effects of California's multi-year drought, but forecasters agree, this week's rain is a good start.
The cause of the storm was due to a so-called "atmospheric river" – a narrow but deep plume of tropical moisture that stretches 3,000 miles long. NOAA's Earth System Research Laboratory notes the importance of ARs:
On average, about 30-50% of annual precipitation in the west coast states occurs in just a few AR events, thus contributing to water supply.
ARs are a primary feature in the entire global water cycle, and are tied closely to both water supply and flood risks, particularly in the Western U.S.
For all of AgWeb's weather coverage, including more than a dozen maps that measure temperature, rainfall, growing degree days, soil moisture and much more, visit http://www.agweb.com/weather/.