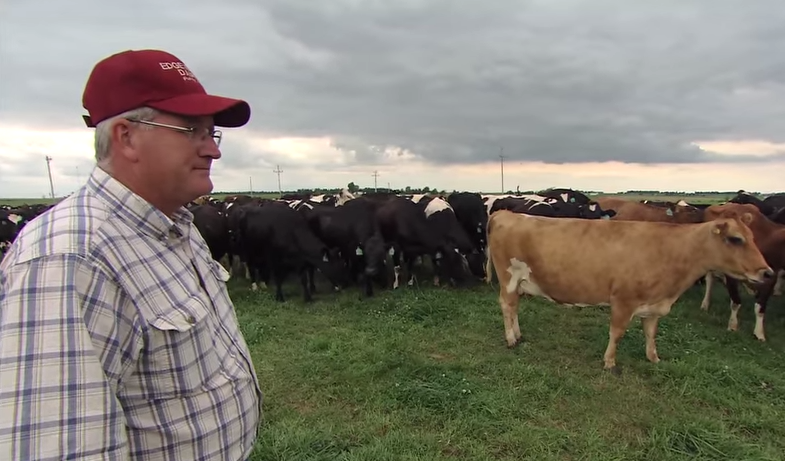 Changing to a pasture-based dairy has allowed a Missouri farmer to expand and have more free time to play music.
By: Jason Vance, University of Missouri Extension
Dairy farmer Charles Fletcher is a musician at heart. Since switching from a traditional dairy system to pasture-based rotational grazing 17 years ago, he has expanded his operation, increased his bottom line and has more time to make music, playing harmonica with a local bluegrass group called Ozark Mountain Revival.
In the 1990s Fletcher attended a grazing school held by University of Missouri Extension. "I came home excited, grabbed a roll of wire and said, 'Let's try this on our dairy farm,' and we've never looked back."
Rotational grazing lets cattle go out and graze one pasture for a certain length of time then rotate to another. This way, cattle can eat just the most nutritious parts of the plant, and grass has time to rest and rejuvenate. Since adopting rotational grazing in 1997, Fletcher's herd has grown from 75 cows to more than 600.
Stacey Hamilton, MU Extension state dairy specialist, says pasture-based dairies make economic sense for farmers.
"We can provide a nutritious product—that pasture, that forage out there," Hamilton says. "If managed properly, that is going to cost three to four times less than if we had to go out and buy it on the open market."
Pasture-based dairies reduce labor by sending the cows to the feed rather than bringing the feed to the cows.
MU Extension began work with pasture-based dairying in the early 1990s, holding grazing schools and demonstrations for producers, and establishing a seasonal rotational-grazing dairy at the MU Southwest Research Center in Lawrence County.
Fletcher credits the help of MU Extension specialists for his success with pasture-based rotational grazing.
According to Hamilton, rotational grazing works best in areas where climate and soil types allow cattle to be housed outside all year. Missouri fits the bill.
"We're far enough south we can grow quite a bit of the southern forages, and we're far enough north we can grow a lot of the northern forages," Hamilton says. "So we have this menu of pasture plants that we have access to."
Traditional dairy farms are labor- and time-intensive, but a pasture-based dairy system gives farmers more flexibility in both managing their operations and living their lives.
"A pasture-based dairy farmer can make decisions that allow him to spend more time with his family, his church, whatever other activities he has," Hamilton says.
For Fletcher, that means playing music until the cows come home.
To find out more about pasture-based rotational-grazing dairies, go to http://extension.missouri.edu/p/G3050.