Overall 47% of pastures across the country are in good to excellent condition; however, dry weather seems to be a concern especially this early in the growing season. 
Overall, the USDA pasture condition report in 48 states showed 47% of pastures in good to excellent conditions, 31% in fair condition and 22% in poor to very poor condition. For the same time last year, 55% of pastures were in good to excellent conditions, 24% in fair condition and 21% in poor to very poor condition. Overall it appears that rain is needed almost everywhere to improve the soil moisture and bump pasture conditions before summer arrives.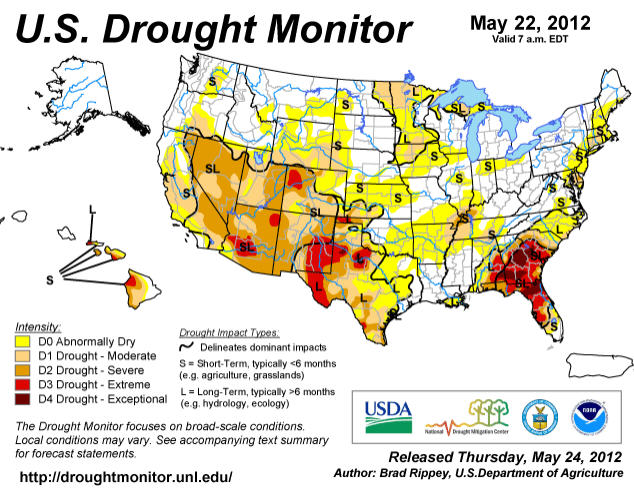 The Southwest and Florida continue to struggle with extended drought. New Mexico and Arizona remain in severe drought with very poor pasture conditions across the majority of the state. In addition, wildfires continue to plague that area.
Meanwhile pasture conditions in Texas have made a some improvement compared to last year. Pastures were in good to excellent condition in 29% of the state, while 36% remains in fair condition. The Western part of Texas continues to struggle with dry conditions, causing poor to very poor pasture conditions in that area and the declining pastures are extending into the High Plains.
One rancher in Northwest Kansas reported that the drier weather is causing pastures to "turn crispy" and it's not even officially summer. Earlier this month, a producer on the Texas Panhandle-New Mexico reported that he's only had a "spotty 1" to ½" of rain all of last year and ¼" this year since Jan 1."
Tips for tracking your own pasture conditions:
Most producers know that just becuase it rains on one side of the road, doesn't mean it will rain on your side of the road. So while following pasture condition reports is interesting, it doesn't necessarily reflect what's going on in your pastures. That's why it makes sense to track your own pasture conditions scores to help monitor forage production.
According to the NRCS, pasture condition scoring is a systematic way to check how well a pasture is managed and evaluates overall pasture health. This scoring serves as a planning tool to establish a baseline for pasture conditions and helps monitor improvements..
Pasture condition scoring involves the visual evaluation of 10 indicators: percent desirable plants, plant cover, plant residue, plant diversity, plant vigor, livestock concentration areas, erosion, wind, percent legume and soil compaction.
Each indicator is scored from the lowest (1) to the highest (5). Each indicator is evaluated separately. They may be combined into an overall score for the pasture unit or left as an individual score to help target areas of improvement.
---
How do pastures look? Submit your pasture condition report to AgWeb's Crop Comments.