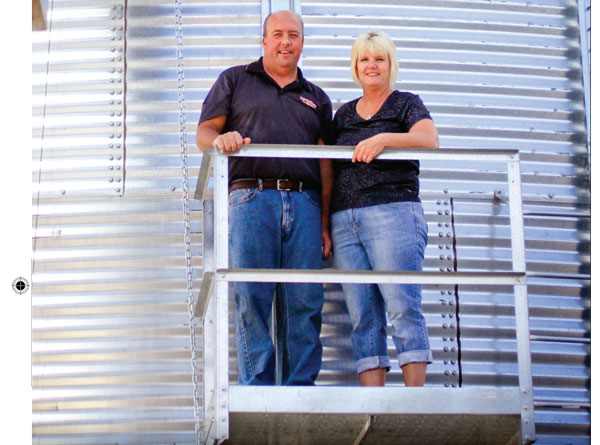 Jay and Cara Myers take farm to new heights with test plots, data
This day in late May is an anomaly. Conditions above the expansive, flat and fertile Red River Valley are warm and dry. Jay Myers is behind in planting corn, the latest he's ever been at this point in spring. The quiet and patient confidence he projects and his acceptance of farming's biggest challenge—the weather—would make you think planting season were over rather than just being underway. 

Jay is the fifth generation to farm near Colfax, N.D. It is the 11th hour for planting, and another crisis looms; a university researcher is planting test plots for research Jay sponsors and has misplaced some products. He deals with the problem with focused intensity on reality rather than accusation and frustration. Five minutes and three phone conversations later, he arranges for his wife and farm partner, Cara, to deliver the products so the research can be completed.

Jay is like that: cool, centered, solutions-oriented. He doesn't let emotions get the best of him. Part of that confidence comes from lessons hard-won when he started farming amid the 1980s farm crisis. 

"We still can get a good return," Jay says wryly. He's sure despite a corn-planting cutoff date nine days away. Less than two weeks later, both corn and soybeans are planted on time. A new 24-row planter enabled 50% faster completion.

That's one side of Jay. Inside the tractor cab, where he controls a caravan of planting and fertilizer equipment, a different side emerges. An attentive Jay eagerly watches four monitors showing real-time data for planting and fertilizing and identifying problems in need of correction. The monitors provide detailed information not only on this field near his home place but also on operations at fields up to 20 miles away. 

Striving to Improve. Although he is a seasoned farming veteran, Jay constantly looks for ways to be more efficient and profitable. For example, though he's banded fertilizer for years, preliminary research convinced him to band fertilizer on both sides of the rows this year. He will compare the results against those of single-banded rows in a test plot. Jay wants his own farm's data before he makes the practice permanent.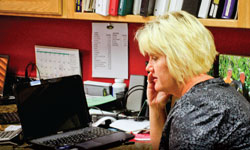 Delegation of responsibilities and adoption of Big Data are two keys to the Myers' business success. Cara is a certified public accountant who previously worked at Microsoft. "Cara's experience gives her a good eye on financial issues," Jay explains. 

Fusing technology with field scouting is critical. A monitor for his Precision Planting unit provides real-time readouts on both seed spacing and plant population. The display connects to his iPad in the cab and to Google Earth. The system allows him to troubleshoot. While planting this spring, an alert on his iPad revealed light plant populations around a disk. Further examination uncovered a bouncing 1.25" ribbon of silicon that had kept the machine from planting correctly. He immediately fixed the problem, which would have produced erroneous test results during the season. 

A lifelong learner, Jay holds a degree in agricultural economics from North Dakota State University. He is in constant motion and seeks to run the farm as a tightly managed manufacturing plant. Rigorous testing is a big part of that. This year, six different test plots will allow him to compare competitive fertilizer and seed products. Although company and university trials can provide important information, there is no substitute for replicated tests on individual farms and fields. 

"Salesmen have a vested interest in selling seed and fertilizer products in their lineup," Jay says. 

His research has found yield differences up to 15 bu. per acre between competitive products that supposedly have the same ingredients. "In reality, products that are supposed to be the same are not," he says. 

It might not be the active ingredients listed that are different but differences in heavy metals, pH and salt index that can impact fertilizer quality and ultimately yield. "For one product, we replicated the trial three times on different parts of the field," Jay explains. "Our testing program is a lot of work, but it's also one of our comparative advantages."

In addition to conducting rigorous on-farm tests, Jay sends fertilizer products to independent labs for analysis with sometimes surprising results. For example, some products have poor quality that can harm the crop. They can set back or even reduce crop emergence. The experience is like driving an inexpensive car versus a Cadillac. "Cheaper products sometimes are far more costly than a premium product," he says. 

Spinoff Farm Business. The emphasis on testing resulted in a new farm business, AgroValley Solutions. As word of Jay's research spread, area farmers wanted to take advantage of the results. He started selling fertilizer and, in turn, equipment. Since then, the business has expanded into a regional company. 

The approach is not lost on the team of experts with whom they do business. "When Jay started to farm with his father, the size and scope of the original farm was smaller than most other farms in the area," says Annette Loken, senior agricultural specialist with Wells Fargo. "Jay had to implement new and effective yield/field management to maximize his profitability. Over the years, they have been able to maintain high profits with cost containment."

Those successful practices are foundational to the couple's role in the farming community. 

"Jay and Cara are teachers," explains Dennis Dammen, owner of Crop-Maxx, an advisory and consulting business. "They are often asked to provide training and assistance to others." 

Although the couple's corn and soybean yields are 10% better, on average, than typical yields in the upper part of the Corn Belt, profit per acre is the factor that drives Jay. "I strive to be a low-cost producer," he says. Armed with data from on-farm trials, he can turn a profit even with $4 corn.

Believers in Big Data. The benefits of gathering data go beyond keeping track of the planter and combine. "We have added the ability to monitor our grain dryer remotely with an iPad and cellular Internet," Jay notes. "This allows me to have an iPad in the combine and monitor functions on the dryer and everything running at the grain site without someone being there. I can do the job of two people this way."

An efficient workforce is crucial to farming in North Dakota, where it's difficult to find and keep good workers amid an oil boom that has pushed unemployment below 4%. The job environment led the couple to devise an incentive pay system that rewards employees for staying throughout the busy seasons. It also prompted them to adopt precision farming tools early. "I use the latest technology with RTK auto steer to make driving equipment less stressful and to be able to hire part-time employees to drive with less experience," Jay explains.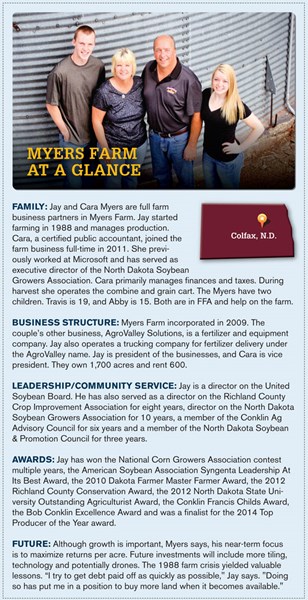 Evidence of patient and carefully planned progress extends beyond the tractor cab to every facet of farm. It is a reflection of Jay and Cara's commitment to leaving a legacy for the next generation. They have enrolled in the Conservation Stewardship Program for their fourth year. "This has allowed us to sign up with different enhancements that monitor what we use for fertility through soil tests and fertility tests and tissue tests," Jay says. "We also practice conservation with strip till and placement of nutrients to become better stewards of the land." 

Teachers and lifelong learners, the Myers hope to farm for many years to come and to pass on their foundational knowledge to the next generation of agriculture.