Master Scout honorees are talented teachers
Since 2008, we've designated at least one of our veteran scouts on the Pro Farmer Midwest Crop Tour as a Master Scout. Earning the title isn't easy—it comes with a lot of hard work and sweat through many years of scouting on the tour. Earning the award requires more than putting in time on the tour, though. Master Scouts go above and beyond what is asked of them during the third week in August each year. They share their vast knowledge and expertise with other scouts to enhance their understanding of what we uncover in fields during the trek across the Corn Belt.
By Brian Grete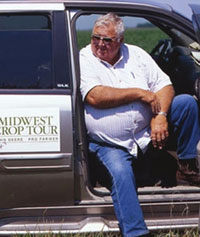 Master Scout, 
Bob Provin
Bob Provin of Gibson City, Ill., is affectionately known as "Big Bob," and he embodies everything we seek in a Master Scout. Over the past 13 years, scouts on the tour's eastern leg have learned to rely heavily on Bob's knowledge of Midwest production agriculture. 

Connecting with Bob to get his daily read on crops is a top priority for Brian Grete, director of the tour's eastern leg, before nightly kickoff meetings begin. "Because of his unassuming demeanor, he isn't one to push his viewpoints on crops and yield potential on other scouts," Grete explains, "but if you ask, he'll always give you a straight answer. Bob's greatest attribute is his no-frills ability to break down a crop, from what's right to the potential pitfalls he sees. "

Bob has a lifelong commitment to agriculture. He runs a corn and soybean farm in central Illinois and has served since 1983 on the Alliance Grain Co. Inc. Board of Directors.
For his years of dedication to the tour and the countless knowledge he's shared with hundreds of other scouts, we're proud to name Bob Provin a Master Scout.
By Chip Flory
Master Scout, 
Brad Nelson
The tour also is proud to welcome Brad Nelson of Albert Lea, Minn., as a Master Scout. Brad brings a wealth of production knowledge to the event and willingly shares it with non-farming scouts. Because Brad is an excellent teacher, tour director Chip Flory has leaned on Brad several times, scheduling some of the most inexperienced scouts to spend a day with him.

Additionally, Brad has been heavily involved in developing the ethanol industry in Minnesota. He spends time with scouts detailing conditions and sharing his long-term industry outlook, all with a smile on his face and patience. 

Since joining the tour in 1996, Brad has scouted on several eastern and western legs. Even when other commitments have kept him off the road, Brad has found time to stay involved in the tour, in some cases joining for a day or two when scout numbers were low to ensure all areas received attention.

As with most returning scouts, it's not yield checks that bring Brad back to the tour—it's people. "I can't believe how many good people I've meet on this tour," Brad has been overheard saying. Brad builds lasting relationships and readily answers calls and emails from scouts throughout the year to share what he knows about crop conditions.

He contributes regularly to annual coverage of crop conditions by Pro Farmer, and he undoubtedly will remain a valuable source and friend to Pro Farmer for years to come.
For those reasons and many more, we are proud to name Brad Nelson a Master Scout.