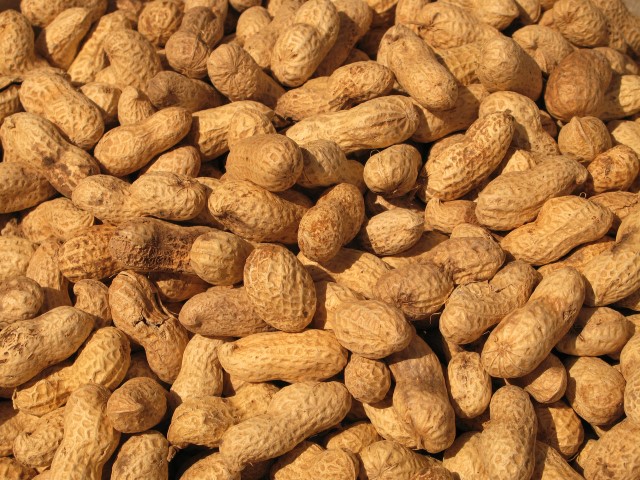 While Americans can't seem to get enough of Tim McMillan's peanuts, it's the government checks he receives that keep his Georgia farm from losing money.
These should be the best of times for growers like McMillan. You could coat the floor of the Grand Canyon with all the peanut butter eaten every year in the U.S., and the peanut is considered the king of the nation's snack nuts, even though it's actually a legume and not a nut. Domestic demand has never been higher, and exports are at a record.
The problem is, U.S. production far exceeds what's needed. Rising shipments overseas have helped ease the glut, but stockpiles remain ample. Prices are half what they were in 2012, and that's triggered government support that was expanded three years ago. Peanuts are the nation's most-subsidized crop, based on the percentage of a farmer's revenue. It may be like that for another decade, which is only encouraging growers to produce more.
"The safety net is the only thing that's enabled me to keep up economically," McMillan, 57, said by telephone from his farm in Enigma, Georgia, the biggest U.S. peanut-growing state. He's expanding acreage by 15 percent this season, partly because the subsides make peanuts more profitable than his other crop, cotton.
Peanuts have been a mainstay of U.S. diets for two centuries, and two peanut farmers have become president: Thomas Jefferson and Jimmy Carter. Botanist and inventor George Washington Carver, who was born into slavery around 1864, revolutionized the crop by developing more than 300 products with it, from dyes and plastics to gasoline and shampoo.
Today, domestic farmers grow more than $1 billion of peanuts, with 60 percent used to make peanut butter like Skippy and Jif brands, which is eaten mostly in sandwiches. It takes 540 peanuts to make a 12-ounce jar. Americans consumed about 7.4 pounds of peanuts last year, including 4 pounds of peanut butter, according to the National Peanut Board.
In all but three years since 1981, farmers have harvested more peanuts than Americans could eat. Exports tripled over the past decade, touching a record 555,000 metric tons last year, U.S. Department of Agriculture data show. That year, China bought 184,000 tons, up from just 642 tons in 2012.
But rising demand still wasn't enough to help rices. The benchmark Runner peanut has plunged to about 19 cents a pound from 42 cents in early 2012, USDA data show. Cheaper supply has been a boon to buyers like Jif-maker JM Smucker Co. and Skippy's Hormel Foods Corp., especially since retail prices haven't dropped much.
The news isn't all bad for peanut growers. Government payments remain a key source of revenue, and the crop is getting new friends in high places. Earlier this week, the Senate confirmed the appointment of Sonny Perdue as the new U.S. Agriculture Secretary. He's a former governor of Georgia, which produces about two-fifths of the nation's peanuts.
Since 2002, farm bills approved by Congress included income support for peanut growers called "price-loss coverage" payments.
Until 2014, payments kicked in when the average dipped below $459 a ton, or about 22.95 cents a pound, which occurred in seven of 12 years, government data show. In 2014, the trigger was raised to $535 a ton (26.75 cents a pound), which has led to payouts every year as prices fell. Payments were limited to the difference between the trigger price and the average price, until it drops to 17.75 cents. Below that, any additional support comes in loans.
Payments probably will continue. Based on Congressional Budget Office forecasts over the next decade, federal checks equal as much as 42 percent of peanut revenue some years, most of which is the price-loss coverage payments. As a percentage of farmer income, peanuts are the most-subsidized major crop every year from now through 2027, the CBO data show. Peanuts also may remain below the trigger price in all 12 years, according to the forecasts.
Guaranteed payments may push farmers to grow more. The USDA predicts planting will increase 4.8 percent this year to 1.751 million acres. That's up 29 percent since the current subsidy program was approved in 2014.
Farm-bill politics that year created "the most favorable environment for peanuts since Jimmy Carter was in office" in the 1970s, said Vincent Smith, an agricultural economist at Montana State University in Bozeman.
The result was "a program that's guaranteed to be highly lucrative for peanut growers nearly every year," Smith said. "This is not a program that provides them with help when they need it. It gives them help all the time."
The peanut subsidies are becoming a top target for changes among groups hoping to get farm payments cut in the next law reauthorizing agricultural programs, due in 2018, said Josh Sewell, senior policy analyst for Taxpayers for Common Sense in Washington.
"This is definitely something we need to fix in the next farm bill," Sewell said. "You're sending a signal to farmers that they should plant for Washington, not the market, and that is exactly the approach we should be moving away from."
Worthwhile Aid
The program has its defenders, who note that many peanut farmers also grow cotton, another troubled crop. Cotton exports and prices are rising, which may restrain peanut-planting. Futures for the fiber traded in New York are up 11 percent in 2017, and exports in the current marketing year are 75 percent higher than they were at the same time one year ago, the USDA said in a report Thursday.
Subsidizing peanuts can help compensate for cotton payments that were cut as part of the settlement of a World Trade Organization case the U.S. lost, said Adam Rabinowitz, a peanut economist at the University of Georgia in Tifton.
"We do not have 100 percent peanut farmers," Rabinowitz said. "Peanut farmers need other crops for rotation."
Forecast for payments in the future may be overstated, because prices already are trending higher than earlier estimates, he said.
Any changes in the program may be an uphill slog, as the payments are popular among producers and the lawmakers who represent them.
"The safety net that exists for peanuts is necessary," said Representative Rick Crawford, the Arkansas Republican who leads the commodities subcommittee of the House Agriculture Committee. "It's working as designed."