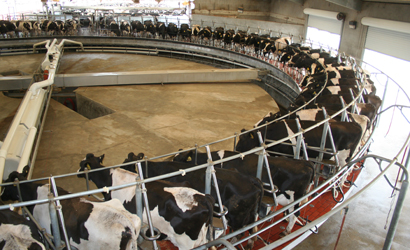 Oct. 20, 2014
Colorado, Texas and Kansas show the largest-percentage milk output gains over September 2013, USDA says.
Milk production in the 23 major dairy states last month rose 4.1% from September 2013, to reach 15.5 billion pounds, USDA said today in its monthly milk production report. 
U.S. dairies haven't increased output at that high a rate since March 2012—a span of 29 months, Dairy Farmers of America reported in its "DFA Today" e-newsletter.
USDA said per-cow production averaged 1,804 lb. for September, 56 lb. above September 2013. That's the highest production per cow for the month of September since the 23-state series began in 2003, USDA said.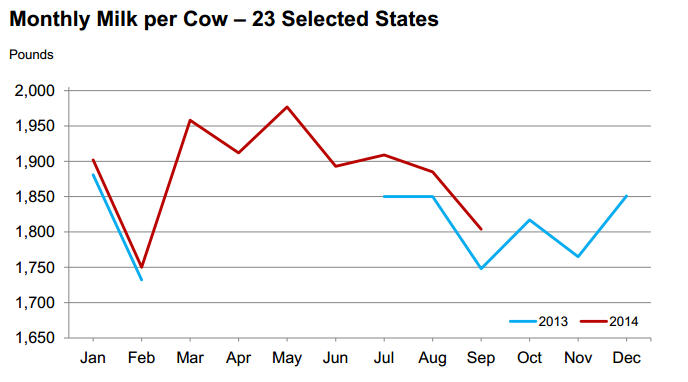 The number of milk cows in the 23 states increased to 8.59 million head, 78,000 head more than September 2013, and 4,000 head more than August 2014.
Colorado continued to show the large  gains it's been seeing this year, increasing its output  a whopping 10.8% over year-earlier levels. September's production totaled 298 million pounds in the Centennial State.
Texas showed the second-highest percentage climb over September 2013's levels, with its production rising by 9.6% to 820 million pounds last month.
Milk output in Kansas jumped by 9.2% over September 2013, to 250 million pounds.
"One has to presume that feed quality has really increased around the U.S. over the past few months, and that meant all but one state showed year-over-year growth in milk production," brokerage firm  INTL FCStone noted today after the USDA report was released. "Illinois, [at] minus 0.7%, was the only state to show a decrease and that came as cow numbers dipped by 3,000 head."
In its Oct. 17 Livestock, Dairy, and Poultry Outlook, USDA lowered its projection for 2014-15 U.S. corn prices to $3.10-$3.70 per bu. on higher forecast corn production. The government agency left soybean meal price estimates unchanged from September at $330-$370 per ton. The September Agricultural Prices reported September preliminary alfalfa hay prices at $197 per ton, lower than August and about the same as a year ago. "Lower forecast grain and an unchanged soymeal price in 2014/15, along with anticipated forage prices, will likely maintain a milk-feed price ratio in 2015 that is conducive to expansion," USDA said.
In today's milk production report, big gains also were seen in Utah, up 7.8%; Michigan, up 6.9%; and Arizona, up 6.5%. Other significant states showing increases were:
California             2.9%
Idaho                    3.4%
New York            4.5%
Wisconsin            3.2%
Pennsylvania     3.5%
Minnesota          1.5%
Production in all 50 states reached 16.472 billion pounds for September, up 4% from a year earlier.