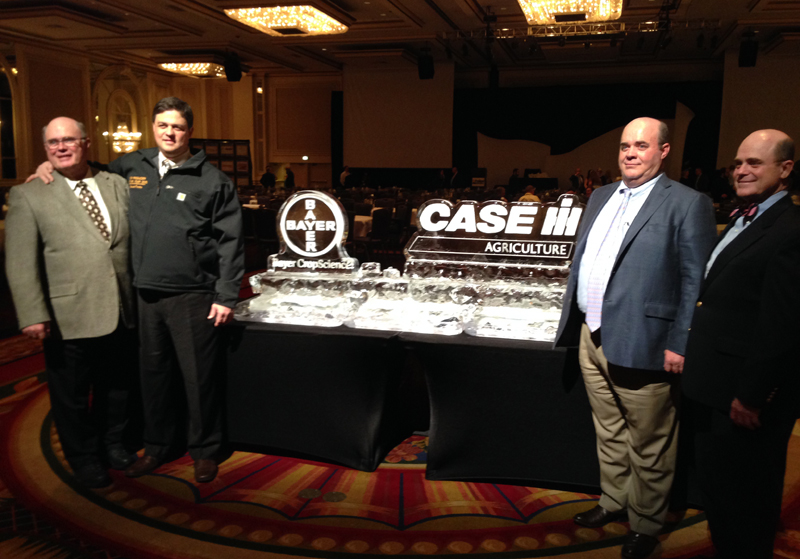 Farming runs very deep in the Peterson family. Looking into their ancestry shows a farmer in the family for 13 consecutive generations. But while passion for farming is strong, the current Petersons have taken their legacy to a whole new level….and a new kind of market.
The farm is a partnership between three brothers and a son: David, Bernard, Bill and his son Albert, who came back to the farm in 2001. Its Albert's great grandfather, John, who started the idea of bottling and delivering milk in glass bottles in the Bluegrass State. Today the farm doesn't produce milk in bottles, but it does help produce another liquid in bottles.
Eleven children and 55 grandchildren later, the farm is a modern day success story. Its core values include being stewards of the land, building trusting partnerships, honesty, fairness, reliability and teamwork. Today, Peterson Farms operates 15,000 acres across seven counties, growing corn, soybeans, wheat and canola and maintaining a double digit return on equity.
You've heard the saying that what matters in business is location, location, location. That goes for grain demand as well. The Petersons farm in the heart of the bourbon whiskey industry. And Peterson Farms is now one of the largest suppliers of wheat to Maker's Mark whiskey.
They have succeeded in landing the long-term contract with the famous distillery by delivering grain in the timeframe the customer needs. This is in part due to their use of technology and grain storage capacity – the Petersons added 1.4 million bushels of storage over the last 14 years, giving them an edge when it comes to logistics. Eleven grain trucks and trailers and an updated harvest equipment line help keep the grain moving.
But it comes down to quality, and as the Petersons believe: QUALITY – ALWAYS - SELLS. Maker's Mark has one batch, one recipe and one mash…so if the ingredients come into the distillery sub quality…everyone loses.
Outside of the whiskey business, the family has been successful in raising non-GMO soybeans for many years, which gives them a good premium. Technology also has been key. The farm began using yield maps back in the early 1990s, and is known for innovation. An inventory management software system tracks seed, chemical and fertilizer on all fields, and links to their smartphones. The Petersons can track inputs on 261 different field accounting centers.
But it hasn't always been "good times down south." The Petersons struggled in the 1980s like many farmers, with high interest rates, low commodity prices and severe drought. These were overcome by selling land and renegotiating leases. Today the Petersons have 15 landlords who have been with them over 15 years.
Albert credits the mentoring of his uncles and father to the success of the team and that of 17 employees, not including 14 seasonal employees. Scheduled daily conference calls among the partners is critical. It doesn't hurt that Albert's wife, Karen, serves as Human Resource Manager for the farm.
Peterson Farms just completely a succession plan that was years in the making. With many land holdings and business growth, the Petersons needed a structured plan that establishes ownership, buy/sell agreements and a separate operating entity from the equipment and land holding companies.
As for community service, the Petersons serve on numerous community boards, including school boards and local arts councils. Bernard is area director of the Kentucky small grain growers; David has been involved in Kentucky Farm Bureau and the farm works continuously with local FFA groups….it even contributes financially to the county FFA by donating a portion of its grain.
Sponsored by Bayer CropScience and Case IH, the Top Producer of the Year contest is in its 16th year and represents the best in the business of farming. Three finalists are chosen from a slew of applications by a panel of judges based on entrepreneurial originality, financial and business progress, and industry and community leadership.
Read about the 2015 finalists:
Stan Boshart and SJB Farms, Tangent, Ore.
Roric Paulman and Paulman Farms of Sutherland, Neb.
To read more news and find additional information on the Top Producer Seminar or Tomorrow's Top Producer events, visit www.TopProducerSeminar.com.
....................................
Thank you to the 2015 Top Producer Seminar sponsors:
Premier Sponsors: Advance Trading, Apache Sprayers, BASF, Bayer CropScience, Cargill, Case IH, Dow AgroSciences, DuPont Pioneer, ESN, Farmers Business Network, Firestone, John Deere, New Holland, Top Third Ag Marketing, Verdesian
Co-Sponsors: CliftonLarsonAllen, Conservis, The Gulke Group, K-Coe Isom, Soybean Premiums, Wyffels Hybrids
Supporting Sponsors: FarmLink