In response to Russian aggression in Crimea, the Obama Administration announced yesterday it will use Strategic Petroleum Reserves to reduce the global price of oil. 52% of Russia's national revenue comes from oil and natgas exports, and the hope is that lower global crude bids will crimp Russia's economy enough to woo them out of Crimea. Good luck with that.
The Strategic Petroleum Reserve (SPR) was signed into law as a means to protect U.S. consumers from oil price spikes and embargoes, like those seen in 1973-74. To help us understand the SPR, I have listed a few key factoids on the matter from energy.gov below...
President Ford set the SPR into motion when he signed the Energy Policy and Conservation Act (EPCA) on December 22, 1975. The legislation declared it to be U.S. policy to establish a reserve of up to one billion barrels of petroleum.
On July 21, 1977, the first oil - approximately 412,000 barrels of Saudi Arabian light crude - was delivered to the SPR. Fill of the Nation's emergency oil reserve had begun.
The SPR holds 695.9 million barrels of crude oil.
On January 16, 1991, coinciding with the international effort to counter the Iraqi invasion of Kuwait, President George H.W. Bush ordered the first-ever emergency drawdown of the SPR.
The SPR's second emergency drawdown occurred after Hurricane Katrina caused massive damage to the oil production facilities, terminals, pipelines, and refineries along the Gulf regions of Mississippi and Louisiana in late August 2005.
On June 23, 2011, Secretary Chu announced that the U.S. and its partners in the International Energy Agency (IEA) would release a total of 60 million barrels of oil onto the world market. The Secretary stated, "We are taking this action in response to the ongoing loss of crude oil due to supply disruptions in Libya and other countries and their impact on the global economic recovery."
In managing the Strategic Petroleum Reserve Program, the Office of Fossil Energy's overriding objective is to maintain the readiness of the oil stockpile for emergency use at the President's direction.
Crude Oil --
April 2014 WTI crude oil opened this morning at $98.10 -- $2.94 below the same time last week. Next support is at $96.62 and $94.10. A move back above $103.53 would open the door to upside risk to $104.96 and the March high of $105.22.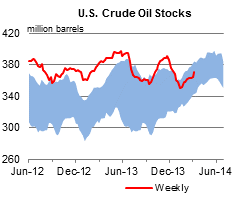 U.S. crude inventories gained 6.2 million barrels to 370 million barrels -- now 14.0 million barrels below year-ago.
April 2014 Brent crude oil futures opened at $108.26 -- $3.74 higher on the week. Next support lies at $107.37 and a move below that level would clear the way to bears' target of $104.75. Tough resistance lies at $111.32 and $112.39 along the way to $116.50.
The WTI/Brent crude spread widened $6.68 on the week to $10.16 at the open, with Brent at a premium.
Home Heat --
Residential heating oil 3 cents lower on the week to $4.20/gallon.
Wholesale heating oil 4 cents lower on the week at $3.32/gallon.
Residential propane softened another 13 cents to $3.17/gallon.
Wholesale propane 8 cents lower to $1.43/gallon.
Highway Fuels --
Gasoline & highway diesel firm.
"The U.S. average retail price of regular gasoline increased three cents to $3.51 per gallon as of March 10, 2014, 20 cents less than the same week last year. The Rocky Mountain and West Coast prices both increased by five cents this week, to $3.44 and $3.76 per gallon, respectively. Midwest prices rose by four cents to $3.54 per gallon. The Gulf Coast average price gained three cents to $3.25 per gallon, while prices on the East Coast rose two cents to $3.49 per gallon," according to EIA.
"The U.S. average price for diesel fuel was up by half a cent, holding at $4.02 per gallon for a third consecutive week, but down seven cents from the same time last year. The Gulf Coast price increased by two cents to $3.81 per gallon. The Rocky Mountain price also increased by two cents, reaching $4.00 per gallon, a first since the same week last year. The East and West Coast prices were each up by less than half a cent, to remain at $4.16 and $4.04 per gallon, respectively. The Midwest posted the only decline, falling one cent to $4.01 per gallon," according to EIA.
Look for information and statistics on LP and Farm Diesel in our weekly 'Farm Fuels in Focus' report.
---
Graph and indicated text provided by EIA.