I spoke yesterday with Mike Adams on AgriTalk Radio about the current rail situation and his first question was if grain and oil shipments are currently at odds, and is crude getting preferential treatment. Way to start off with an easy one, Mike... but his line of thought is pervasive through northern parts of the Midwest where co-op managers report they cannot get sufficient rail takeaway to reduce grain storage stocks, or to bring fertilizer in. Meanwhile, they watch long lines of crude cars whizz by their facilities.
Crude shipments by rail have exploded -- not the right word... Crude shipments have increased substantially over the past five years. In 2008, the Association of American Railroads reports the U.S. rail system transported 9,500 carloads of crude oil. By 2013, that figure had swelled to 407,642 carloads annually. Clearly, crude oil has been prioritized on the rails.
But this comes as grain prices, although recovering recently, have given grain sellers little incentive to move product. It is conceivable that the grain overhang would be in place with or without a rail crisis in effect. But that is really not the point. The point is if elevators want to sell grain or stock up on fertilizer, trains are often delayed or come in too short on cars to get the job done because of increased shipments of crude from shale operations.
BNSF Railroad announced plans this week to add cars, locomotives and infrastructure in 2014 and has made special concessions to expedite fertilizer deliveries so growers can get nutrient into the soil in a timely fashion. But the fertilizer suppliers I have spoken with expect 2-3 week delays on fertilizer deliveries by rail. Look for more in this week's blog.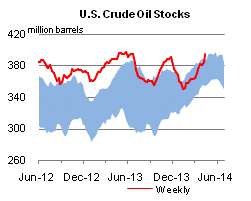 Crude Oil --
May 2014 WTI crude oil opened this morning at $103.84 -- 40 cents above the same time last week. Next support is at $102.00 and $98.86. A move back above the March high at $104.48 would open the door to upside risk to $112.24.
May 14 heating oil opened today at $3.01, six cents above last week.
May 2014 Brent crude oil futures opened at $108.66 -- 97 cents higher on the week. Next support lies at $104.97 and $102.64 and a move below that level would clear the way to bears' target of $100.98. Tough resistance lies at $110.33 and $111.32 along the way to $116.50.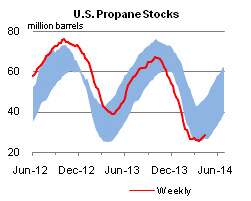 The WTI/Brent crude spread widened 97 cents on the week to $5.22 at the open, with Brent at a premium.
Inventory --
U.S. crude inventories gained 10.0 million barrels (mmbbl) to 394.1 mmbbl -- now 6.5 mmbbl above year-ago.
Gasoline inventories fell 0.2 mmbbl to 210.3 mmbbl -- 11.4 mmbbl below year-ago.
Distillate stocks softened 1.3 mmbbl to 111.9 mmbbl -- 3.3 mmbbl below year-ago.
National propane stocks gained 0.773 mmbbl to 28.357 mmbbl -- 10.669 mmbbl below year-ago.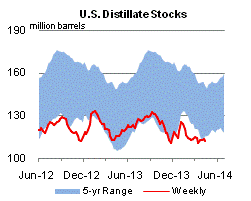 Highway Fuels --
Gasoline firms, highway diesel softens.
"The U.S. average price for regular gasoline increased by six cents this week to $3.65 per gallon as of April 14, 2014, 11 cents higher than the same time last year. West Coast and Gulf Coast prices increased by 10 cents and 8 cents, to $3.98 and $3.47 per gallon respectively. The Midwest gasoline price rose by six cents to $3.63 per gallon, while the average gasoline price on the East Coast increased three cents to $3.61 per gallon. The Rocky Mountains saw the only price decline, by a penny to $3.44 per gallon," according to EIA.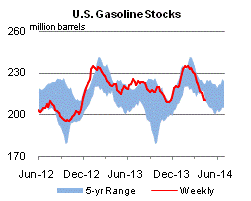 "The U.S. average price for diesel fuel fell by a penny this week to $3.95 per gallon, a cent higher than at the same time last year. East Coast, Rocky Mountain, and Midwest diesel fuel prices all decreased by a cent, to $4.07, $3.94 and $3.93 per gallon respectively. West Coast and Gulf Coast prices each fell by less than a penny, remaining at $3.98 and $3.79 per gallon respectively," according to EIA.
Look for information and statistics on LP and Farm Diesel in our weekly 'Farm Fuels in Focus' report.
---
Graphs and indicated text provided by EIA.