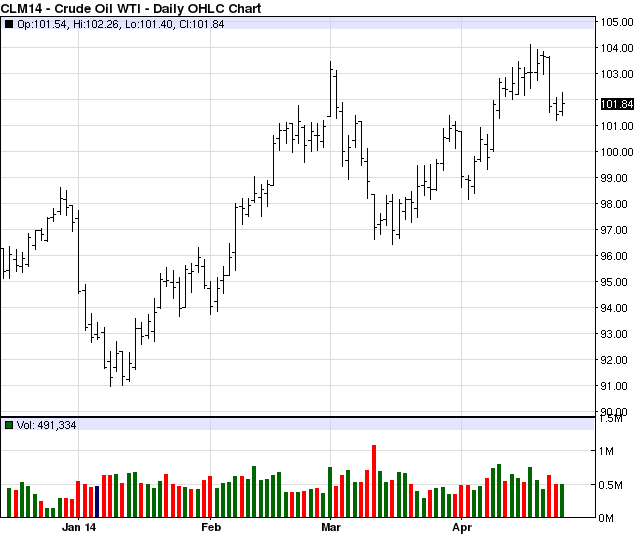 Crude Oil -- Current stockpiles of U.S. crude reached an all time high this week on a 3.5 million barrel weekly buildup. But Ukraine tensions and lagging stocks at Cushing, OK are working to support prices. Inventories at Cushing are currently at their lowest levels since 2009, holding WTI prices above $100.00.
Meanwhile, Gulf coast refiners have begun annual turnaround maintenance for summer blends and have backlogged crude for refining at the Gulf. Once traders' focus turns back to the glut of oil surrounding Cushing, WTI prices should fall back below $100.00. But Russia is a major world player on the crude oil scene and continuing tensions may trump supply side positives, and inject a war premium proportional with global demand for U.S. crude.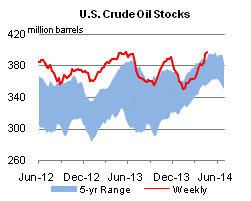 June 2014 WTI crude oil opened this morning at $101.54 -- $2.30 below the same time last week. Next support is at $99.29 and $98.86. A move back above the April high at $104.10 would open the door to upside risk to $112.24.
May 14 heating oil opened today at $2.98, three cents below last week.
June 2014 Brent crude oil futures opened at $109.33 -- 67 cents higher on the week.
The WTI/Brent crude spread widened $2.57 on the week to $7.79 at the open, with Brent at a premium.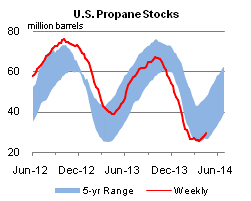 Inventory --
U.S. crude inventories gained 3.5 million barrels (mmbbl) to 397.7 mmbbl -- now 9.1 mmbbl above year-ago.
Gasoline inventories fell 0.3 mmbbl to 210.0 mmbbl -- 7.8 mmbbl below year-ago.
Distillate stocks firmed 0.6 mmbbl to 112.5 mmbbl -- 2.8 mmbbl below year-ago.
National propane stocks gained 1.170 mmbbl to 29.527 mmbbl -- 9.437 mmbbl below year-ago.
Highway Fuels --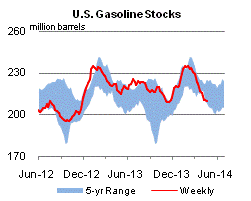 Gasoline & highway diesel firmer on the week.
"The U.S. average price for regular gasoline increased three cents to $3.68 per gallon as of April 21, 2014, 15 cents more than the same time last year, and the highest average price since March 18, 2013. The East Coast and West Coast prices both increased five cents, to $3.66 and $4.03 per gallon respectively. Prices on the Gulf Coast increased two cents to $3.49 per gallon. The Rocky Mountain and Midwest prices were both up by a penny, to $3.45 and $3.64 per gallon respectively," according to EIA.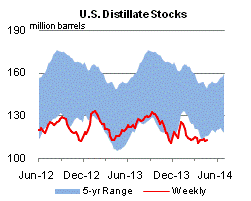 "The U.S. average diesel fuel price rose two cents to $3.97 per gallon, eight cents higher than the same time last year. The West Coast price increased five cents to $4.03 per gallon. The Rocky Mountain and Gulf Coast prices both increased three cents, to $3.98 and $3.82 per gallon respectively. Midwest prices increased by a penny to $3.95 per gallon, while those on the East Coast increased by less than a penny to remain at $4.70 per gallon," according to EIA.
Look for information and statistics on LP and Farm Diesel in our weekly 'Farm Fuels in Focus' report.
---
Graphs and indicated text provided by EIA.