Crude Oil --
December 2013 WTI crude oil opened today at $98.12. Resistance lies at $100.30, $101.98 and $102.59. A violation of those levels would make $103.34 bulls next target. The July 2 daily low marks next support at $95.20 and below that, $93.94. A violation of these levels would suggest downside potential to April 15's low at $85.61.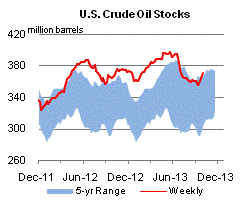 U.S. crude inventories firmed 5.2 million barrels to 379.8 million barrels -- now 4.7 million barrels above year-ago.
December 13 Brent crude oil futures opened today at $109.90 and spent most of the day in decline. Next support lies at $108.20 and $107.96. A move below those levels would suggest downside potential to $105 and psychological $100. Resistance lies at $110.65 and $110.86 from yesterday.
The WTI/Brent crude spread firmed $4.69 on the week to $11.78 at the open with Brent on top.
Fuels --
Gasoline slightly higher; diesel steady to slightly lower.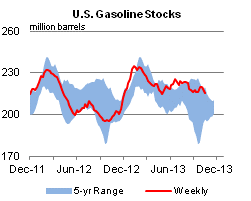 According to EIA, the U.S. average retail price of regular gasoline increased one cent to $3.36 per gallon as of October 21, 2013, 33 cents lower than last year at this time. Both the Midwest and Gulf Coast prices increased two cents, to $3.31 per gallon and $3.13 per gallon, respectively, while the East Coast price was up less than a penny to remain at $3.35 per gallon. Rocky Mountain and West Coast prices both decreased three cents, to $3.43 per gallon and $3.66 per gallon, respectively.
The national average diesel fuel price was unchanged from last week at $3.89 per gallon, and is now 26 cents lower than a year ago. Prices on the East Coast, Gulf Coast, and West Coast all increased less than one cent, to $3.91 per gallon, $3.80 per gallon, and $4.05 per gallon, respectively. The Midwest price declined less than a penny to remain at $3.85 per gallon, and the Rocky Mountain price is $3.88 per gallon, one cent lower than last week, according to EIA.
Farm Diesel softened 3 1/2 cents on the week, currently at $3.465 with two of the twelve states in our Index unchanged, five states higher and five states lower. The longer we put off the first frost, the more the national distillate supply will build, pressuring farm diesel into late season declines, as #2 fuel oil for home heat waits in the wings.
Our highest recorded farm diesel price on the week was in Illinois at $3.57/gallon and the regionwide low was pegged in Kansas at $3.33.
Propane --
According to EIA, Total U.S. inventories of propane decreased by 0.5 million barrels last week to end at 66.0 million barrels, about 8.5 million barrels (11.5%) lower than the same week last year. Midwest inventories led the draw, falling 0.8 million barrels, while the Gulf Coast drew 0.6 million barrels. East Coast stocks gained 0.8 million barrels and the Rocky Mountain/West Coast stocks were up slightly.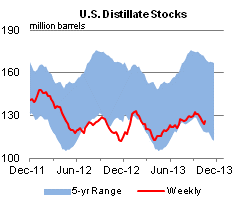 Propylene non-fuel-use inventories represented 4.5% of total propane inventories.
LP moved 5 1/4 cents higher in the Inputs Monitor Index to $1.595. The lowest priced LP in our index is in Nebraska at $1.41 while the high mark is still at $1.91 in Michigan.
Distillate --
The national distillate supply added 1.5 million barrels to 125.8 -- 9.4 million barrels below year-ago.
---
Graphs and indicated text provided by EIA.