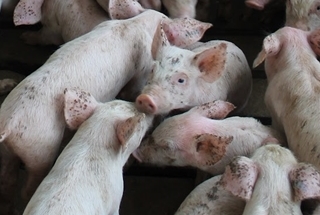 Hog farmers in the U.S., the world's biggest exporter, are losing out on a big payday because of a feed ingredient that many have been giving pigs for the past 15 years.
As hog and pork prices surge in China, the top consumer, its record imports this year will be dominated by Europe, not the U.S., according to Rabobank. Like dozens of countries, China bans the use of ractopamine that is fed to more than three-quarters of American hogs to help them gain muscle faster while eating less grain.
With shipments to China dropping and U.S. pork output exceeding beef for the first time in half a century, farmers like Randy Spronk are weaning their herds off the drug. The problem is that switching is no guarantee of overseas buyers. Co-mingling of meat makes segregating ractopamine-free pork difficult, and only a handful of processing plants can sell to China, including some run by Smithfield Foods Inc. There's also more competition from Europe, which has a surplus of cheaper supply.
"We need to access that market," said Spronk, who raises 150,000 hogs a year with his family in Edgerton, Minnesota. "This is an opportunity I don't want to miss."
Exports Dropping
So far, importers are going elsewhere. U.S. pork exports to China are down 41 percent through the first six months of the year to 90,896.1 metric tons (200.4 million pounds), the lowest since 2010, government data show. Shipments are headed for a fourth straight annual decline, after plunging 34 percent in 2014. Total sales this year to all foreign buyers are down 5.3 percent at 1.086 million tons.
At the same time, production will reach a record 24.6 billion pounds this year, exceeding beef output for the first time in 63 years, the U.S. Department of Agriculture said last month. While wholesale-pork prices are up 8.2 percent this year to 90.17 cents a pound on Aug. 7, they are the lowest for that date since 2009 and down 34 percent from an all-time high in July 2014.
It's easy to see why farmers covet Chinese buyers. Spronk estimates that selling his hog carcasses there can increase the value of each animal by $10 because China uses parts such as ears and organs that few U.S. consumers want. Using ractopamine, among a class of drugs known as beta agonists, can yield $2 more per head for the few animals that need it, but then the rest of the herd would be barred from the Chinese market, he said.
U.S. Hogs
As much as 80 percent of U.S. hogs are raised using ractopamine, according to Brett Stuart, the chief executive officer of research firm Global AgriTrends. The drug was a hit after the Food & Drug Administration approved the first commercial version from Eli Lilly & Co. in 1999, and got even more popular with higher costs for corn feed during the past decade.
While users of the additive include the U.S., Mexico and Australia, and more than 100 countries accept pork raised with it, ractopamine is banned in China, Russia and the 28 nations of the European Union.
Elanco, the Eli Lilly unit that makes a ractopamine product called Paylean, said in a statement that the additive is safe and there are no known human-health issues associated with its use. Greenfield, Indiana-based Elanco is working with the industry and supporting U.S. government efforts to promote more open markets, spokeswoman Christina Gaines said in an e-mail.
Chinese Government
China has been restricting beta agonists since 2002 and singled out ractopamine in 2009, according to Elanco. The U.S. has argued the actions weren't based on any scientific evidence. The Chinese government has said its ban on growth enhancers is designed to improve food safety, after instances of tainted products raised public concern. The country also is seeking to limit use of illegal pesticides and veterinary drugs.
While many U.S. farmers say China's ban isn't warranted, some question the benefit of ractopamine when feed costs have dropped and the biggest buyer doesn't want it.
China consumes more than half the world's pork, and hasn't been able to produce enough to meet demand. The need for imports increased after a slump in prices bankrupted hog producers. Retail pork has since surged, and the USDA forecasts record imports of 800,000 tons this year.
American meatpackers may not benefit. Minneapolis-based Cargill Inc., which slaughters 10 million hogs a year, sees its ability to boost exports "constrained by the supply of hogs that have not been fed beta agonists," Mike Martin, a spokesman, said in an e-mail.
Competing Supply
U.S. exporters face competition from Canada and Europe, which benefit from a stronger dollar making American supplies more costly.
Olymel LP, Canada's largest pork exporter, has one ractopamine-free plant exporting to China, and rising demand is boosting prices, said Richard Davies, executive vice president of sales and marketing. Danish Crown A/S, Europe's top processor, has seen increased Chinese demand over the last two or three months, said Jens Hansen, a spokesman.
Smithfield Foods, purchased by Hong Kong-based WH Group in 2013, has been working to remove ractopamine from all company-owned animals, it said in a May 22 statement. Smithfield is the world's largest hog producer and pork processor.
Last year, several U.S. plants were disqualified as exporters to China after ractopamine-residue violations and labeling issues, according to the USDA.
"We've got to get more plants relisted," said Chris Hodges, CEO of the National Pork Board in Des Moines, Iowa. "Europeans have taken most of our market share."